Elizabeth Laird has greeted every soldier that has passed through Fort Hood since 2003.
She started by shaking their hands, but one day a soldier went in for a hug. Then the next guy wanted one, too. And now, by her estimate, Laird has given out over 500,000 hugs in the act of both seeing off and welcoming back soldiers.
The 83-year-old from Copperas Cove, Texas would like to see that number increase, but lately that hasn't been possible. On Nov. 3, Laird was admitted to the Metroplex Hospital in Killeen, Texas when the breast cancer she has been battling since 2005 put her in a weakened state (Laird refuses chemotherapy).
Once word got out that their welcoming party of one was hospital bound, soldiers started lining up to give her a hug.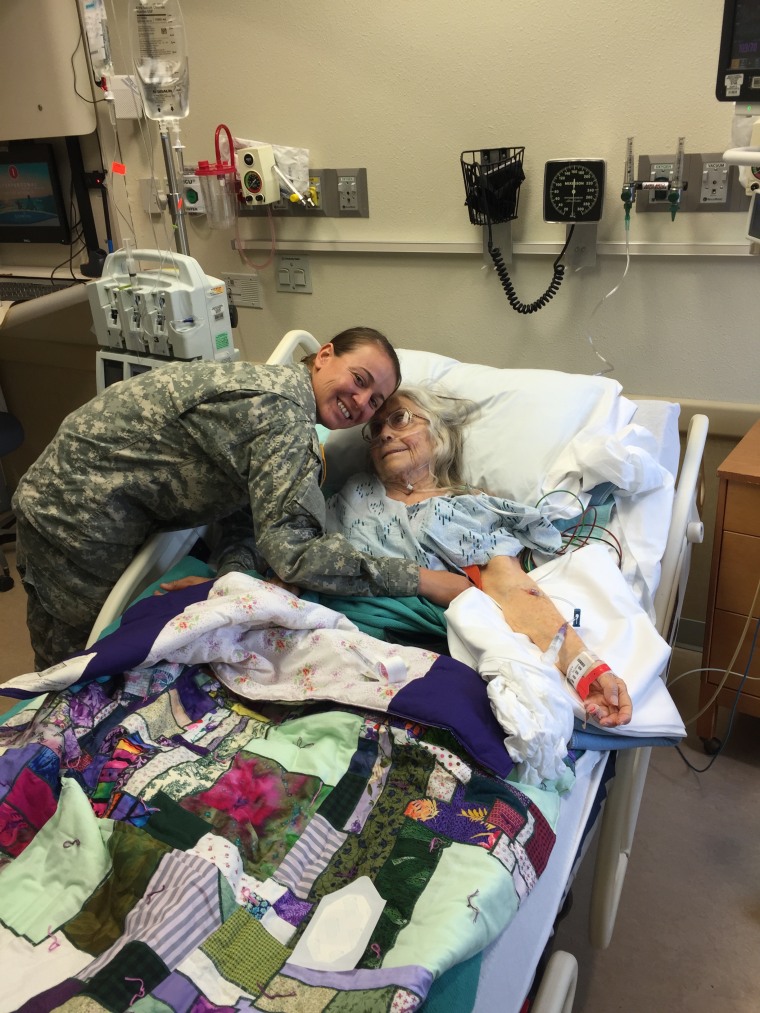 "When they enter the room, they give me a hug and then we talk about anything from their family to what it was like overseas or if they got a civilian job upon returning," Laird told TODAY.com. "Sometimes the line is so long that we have to turn people away."
Many soldiers will tell Laird exactly when they received her hug, and many of them bring the Psalm 91 card she gives out to each soldier before deployment. One man even came all the way from New York to give her a hug.
"They tell me how much my hug meant to them and how they'll never forget it," Laird said. "A lot of them were leaving home for the first time and some of their families couldn't be there to see them off."
On Nov. 9, her son, Richard Dewees started a GoFundMe account to raise money for medical expenses; the site has already raised over $85,000.
The Hug Lady, who enlisted in the U.S. Air Force on her 18th birthday in 1950, started volunteering for the Salvation Army with her late husband, Earnest, decades ago, but once the Iraq War broke out in 2003, she called the chief of the foundation to ask if she could go out to Fort Hood.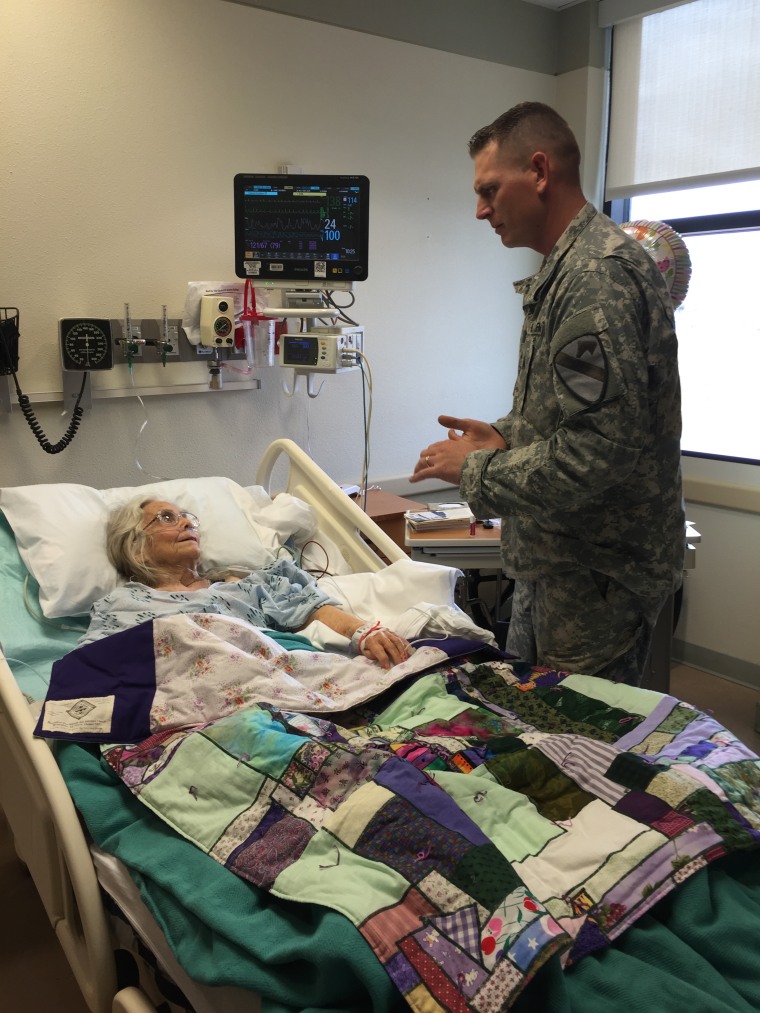 She admits that she was very shy until she started hugging the soldiers.
"Now I hug everyone!" Laird said. "Every nurse, doctor and even strangers get hugs. It really changed me."
Trish, who asked that we not include her full name, met Laird for the first time in September 2006, when her husband received a hug before being deployed. The two formed a friendship, and after Laird lost her license in February, Trish has been giving her rides to and from Fort Hood.
"The Hug Lady is the last one they see before deployment and the first civilian they see when they return," Trish told TODAY.com. "She's there at 2 a.m., even if only a couple soldiers are on the flight."
RELATED: Teens serve as pallbearers for homeless military veterans
Laird doesn't miss any ceremonies, whether it's for retirement or a promotion. And, in the sad event of a memorial, she can offer solace from a place of deep empathy: Laird lost both her husband and daughter, Linda Sims, in the same week of January 2008.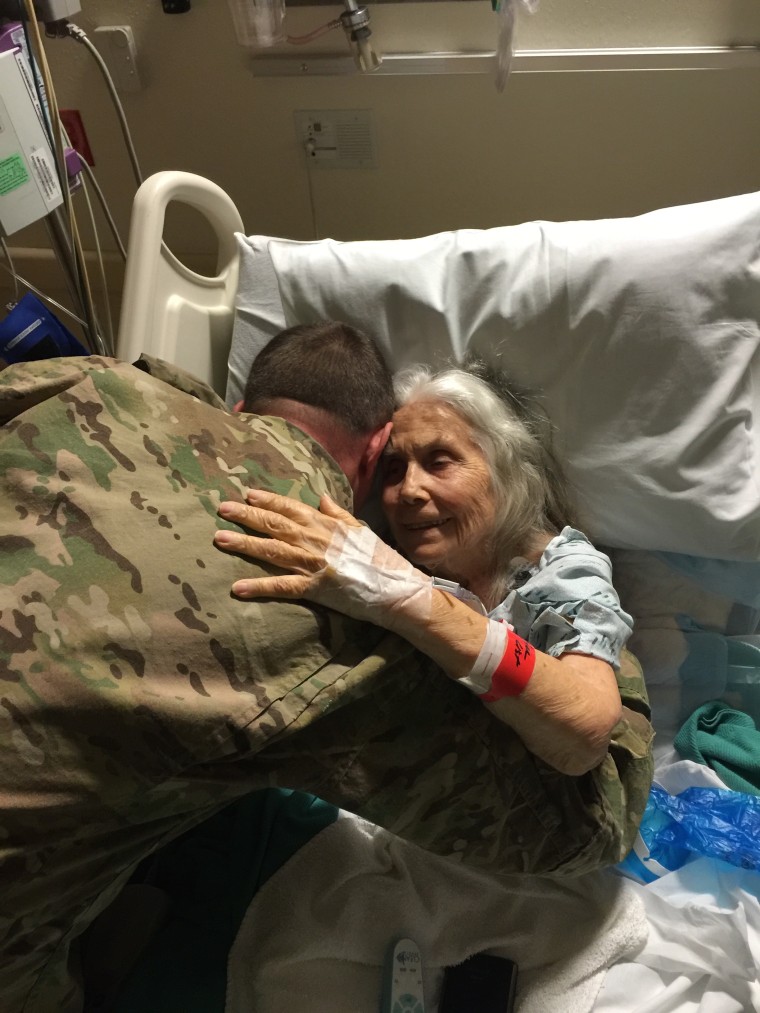 "She's like everyone's grandma and tells them to smile if they're not smiling," Trish said. "She refers to all of them as part of her family and they do the same to her."
The soldiers aren't the only ones surprising her. On Wednesday, Laird received a letter from President George W. Bush to thank her for what she's doing.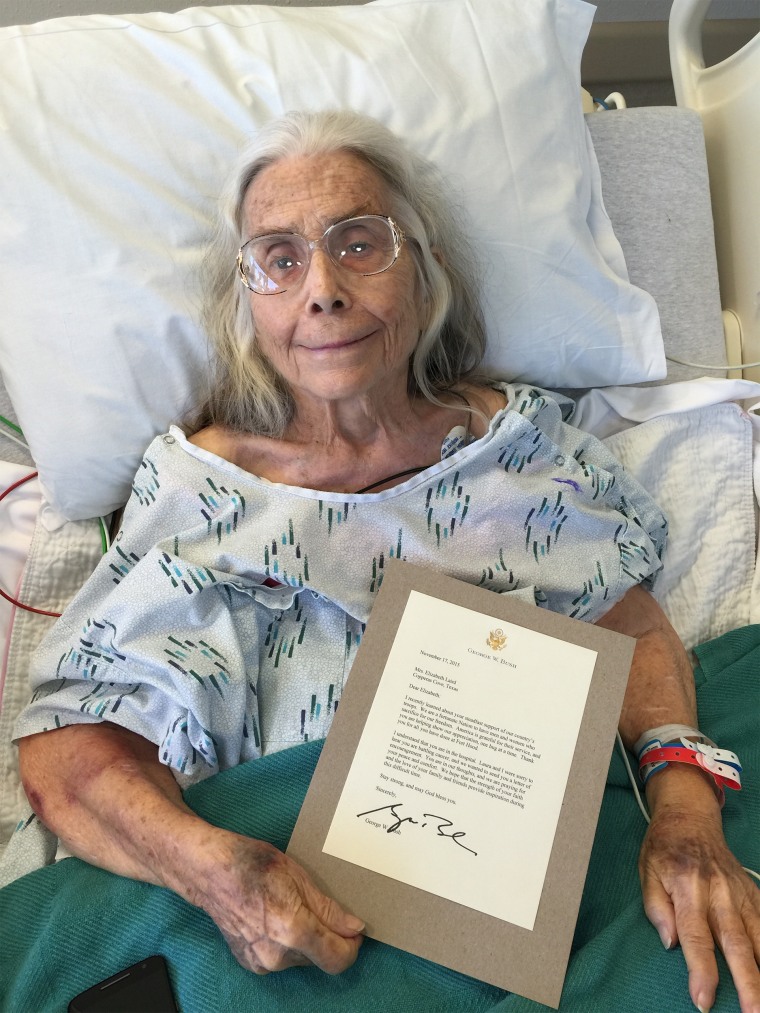 "I did not do this to be recognized, although it was exciting to hear from Bush," Laird said. "My hugs tell the soldiers that I appreciate what they're doing for us."
This story is part of NBCUniversal's Season of Kindness. Together we can grow the good this holiday season. #ShareKindness