At the Fashion Funds the Cure event Saturday in North Carolina, kids with cancer were able to take time out from their present-day challenges to live out their dreams for tomorrow.
For the past 13 years, the National Pediatric Cancer Foundation has hosted the special fashion show where children who've survived cancer as well as kids still battling the disease get to dress up as what they want to be when they grow up.
Up until now the event has taken place in Tampa, Florida. But this year it moved to Charlotte, North Carolina, thanks to Dillard's, who sponsored the event. The organization plans to take the show to five different locations starting in March 2017.
"We don't just tell these kids who are battling horrible diseases that they can be anything they want to be; we let them actually be it, in front of a crowd cheering them on," Miranda Chapman, the foundation's marketing and communications manager, told TODAY.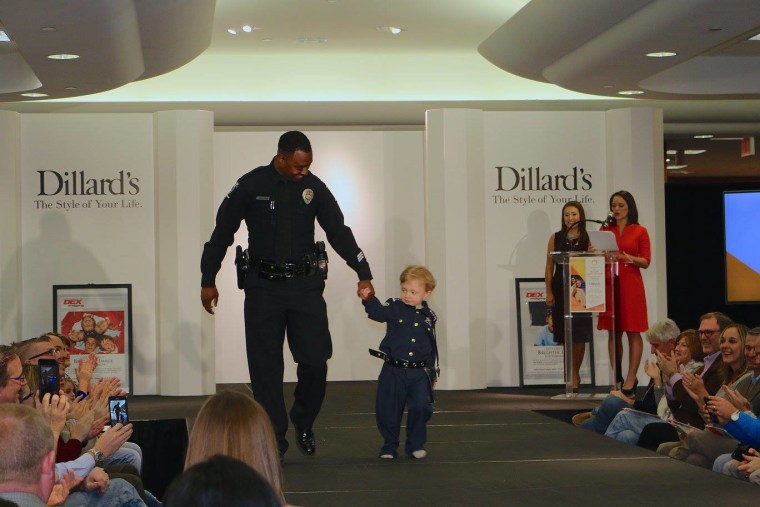 RELATED: This special fashion show lets kids with severe illnesses 'just be themselves'
About 150 people filled the Dillard's at SouthPark Mall to watch police officers and nurses of the future take a "Dream Walk" with their real-life role models. All eight of the kids in the show were accompanied by professionals in their desired careers, who volunteered their time.
Mia Furrer, 8, has always wanted to be a nurse, a decision made firmer after she was diagnosed with Hodgkin's lymphoma in May. During her treatments at Levine Children's Hospital, she met some delightful nurses. Now, since becoming cancer-free about a month ago, she's eager to help others the way nurses helped her.
"Mia's constantly talking about how special her nurses are and how amazed she is that they can do what they do every single day and still have huge smiles on their faces while taking care of patients," Marianna Furrer, Mia's mom, told TODAY.
Still, when a social worker at the hospital asked if she'd like to be in the fashion show, Mia was hesitant at first. But when she found out that all proceeds go to cancer research, she was all in.
"She just really wanted to give back, but then saw the all-pink outfit she'd be wearing and couldn't contain her excitement," Furrer said.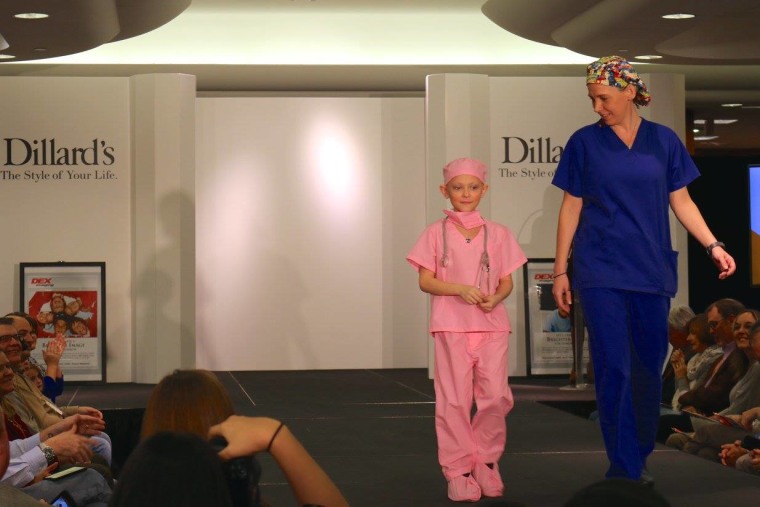 Mia was covered in pink — her favorite color — from the cap on her head to her surgical mask, scrubs and the shoe covers on her feet. But her favorite part of the outfit, surprisingly, was not pink.
She got her very own stethoscope, which she couldn't believe was real. She went around Dillard's, listening to people's hearts and giving them diagnoses.
"It's her new favorite accessory," Furrer said. "The pink scrubs are her second favorite thing she owns, and the first thing she's done every day when she gets home is put them on."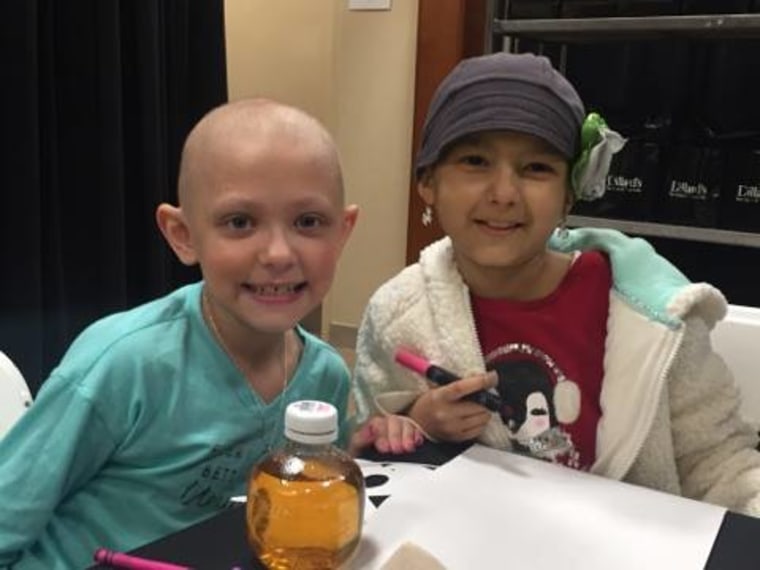 RELATED: Devon Still: Leah 'made a complete 180' in fight against pediatric cancer
Backstage before her big debut, Mia met Sofia Copp, an 8-year-old with acute lymphoblastic leukemia who wants to be a fashion designer. Both of them were drawing before the show. Now they are best friends.
"When I asked what they both were drawing, they said at the same time that they were making it for each other," Furrer said. "It was adorable."
Noah Prieto, 6, also has acute lymphoblastic leukemia and dreams of becoming a firefighter one day. He got some help showing off his look from the North Charleston Fire Department.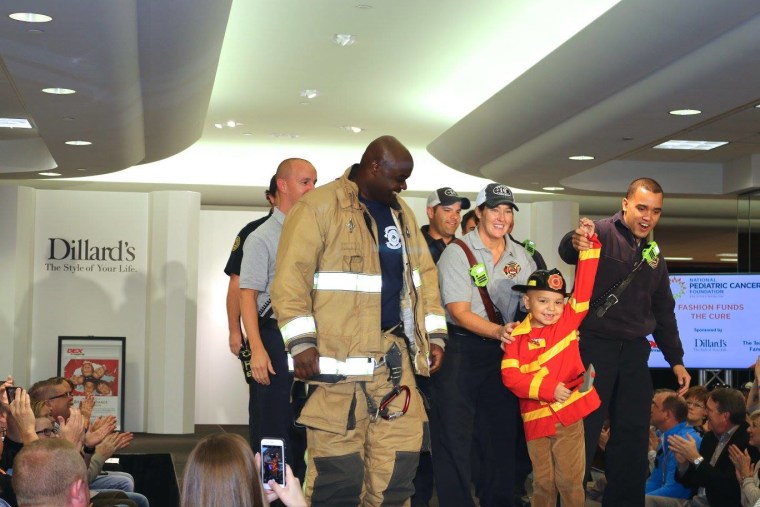 Also walking the runway was Braylon Beam, who was diagnosed with a brain tumor in 2015. He hopes to be an NFL coach someday. And on the runway Saturday, he was.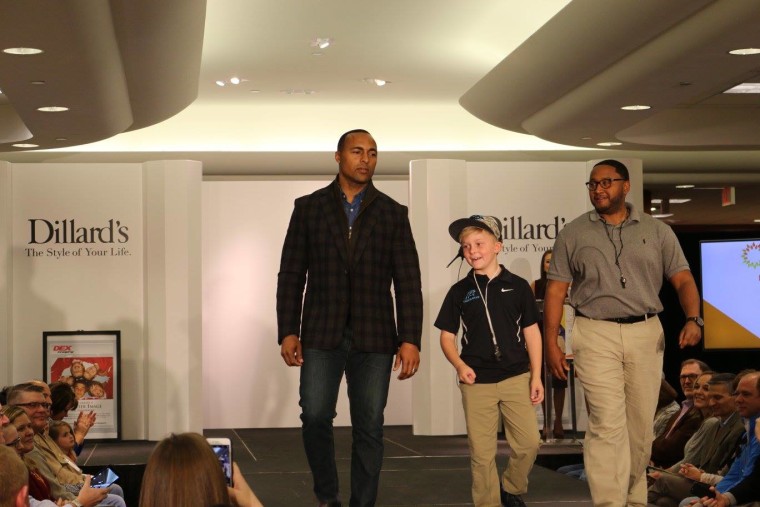 Davis is a 7-year-old hepatoblastoma survivor and is on his way to being a teacher. He already looks the part!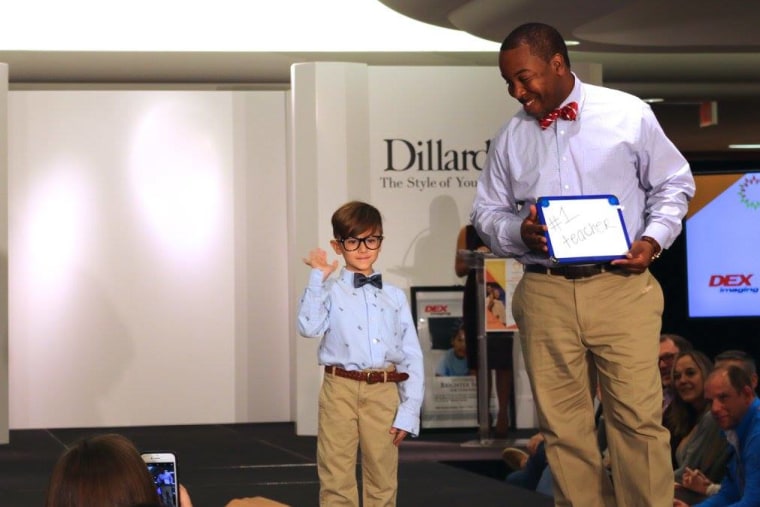 "It was so special for Mia to be a part of the show," Furrer told TODAY. "Not just for herself, but it was also great to see her with other kids she can relate to in a place with good energy, unlike the hospital."