The pan has a 4.4-star rating from over 16,000 reviews on Amazon. And, aside from being a bargain, Lodge's cast iron pans have been made in Tennessee since 1896. We also once tried the brand's popular cast iron dutch oven loved it.
So, naturally, we wondered: Does the Lodge pre-seasoned cast iron pan live up to the hype? Admittedly, I had procrastinated switching over to cast iron myself, but now, I'm a believer.
It is virtually non-stick out of the box.
What does pre-seasoned mean? Well, traditionally, before using a cast-iron skillet, you'd have to wash it, dry it, coat it in vegetable oil, and bake it for an hour upside-down for an hour. This is known as seasoning.
With pre-seasoned cast iron skillets, though, they add coat the pan in vegetable oil at the factory, and it goes through high-temperature commercial ovens that allow the oil to deeply seep into the iron — essentially jump-starting the whole process.
It usually takes a while to get a cast-iron pan to the point where it's nonstick, so I was skeptical that Lodge's would be that way off the bat. Lodge says it comes "seasoned and ready to use," so I used it — and I was shocked when I made cornbread, and then steak, and then fried eggs. It all slid effortlessly out of the pan, no sticking.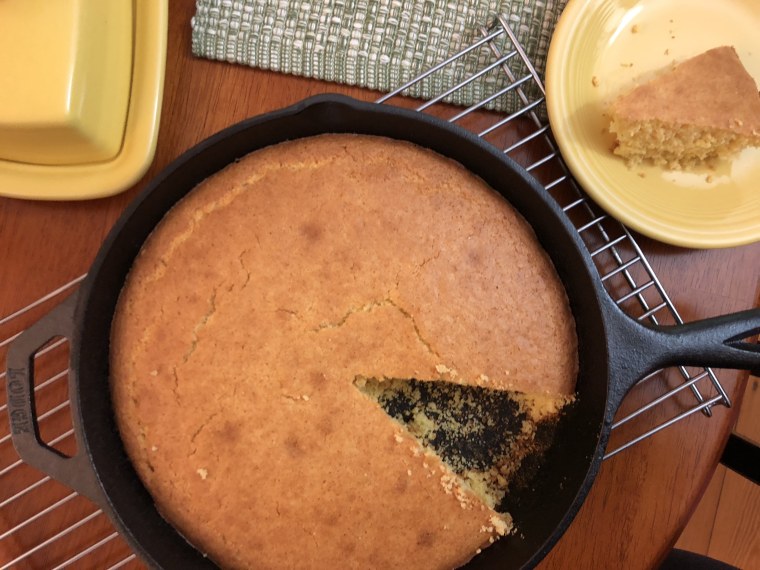 It browned food beautifully.
My cornbread came out like the rustic version of my dreams — crispy on the outside, moist on the inside. And the steak browned so beautifully, guests asked how I made it (Seared for four minutes on each side on medium-high, then finished it by moving the whole pan into the oven at 350˚ for five minutes).
The pan gets really hot
This actually takes getting used to. The pan gets hot quickly and really holds the heat! So, you may need to lower the heat a tiny bit from what you'd use on other pans.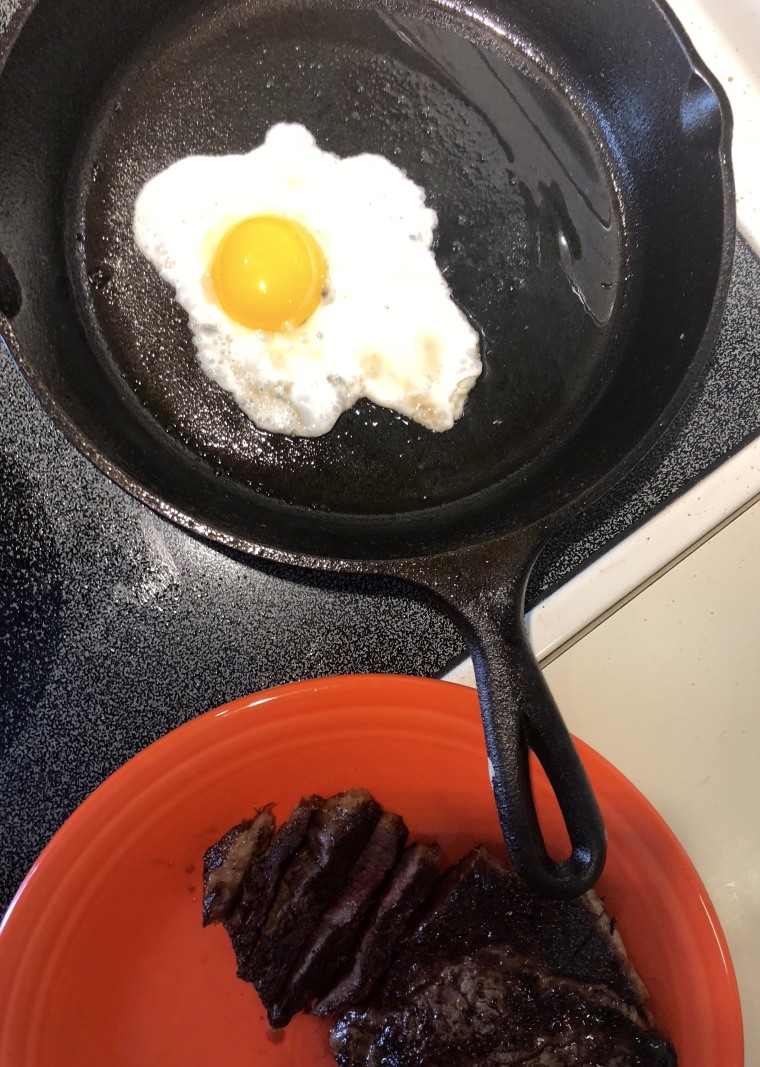 You can use metal tools on it
Metal spatulas, tongs, knives: Bring it on! Cast iron is virtually indestructible. And, because there's no chemical nonstick coating, you won't damage the surface by using metal tools on it. (It also works on all stovetops — electric, gas, induction — as well as open fires and grills.)
Cleaning it is easy
Aside from seasoning a cast-iron pan, people are also scared of cleaning them. As was I, until I learned that it's easy: You fill it with water, scrub with a plastic bristle brush, dry immediately — that's the important part, to prevent rusting — and then wipe with some oil-soaked paper towel. That's it!
For one stubborn spot that wouldn't come clean, I added some salt, scrubbed with it, and amazingly, that worked.
A silicone handle cover is a good idea.
Again, this pan holds heat, and it's all one forged piece of iron — so the handle gets hot. If you think you might slip up and grab it, consider investing in a cheap silicone handle cover so you don't need to use an oven mitt.
It gets better with every use
Even though the eggs slid right out of the pan, out of the box, the skillet does get noticeably better with each use. So keep on using it, and swiping it with oil after you clean it, and you'll have one of those heirloom cast-iron pans, at last, in no time.
To discover more deals, shopping tips and budget-friendly product recommendations, download the new TODAY app and subscribe to our Stuff We Love newsletter!