Your local swingset has nothing on these elaborate playgrounds.
Located in different cities across the U.S., each of these spots were thoughtfully designed to be fun for people of all ages. Which would you want to visit?
Swing Time, Boston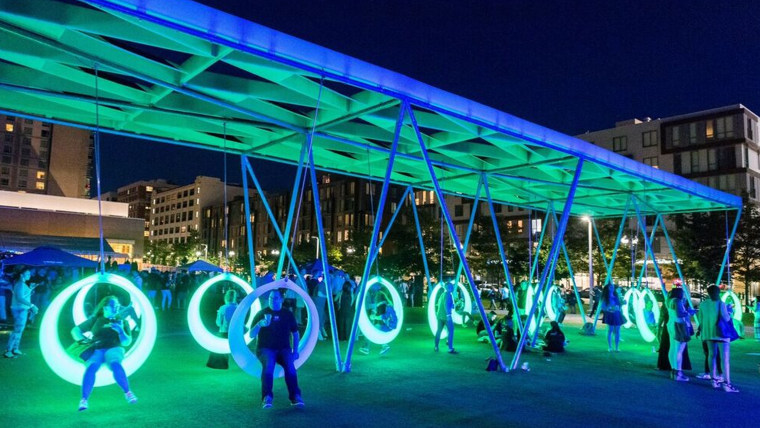 Designed by the firm HÖWELER + YOON, this playground is comprised of 20 illuminated swings — and they're big enough for adults to enjoy, too. The swings not only glow, they change colors as they move. When not in use, they emit a soft, white light and start to change colors until they reach purple once they begin to swing.
The best time to visit is at night when the swings can really glow. Lucky for visitors, the Lawn on D hosts a variety of festivals and events that are open to the community and perfect for the whole family.
Wildwoods at Fernbank Museum of Natural History, Atlanta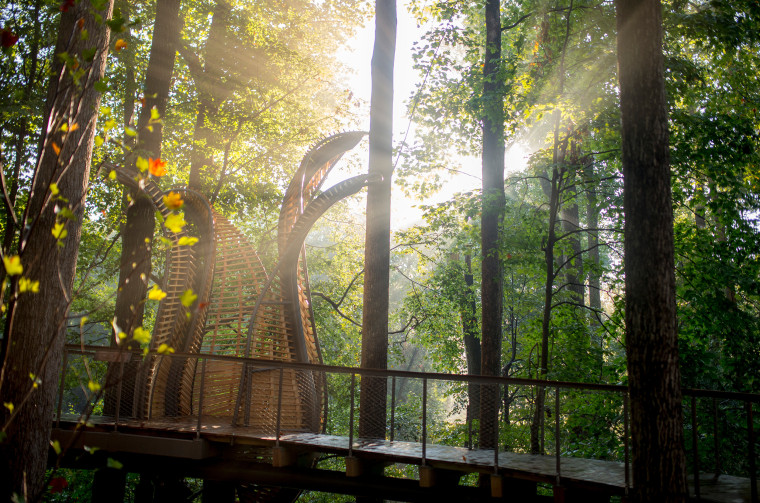 If Narnia isn't be real, then Fernbank Museum of Natural History is the closest thing to it.
Known as WildWoods, this expansive space offers so much to explore. Overlooking the Isdell Wildlife Sanctuary, there are elevated boardwalks with pods nestled in the treetops. The space also has rope swings, waterfalls and slides galore!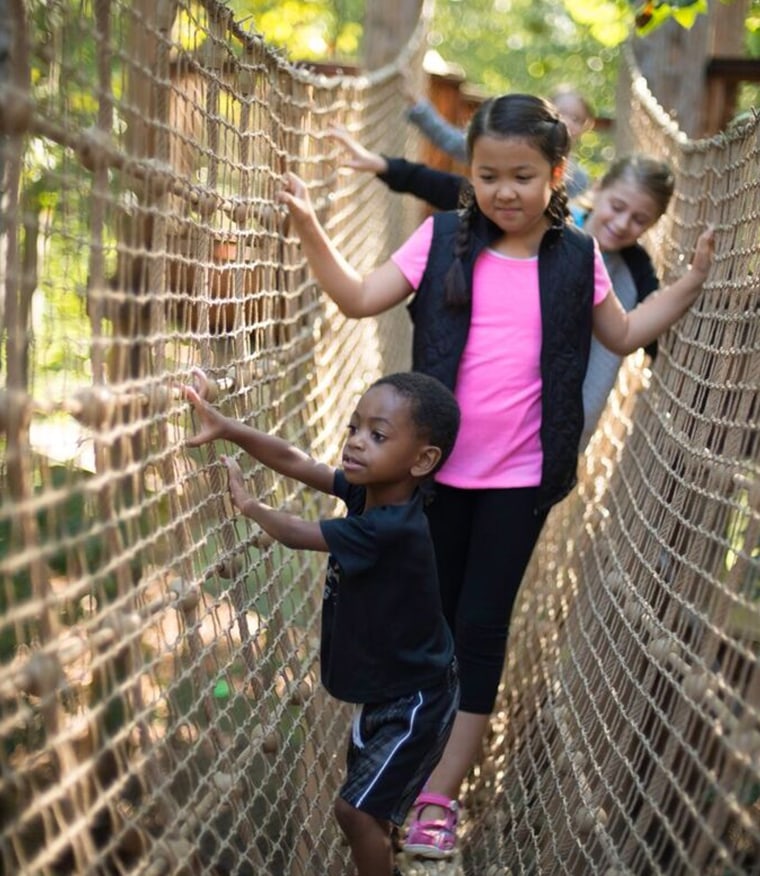 While there are guided programs that educate guests about the Fernbank forest, visitors can also explore the space at their leisure. The space is even open past sunset during the summer for the museum's event for adults, Fernbank After Dark.
The City Museum, St. Louis, Missouri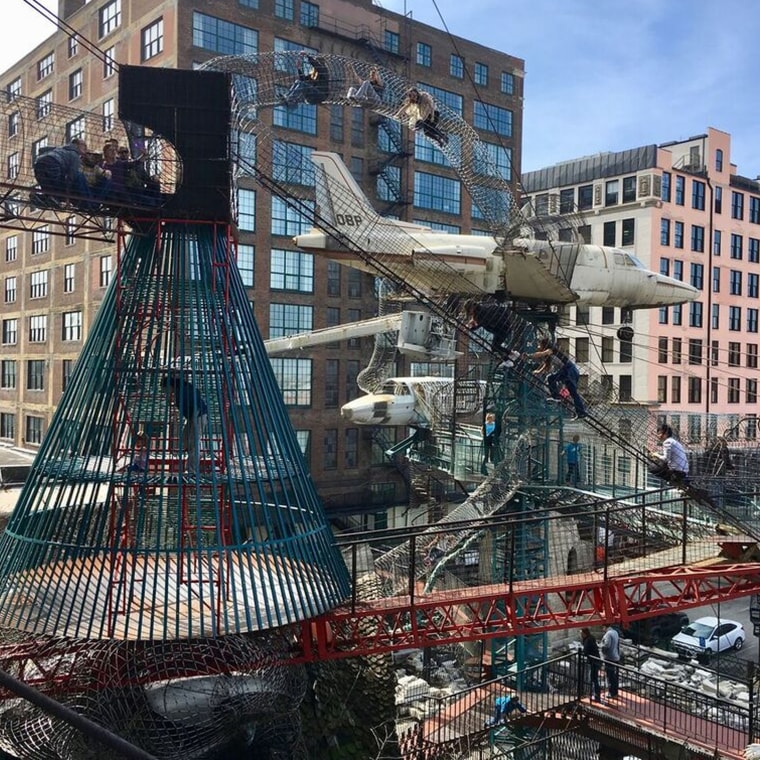 The City Museum in St. Louis, Missouri, is basically a junkyard made into a playground — in the best possible way.
Erected in 1997 and playing host to approximately 850,000 guests a year, the playground is built entirely of recycled materials. There are climbing ropes, slides and even — wait for it — an airplane in the mix.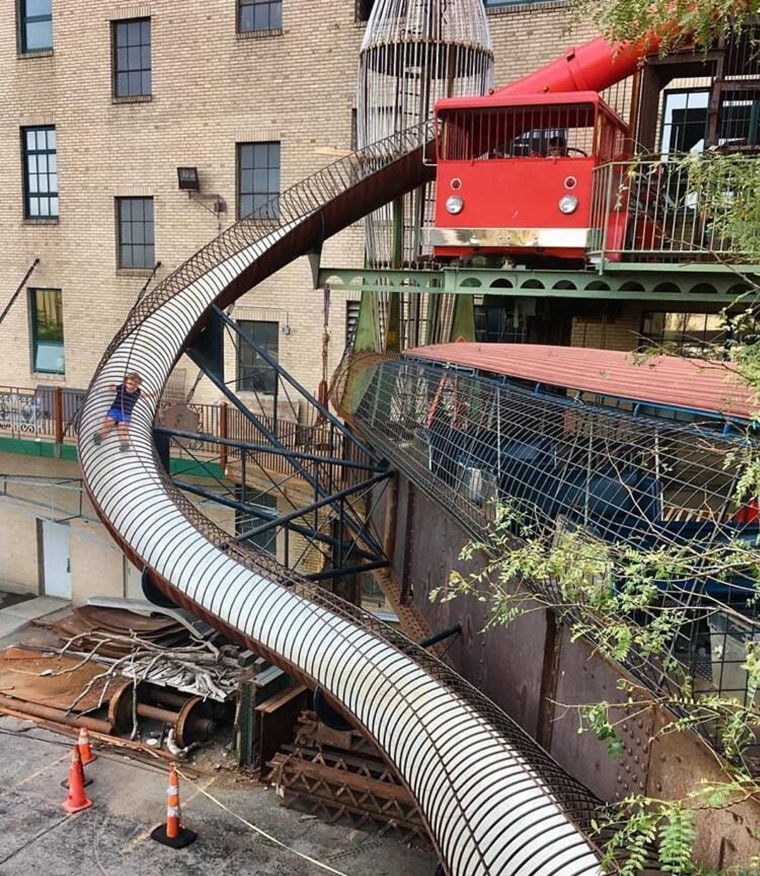 "At the time we started, reclaimed materials were cheaper and there was an abundance — also, materials can give you ideas," executive director Rick Erwin told TODAY. "A lot of what we build comes from the materials we find."
Silver Towers Playground, New York City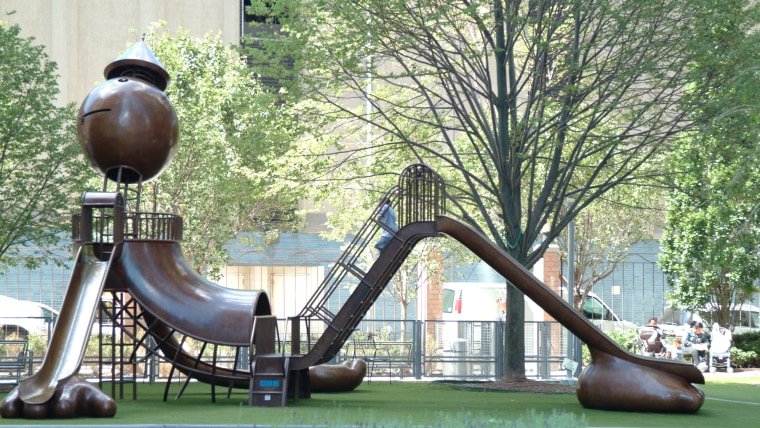 If you hail from NYC, you might recognize this little man from his similar, smaller counterparts in the 14th Street and Eighth Avenue subway stations. For this sculpture, artist Tom Otterness took his work to the next level.
He started with a sketch and then made a miniature wire version, Otterness told TODAY.
From there, he covered the wire sculpture in clay and carved in details — like the face of the man atop the playground. He then sent the small sculpture to an art foundry that created the lifesize sculpture in bronze.
The result is this creative playground that's enjoyed daily by the children of New York City!