Becki Peckham and Chris Nicholas wasted no time revamping the kitchen in their new home.
The design-minded common-law couple behind the blog "The Adventures of the Uncommon Common Law," started ripping out the dated and generic '80s-era kitchen on the day they moved in, and within six months, they had a functional kitchen in time for Christmas. In another six months, they had all the details fully complete for a chic, modern kitchen that completely fits their hip sensibility — without sacrificing any of the functionality necessary for comfortable daily use.
Here's how they made it happen as a creative and capable DIY pair.
RELATED: See this '80s living room transform into a modern marvel
Total overhaul
To revamp the tired space, they removed an old staircase and re-dry walled the ceiling to get rid of the stucco. They also removed walls as well as French doors. And they tiled the floor, and added lighting, ceiling speakers and new cabinets — all as DIY projects.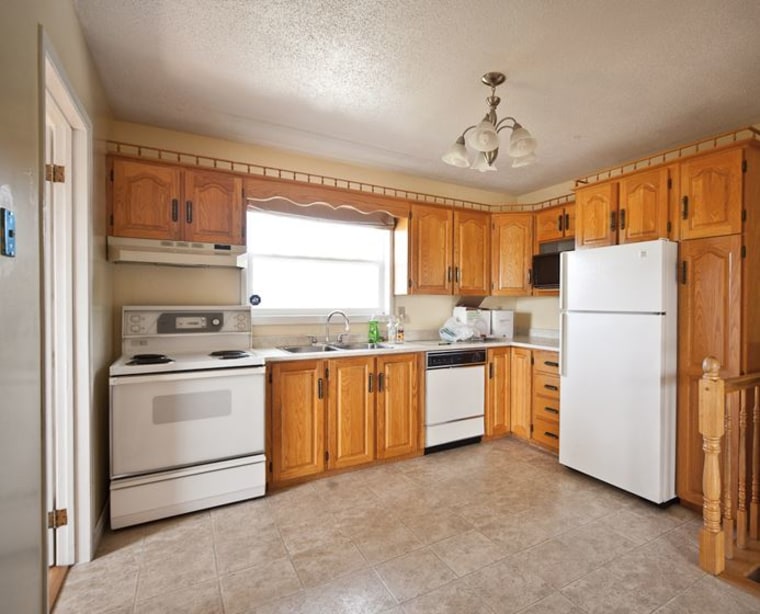 "It was a lot of work and a long process," Peckham explained — but the finished project is a wow-worthy modern masterpiece.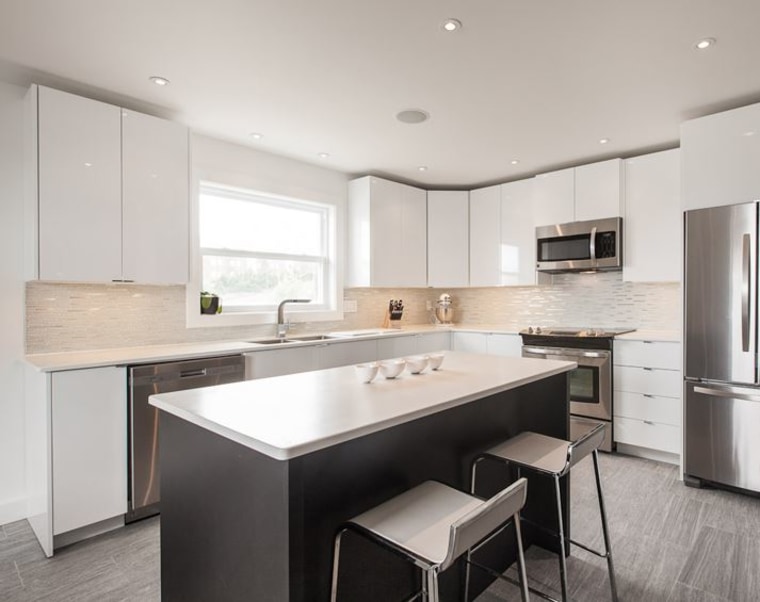 Form meets function
The pair set a goal to maximize the utility in the space while maintaining the clean, minimalist look they prefer. One way they achieved that was by disguising their garbage and recycling bins in what appears to be a bank of drawers next to the cutlery drawer.
"While it has the appearance of three drawers, it's actually just one large pull-out mechanism," Peckham wrote on their blog.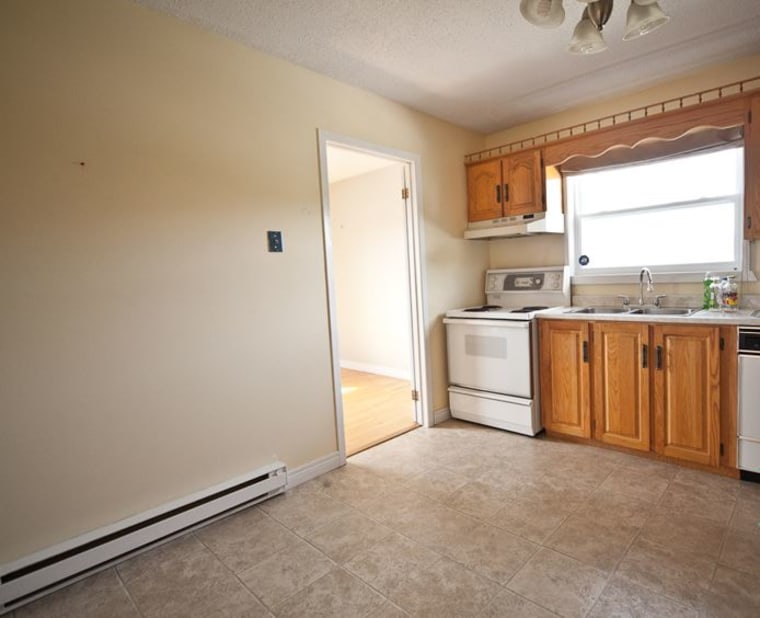 As well, they furthered the sleek modern look by creating what they call a "toasting station" in the built-in wall cabinets: It's a door that flips down and has hinges strong enough for use as a work surface and support for the appliance.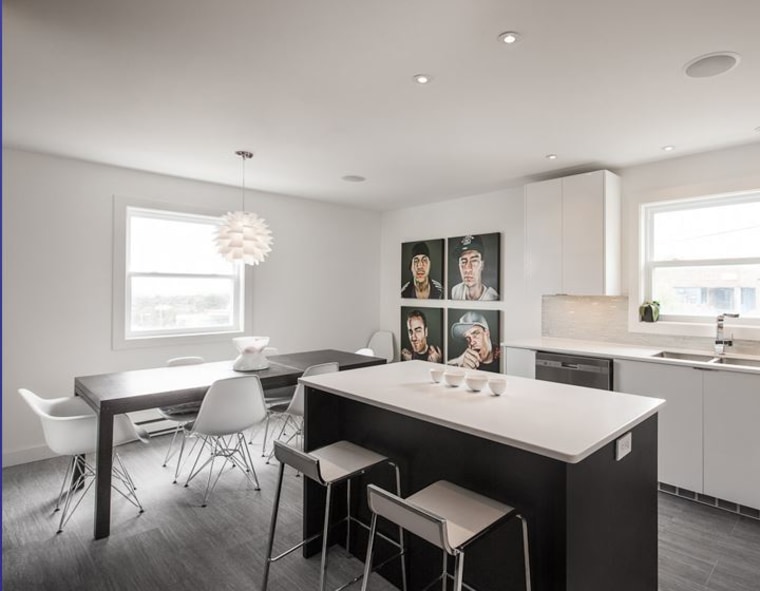 "When we're done toasting, we just push the toaster in and close it all back up," she wrote." It's a small custom detail, but one that allows them full utility in a space that looks worthy of a magazine spread.
RELATED: See this 105-year-old home's bathroom go from blue to beautiful
Mood lighting
As the pair did in their living room redo, they created a lighting scheme for the kitchen that can be easily changed depending on their mood. They put all the lights on dimmers, and included a separate dimmer for the perimeter recessed lights, the two recessed lights over the island, the dining room light fixture and the under-cabinets lights. For a major wow factor, they also added some color LED strip lights over the cabinets, which operate on their own switch.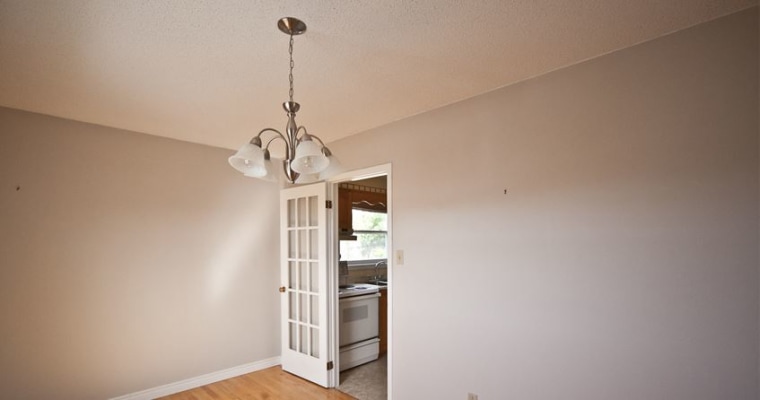 As high-fashion as the lighting design sounds, it's also fully functional in real life. For instance, the lights can power up at full capacity for following a recipe, or only certain lights can come on at a dimmed level for various other occasions, for instance — "just the island and under cabinets on at a low power, great for preparing and enjoying a midnight snack" or a scheme for a movie night that "provides a warm ambient glow."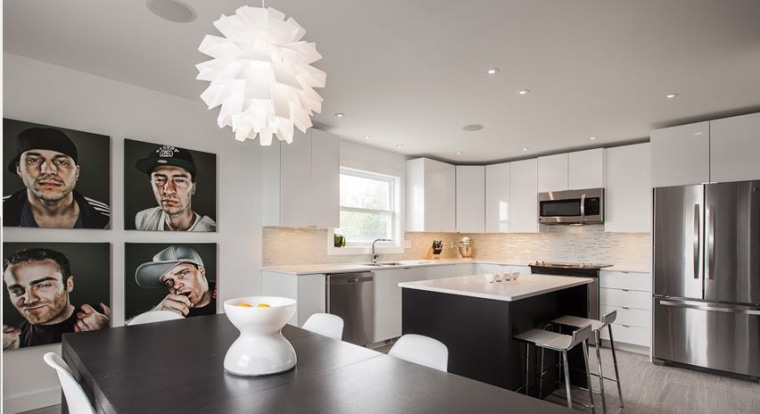 Peckham wrote on the blog, "It's dim enough to not be distracting when watching a movie in the next room, yet bright enough that you can get food or a drink with out tripping in the dark or having to turn on the lights."
Alesandra Dubin is a Los Angeles-based writer and the founder of the lifestyle blog Homebody in Motion. Follow her on Facebook, Instagram, Google+ and Twitter.