From setting up the sparkling lights to adding whimsical trimmings, half of the holiday fun is in creating a festive home. Unfortunately, all those garlands and gilded accents can add up — unless you check out our collection of DIY ideas, each costing around $10 (or less). Consider it our gift to you.
Heart. Felt.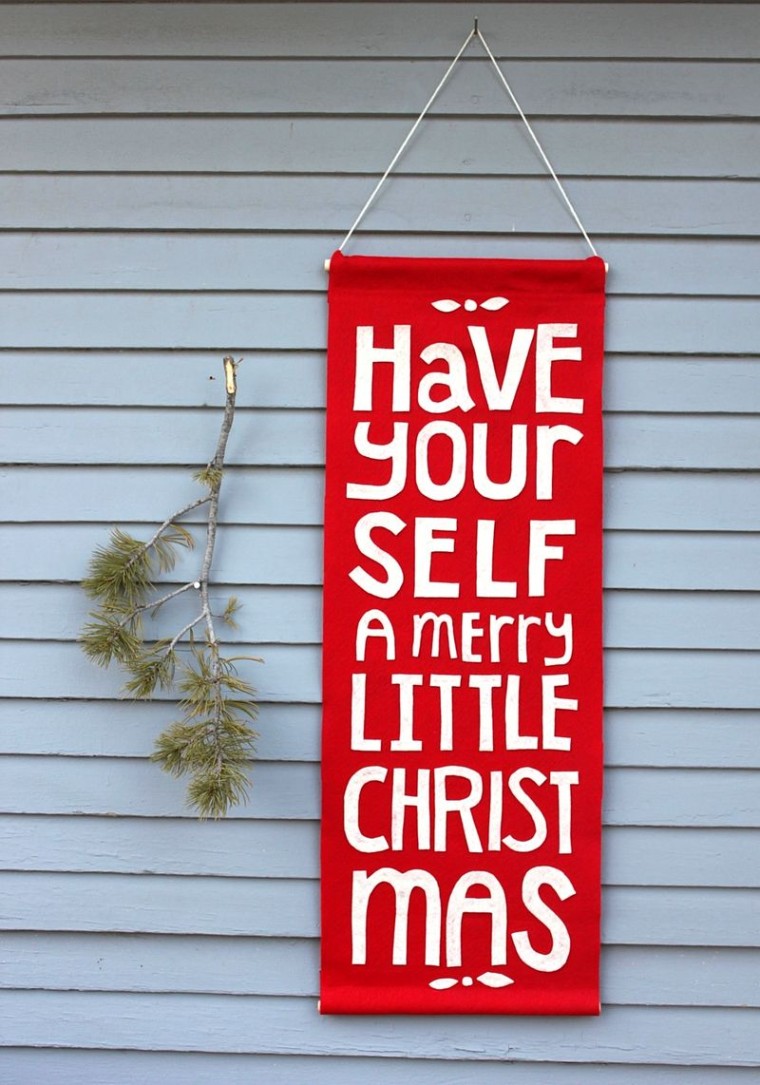 We love A Beautiful Mess' vintage inspired Christmas banner. Less than a yard of felt, two cheap dowel rods, some glue and bit of hanging yarn is all it took for contributor Rachel Denbrow to create this cheerful sign. Instructions and a PDF of the lettering can be found here. 
Go mad for plaid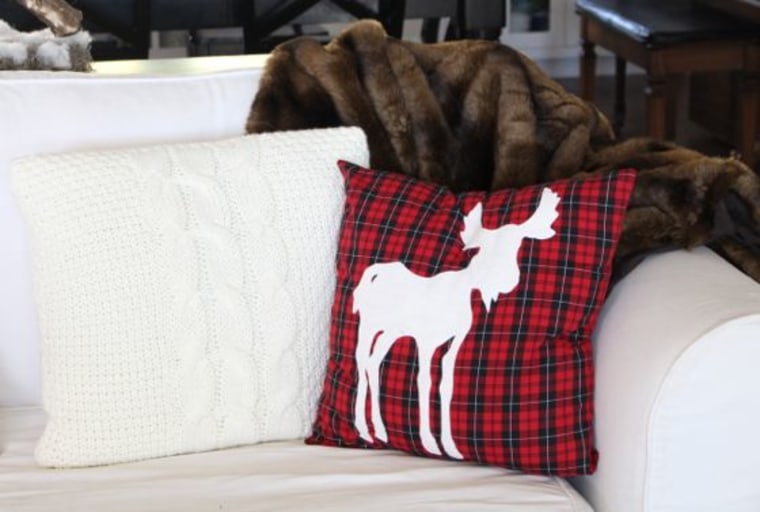 Pining for a little homespun charm? Lindsey Cheney, author of blog The Pleated Poppy, created this adorable DIY moose silhouette pillow using some basic sewing skills and inexpensive patterned fabric, felt, a zipper and a cut-out moose silhouette (download the free PDF here). 
Have a ball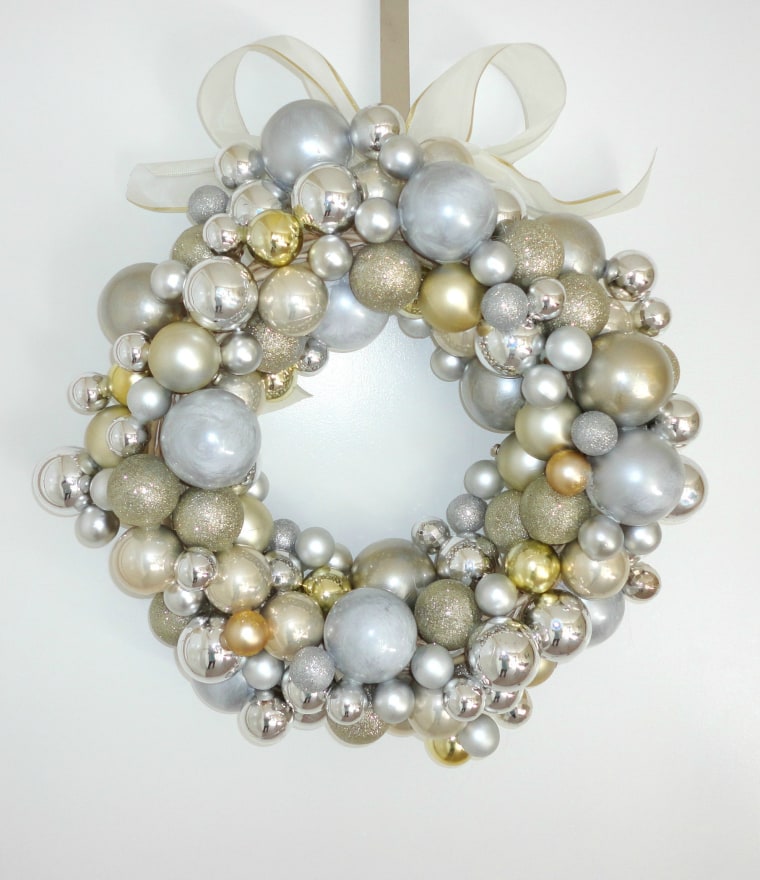 LiveLoveDIY blogger Virginia Plunkett glued a mixture of dollar store gold, silver and painted white ornaments in varying sizes to a small wooden base (and each other) to create this beautiful, bubbled wreath. "I just loved the idea of using stuff I already had," she said.  
If you don't have a pile of leftover ornaments lying around, sale-priced ornaments are everywhere right now, and while they may not be heirloom quality, they are perfect for crafting (drug and dollar stores are a fabulous resource). Find the DIY here. 
Wish upon this star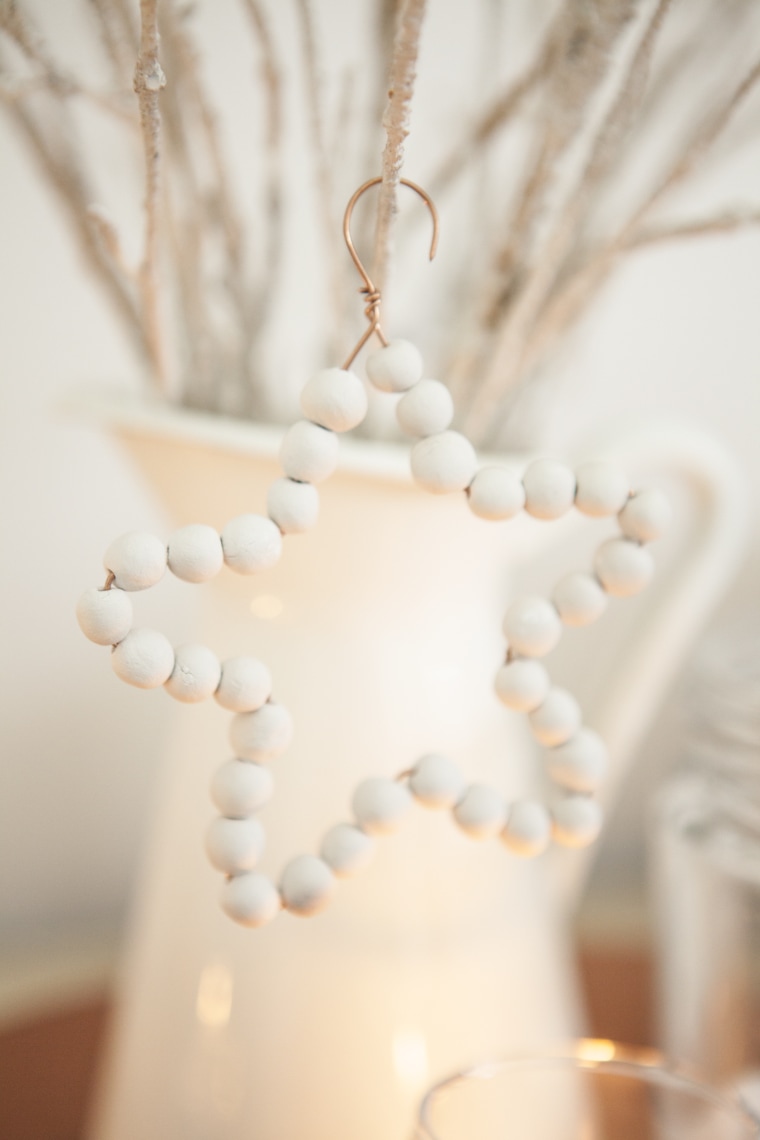 Dreaming of a white Christmas? Design expert and television personality Tara Dennis was inspired by "beautifully simple Scandinavian style" to create this lovely star ornament using just air-dry white clay and 20-gauge copper wire. See how she did it here. 

All about the wood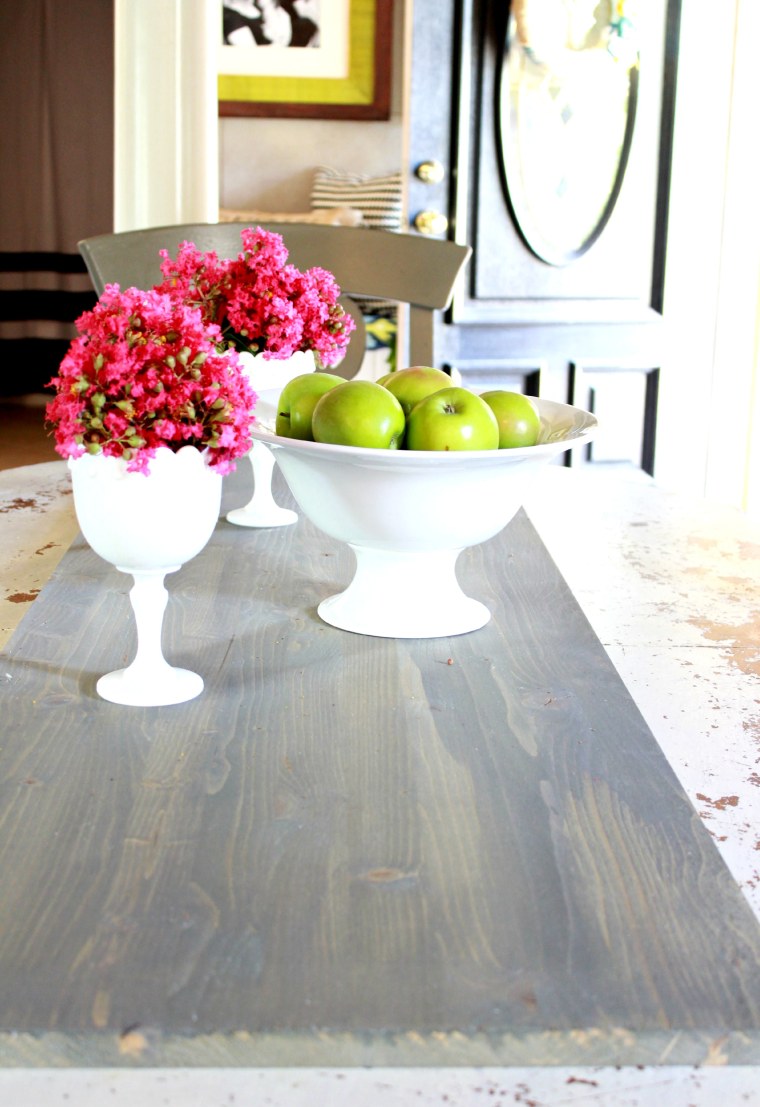 Most table runners are flimsy little things. Not this one. Allison Griffith of Refunk My Junk wood-worked a plank of pine into a wonderfully weathered table topper that can also double as trivet — perfect for hoisting your holiday feast. Find out how you can make your own here. 
Pithy plates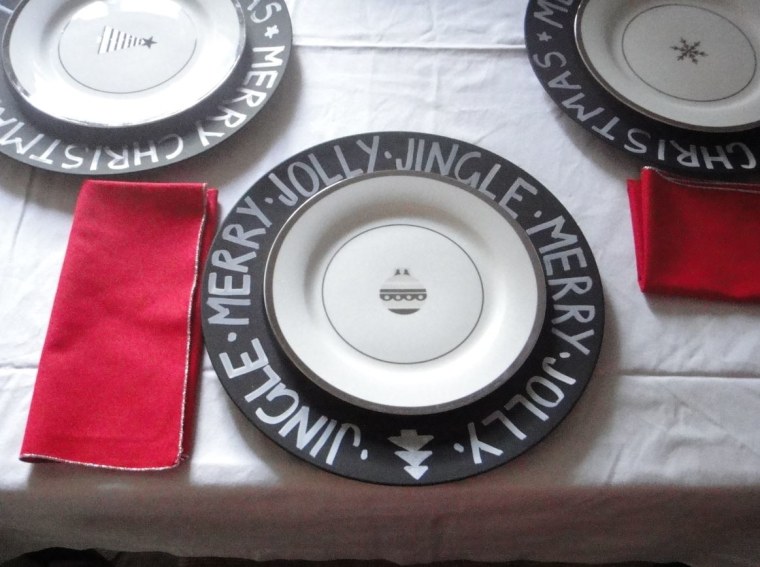 Have something to say? Layer your holiday table setting with a set of wordy chalkboard chargers. This Sarah Loves blogger Sarah Gray used "cheap-o" chargers from Michaels and recommends using chalkboard spray paint (plus ordinary chalk or a handy chalkboard pen) to create your own write-on dinnerware. Check out her DIY here. 

Chip chip hooray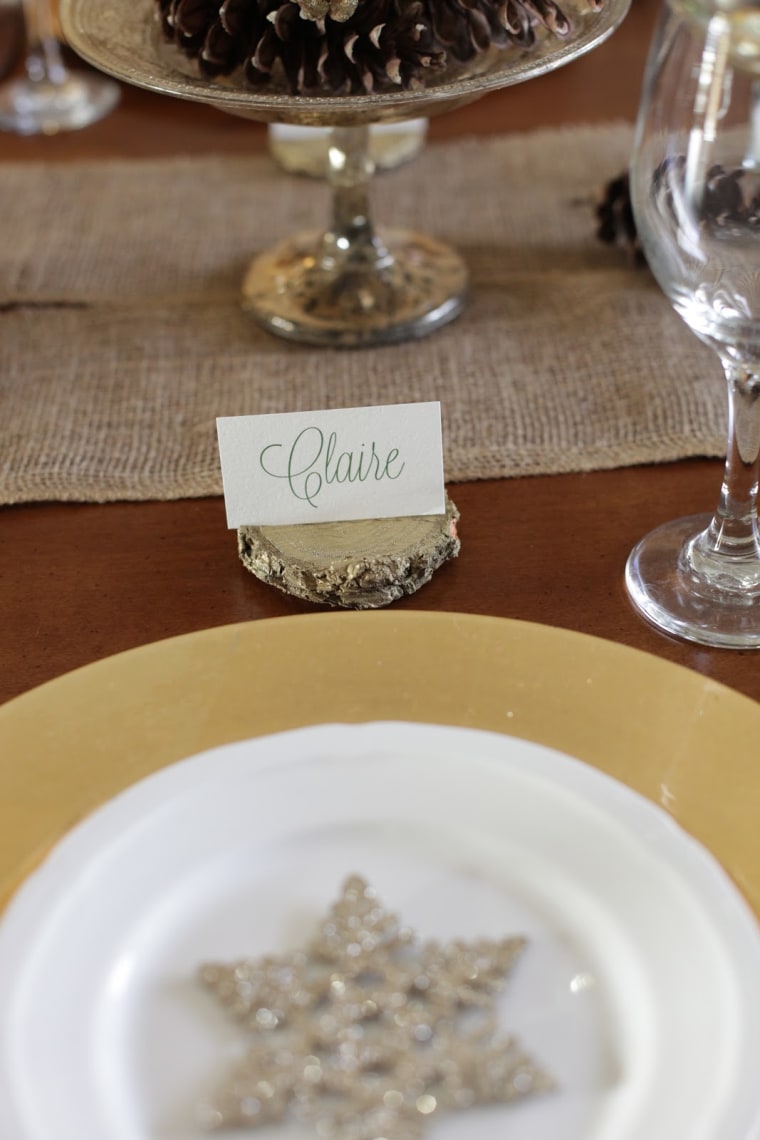 Rustic wood chips get a glam, new calling as gilded place card holders. Event planner Julie Blanner, owner and author of the blog Coordinately Yours, spray painted sliced wood chips gold and then used a straight razor knife to etch a slot in each for labeled cards. Pair with gold accented dishes and sparkly painted pine cones to complete the look. Learn how to make your own here. 
Style out, sister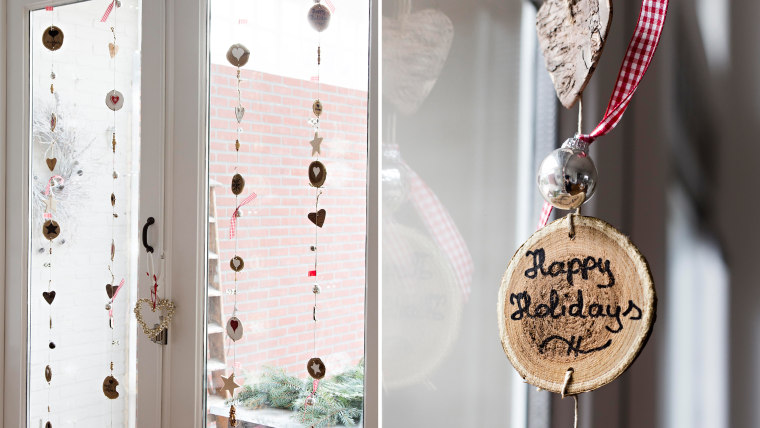 Marianne Songbird, author of the aptly named Songbird blog, also used wood chips to create something special for the season. In this case, she adorned rough hewn chips with painted and drawn-on stars, hearts, snowflakes and holiday phrases, then strung them up with assorted found flair (bells, washi tape tabs, etc.) to create a sweet, swinging window garland guaranteed to charm visitors. Sanded wooden discs are easy to score at a local lumberyard (or perhaps your backyard). You can also find wooden discs in craft stores, like these discs at Michaels.com priced at $1.69 for 11 pieces. See how Songbird turn her wood chips into garland here. 
Get twiggy with it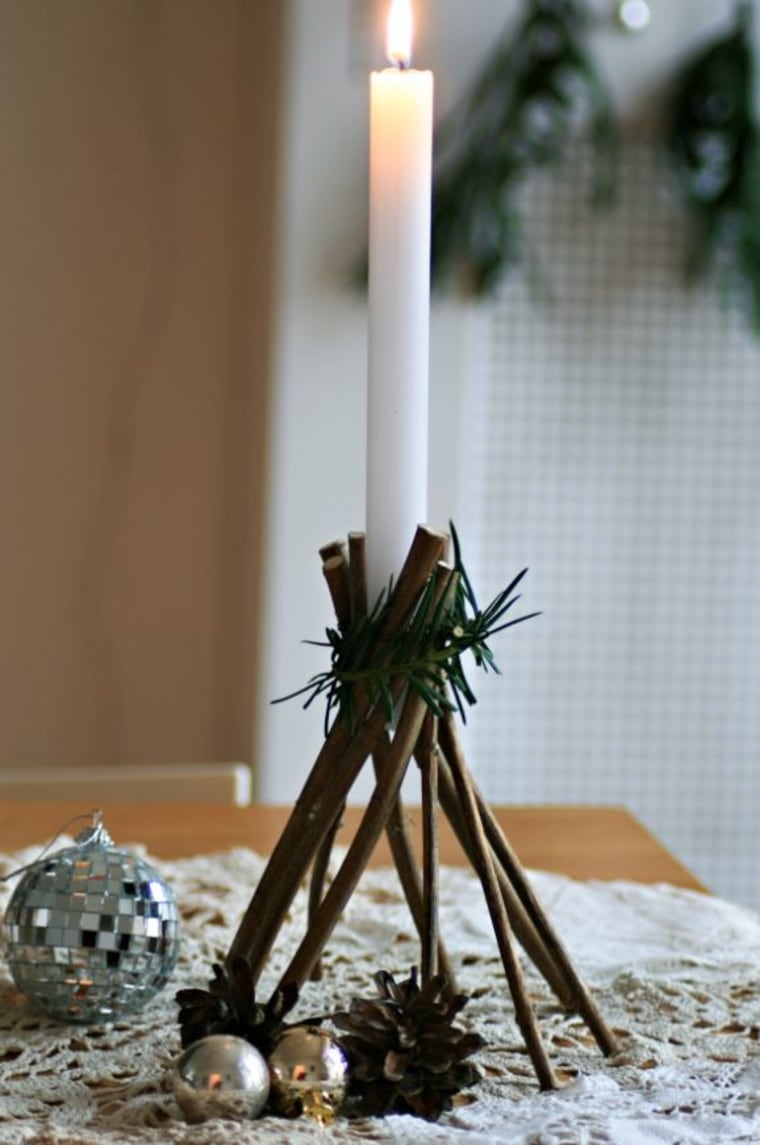 Ready to branch out? Songbird also transformed kindling into a country-chic DIY candle holder. All it took was some twigs, wire, an empty Q-Tip box, a whisky glass (a shot glass would work too) and "patience to figure out how to make the twigs balance and stand up somewhat straight." Got extra twigs? She also fashioned her garden cast-offs into an a knock-out assortment of stars-shaped ornaments and decorations. Learn how to make your own candle holder here. 
Words of wonder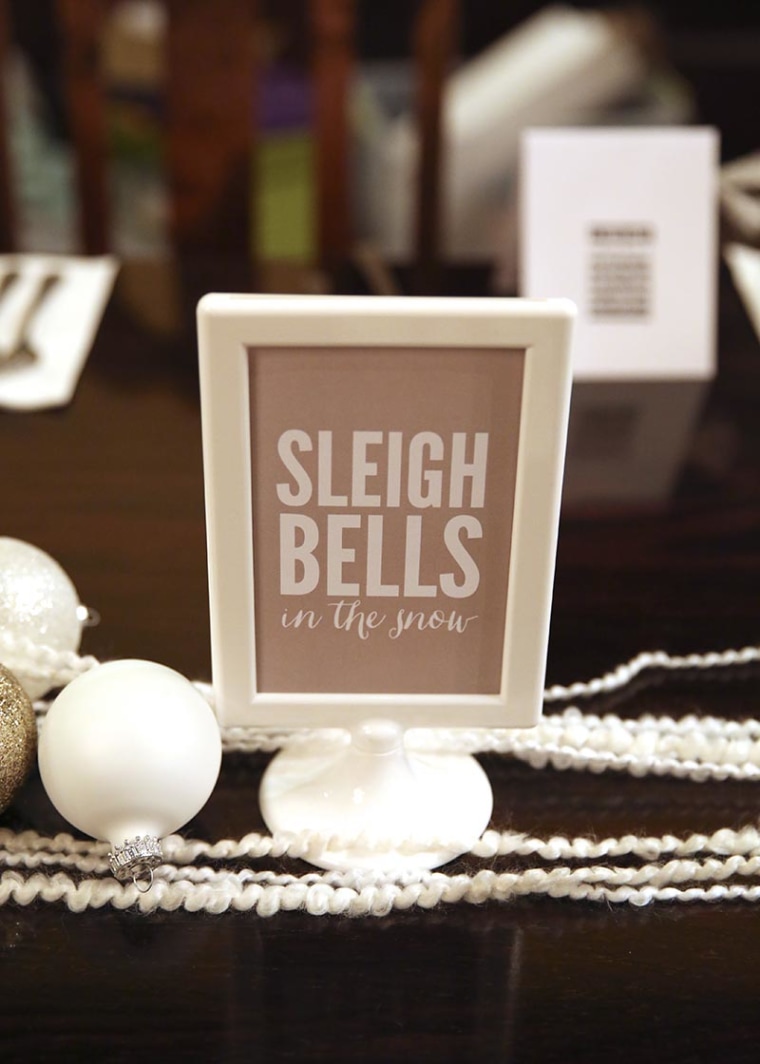 To liven up a holiday soiree, Paging Supermom co-founder Bettijo Hirschi created a set of nine printable Christmas and winter-themed sayings (like Snow is Glistening and Let is Snow) that she tucked into crazy cheap, double-sided Ikea frames. Download them for free, then do the same or simply swap them into frames you already have.