With Christmas just around the corner, the countdown is on to get your home looking and feeling ready for the holidays. While a tree trimmed in tinsel and garland is a beautiful way to display holiday style, thinking beyond the branches is a great way to spread decorative cheer throughout your home.
"Everyone thinks your Christmas tree is the focal point for the holidays, but it's really your fireplace mantel," said Eddie Ross, a designer and author of "Modern Mix: Curating Personal Style with Chic & Accessible Finds." The key to having a holiday-ready fireplace? "It's all about the powers of three: have a wreath or art piece to make a decorative statement above the fireplace, a mantel outfitted with greenery, baubles and tchotchkes and, of course, the stockings or some other decoration on the front of your fireplace," said Ross.
Want more great tips delivered straight to your inbox? Sign up for TODAY's Everyday Solutions newsletter!
1. Decorate above the mantel
Do you have art hanging above the mantel? For instant holiday cheer, switch it out with a real or faux wreath, like this Marion berry wreath, or something more funky, like this Christmas ornament wreath in bright colors. Consider getting a wreath that's pre-lit, shares Ross, to bring a bit of ambiance to the space above the mantel. If there's a mirror in that space, either switch it out or consider hanging the wreath on the front of it for a more layered look.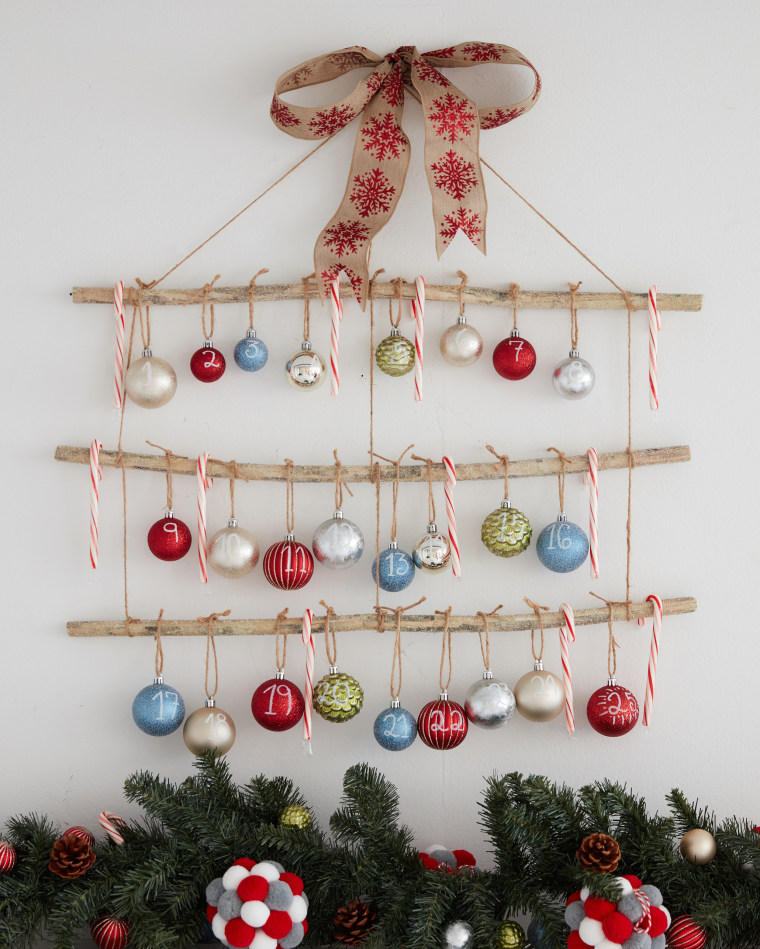 Adding a fun decorative element, like a DIY advent calendar piece, is another great way to show off your holiday cheer.
2. Just add garland
Fresh greens aren't just for dinner. In fact, fresh-cut garland — like cedar or douglas fir — is the quickest way to invite some stylish seasonal cheer, and is a great natural option for decorating. Faux garland is a great option for those who may want to re-use the same materials year after year. Whatever you choose, adorn your garland with faux berries, pine cones and mini ornaments, and don't forget to add a little ambiance with light.
"We like to add greenery across the mantel, but that can be dark and feel kind of flat, so I add a tiny strand of battery-powered twinkle lights so it glows," said Sherry Petersik of the blog YoungHouseLove. Another idea to try: Mini trees placed at each end of the mantel adds some visual height to the area. Put them in a unique pot or even a galvanized planter and don't forget decorative touches, like ribbons, colorful garland or mini candy canes.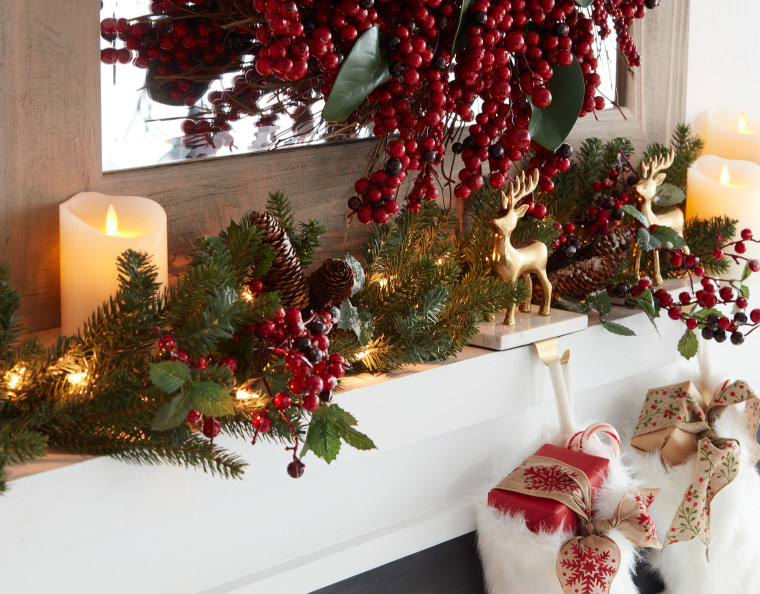 3. Personalize it
Mantels aren't just for displaying Christmas cards anymore. Arrange pillar candles of different heights across the mantel for a festive feel. Or, mix it up by adding bulb ornaments of different colors and shapes across the area. Add in your favorite statuettes and whimsical holiday signs, and go as big or as minimal as you like.
For his fireplace mantel that he designed for Lowes, Ross opted for a vintage-inspired village vignette with a handmade, rustic feel. "Here, we brought the festive feeling of a quaint little New England village indoors," said Ross.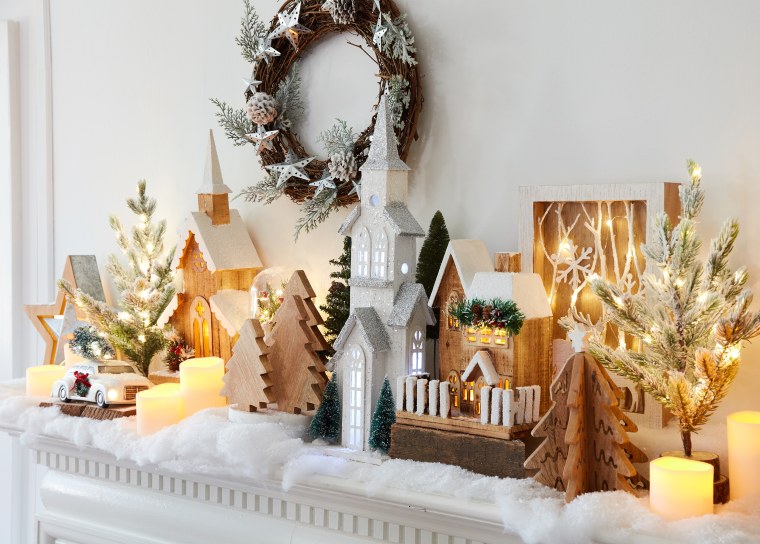 The trick to creating the perfect mantel masterpiece is to layer your items, he added. "To really bring our village idea to life, we added in faux trees of different shapes and textures, LED candles, rustic picture frames with woodland imagery and even a layer of batting for snow. Now it has its own unique look and feel."
4. Add stockings
Who doesn't love a good Christmas stocking? Find one or a few that you love and display with flair. There are options out there to fit every personality, like this embellished velvet stocking, a classic Jolly St. Nick stocking, a cozy knit stocking, a playful pet stocking, a sweet burlap tree stocking for the nature lover and, for the minimalist, a classic linen color-blocked stocking. Don't forget to add stocking holders, which also double as decorative elements.
Not keen on hanging stockings? Try a holiday banner or some fun garland (we like this peppermint garland) to span the width of the fireplace. In lieu of multiple stockings parading in front of the fireplace, Petersik opted for a mix of ceramics and other baubles to bring a simple but playful look to her mantel. "I also love to add some other whimsical touches, like a few small ceramic houses and colorful fabric elephant chains that I found at World Market," said Petersik.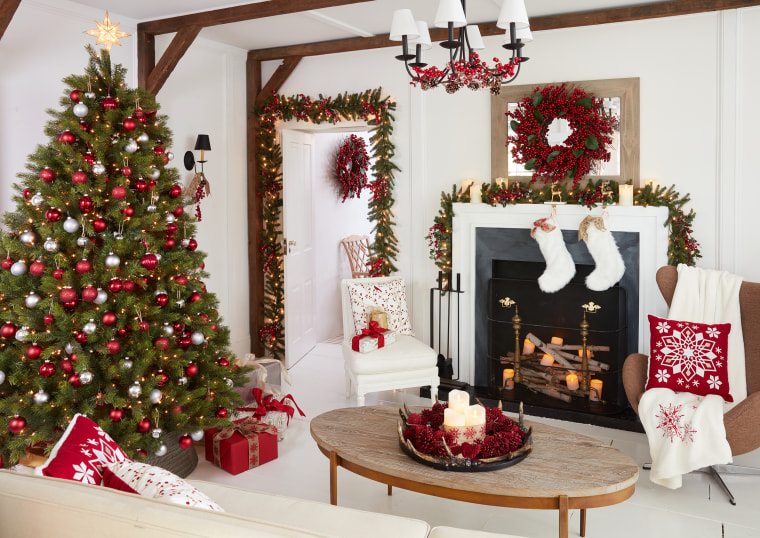 5. Fill the fireplace
If your fireplace is all show and faux, dress that up, too! Ross opts for a simple, classic approach: "Pile some birch logs in the fireplace and tuck in a few LED candles to create a beautiful glow."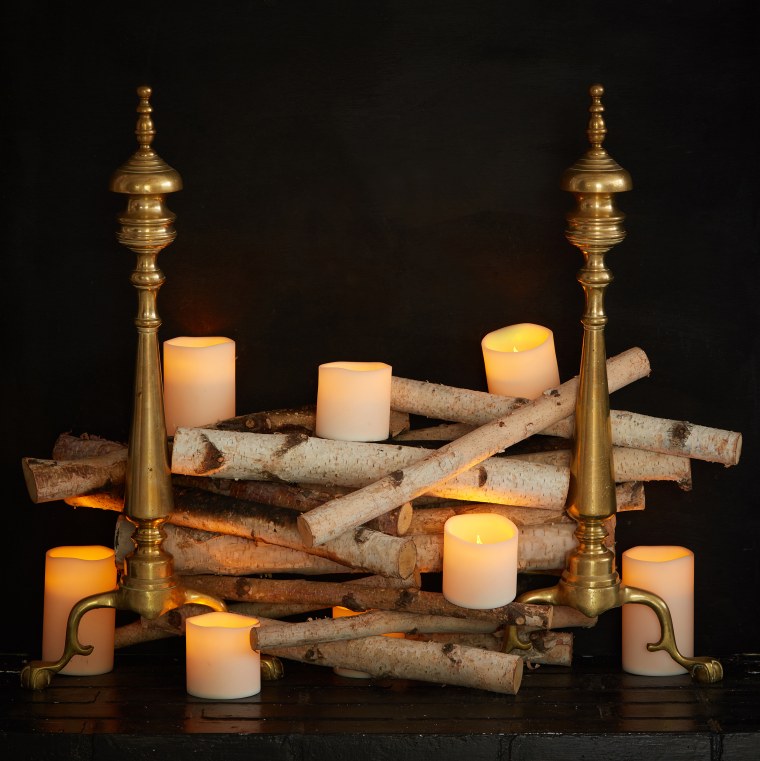 Now that decorating is done, you can turn your attention to the great menu options for your holiday soiree, including these 5 most "tried" holiday recipes on Pinterest.
TODAY editors, writers and experts take care to recommend items we really like and hope you'll enjoy! Just so you know, TODAY does have affiliate relationships. So, while every product is independently selected, if you buy something through our links, we may get a small share of the revenue.