Even brain cancer couldn't stop Barbara Lock from backpacking through the Grand Canyon one more time.
She had already done it 10 times in 10 years — a goal she set for herself in her 40s when people told her it was too hard to even try once.
But then the devastating diagnosis came out of the blue. It was glioblastoma, an aggressive form of brain cancer that can affect anyone, at any age — the cause is unknown.
The mom, now 54, was "the picture of health" when her startling symptoms suddenly began two years ago, her family says.
She has endured two brain surgeries, chemotherapy and radiation, but was determined to hike the Grand Canyon for the 11th time after her diagnosis. She did just that in November 2022.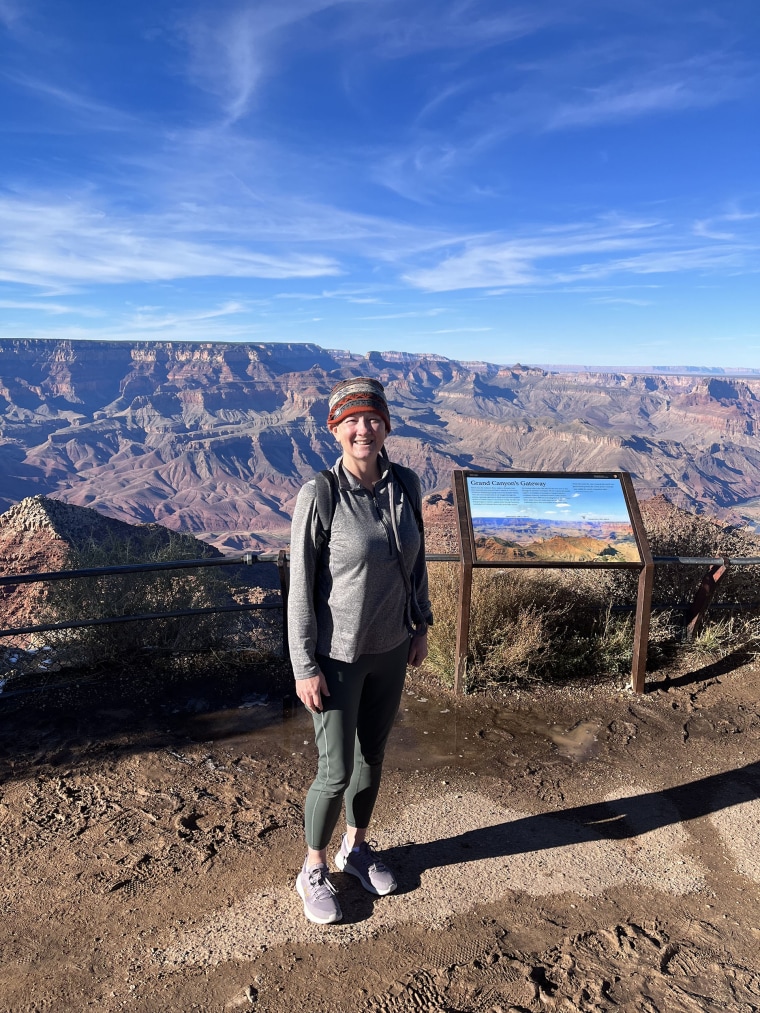 "My mom likes to do things even though people think she can't," her daughter, Brittany Lock, 30, tells TODAY.com.
"She always loved hiking and walking, and she didn't want to give that up… so she decided just to keep living her life and keep enjoying her life. Walking was one way that she did that. It also kept her strong."
Barbara Lock is now on hospice at her home in Boise, Idaho. She's had a hard time focusing and talking, so her daughter shared her story as her mom listened in.
Athletic and a lover of the outdoors, she did her first backpacking trip through the Grand Canyon in June of 2011, ignoring skeptics who thought she couldn't do it — then came back year after year. She went from rim to rim, from rim to the river, and from rim to rim to rim.
"You think I can't do it once? Watch me do it 10 times," Brittany Lock described her mom's attitude. She accomplished her goal in November 2020.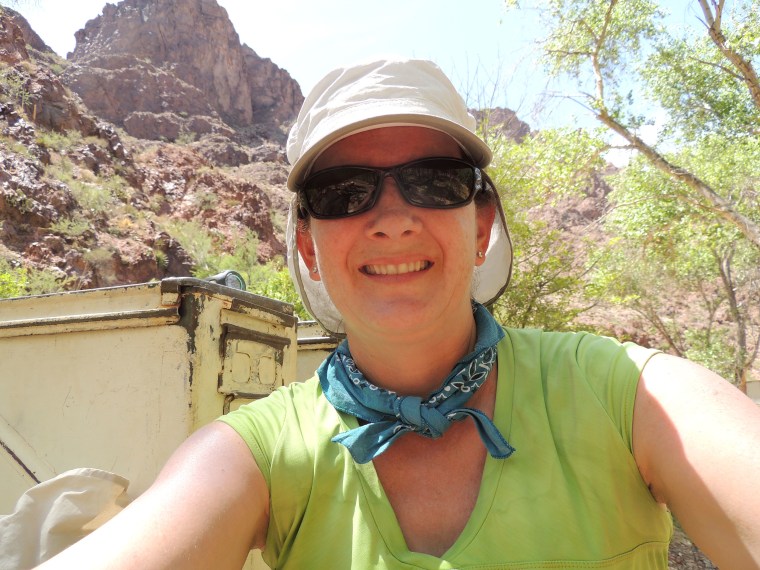 Troubling symptoms
But in April 2021, an unsettling incident put the family on alert. Barbara Lock was talking on the phone with her sister discussing plans to hike the Pacific Crest Trail when she lost control of her speech.
"It was like word salad. She just started saying a bunch of words that didn't go together," Brittany Lock says.
That morning, she had been complaining about a headache. During the call, she also experienced a tick and said she felt nauseous.
Barbara Lock was having a seizure, but the family didn't know it at the time. They feared it might be a stroke. But in the emergency room, "we were dismissed a little bit and that was really frustrating," her daughter says. Hospitals were still flooded with COVID-19 patients and the medical staff was swamped.
Doctors told the family basic tests didn't show anything suspicious, so they sent her home and advised watching for any more symptoms. They soon showed up again, with more seizures coming in the next days.
When the family kept coming back to the hospital, an MRI finally found a mass in Barbara Lock's brain. She had surgery to remove as much of it as doctors could in May 2021.
Walking to feel normal
The diagnosis: glioblastoma, which the National Brain Tumor Society calls one of the most complex, deadly and treatment-resistant cancers.
The disease comes with a grim prognosis: The five-year survival rate is less than 7%, the organization noted. Treatment is difficult because glioblastoma grows tentacles into the brain rather than forming a solid mass that doctors can target and remove.
Symptoms include seizures, persistent headaches, nausea, double or blurred vision, and changes in mood and personality.
The family was told Barbara Lock probably had about 12 to 16 months to live. She underwent chemotherapy and radiation, then had a second brain surgery in February 2022 when the tumor came back.
Through it all, she walked 5 miles every day, her daughters say.
"She'd always tell me that it helped her to feel normal. So whenever she was feeling bad from her chemo treatment, she would take a walk and her headaches would go away and she would start to feel normal again," Victoria Lock tells TODAY.com.
Last fall, the family set out to accompany her for that 11th backpacking trip to the Grand Canyon. She carried all of her own equipment down to Havasupai Gardens (formerly known as Indian Garden) along the Bright Angel Trail where they stayed two nights and hiked back up.
"It was amazing. It was so inspiring to see my mom take all of these trials that she faced over the two years and still keep up with her walking and still not give up the things that she loves to do," Brittany Lock says.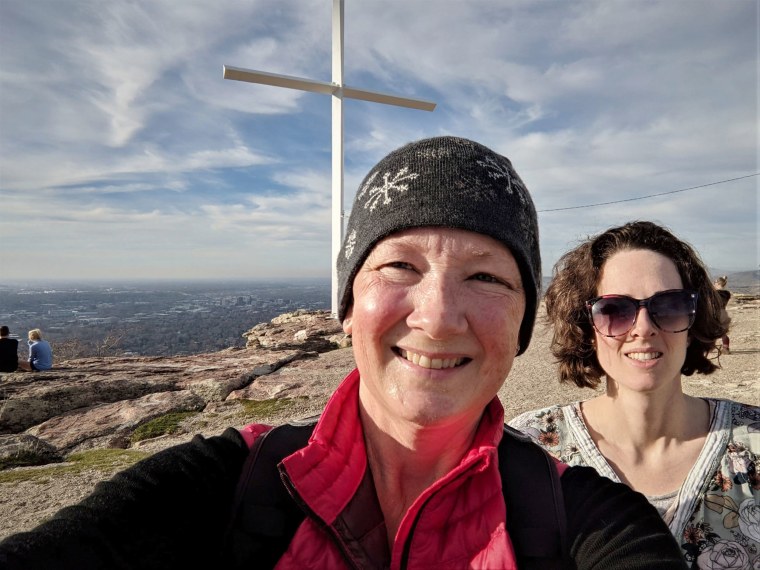 'Don't give up on things you love'
Right afterwards, in November 2022, the family found out she had another tumor that grew in a region of the brain that was not operable. A more aggressive chemotherapy regimen seemed to work until about a month ago when Barbara Lock became more tired than usual and was having trouble seeing. More tumors have appeared. She is now at home and comfortable, Brittany Lock says.
Her mom's message to other people with a health crisis is to keep doing what you love.
"Don't give up the things that you love just because you have a tough diagnosis or you're not sure what the future is going to hold," she notes.
"For her, it was walking. Walking was really important to her, it helped her feel normal. So just keep enjoying the life you have."