April is Autism Awareness Month, and 13-year-old Seán Mulligan has a heartwarming message: a candid look at what it's like to live with the disorder.
Seán's uncle, Irish Snapchat star James Kavanagh, recently interviewed his nephew on the social media platform about what it's like to have autism. The teenager is both honest and open while answering questions others often ask about autism. James has since uploaded the video to his Facebook page, where it's been shared 4,000 times as of Thursday morning.
"Some kids with autism have very sensory difficulties, some don't have very good social skills," Seán says. "Stuff like loud noises and loud music really gets me. Stuff like personal space, it makes me a bit uncomfortable when people are too close to me, and I get sometimes uncomfortable when other people like that aren't my family hug me."
When James asks what others can do to support those with autism, Seán offers several tips: "One of the most important things is be understanding. Try to let them into your activities. Always use literal language. Never be sarcastic." He also adds that it can also be offensive when people use labels like "special" or the "R word."
RELATED: Boy with autism writes 'I am odd, I am new' in poem celebrating differences
Ann Mulligan, Seán's mother, told TODAY she was shocked by the massive amount of buzz the clip received in such a short period of time.
"I am absolutely bowled over by the attention," Ann said. "It's hugely positive and I am thrilled. I honestly thought it would maybe reach a couple of hundred people."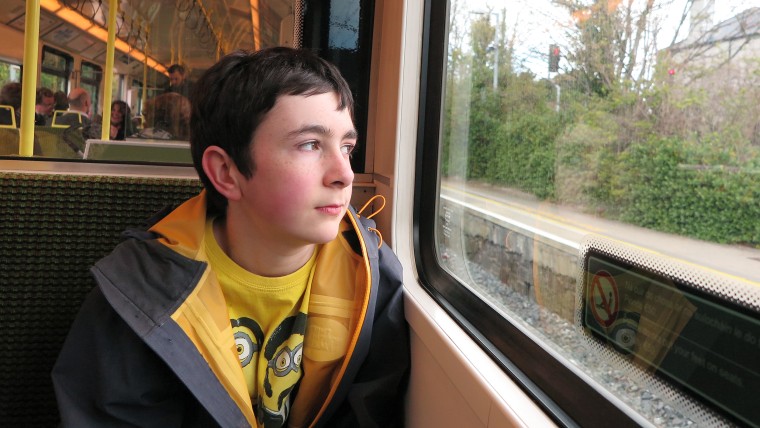 Ann came up with the idea to film Seán speaking about his autism while attending an awareness conference.
"I messaged (James) to suggest he interview Seán, as its Autism Awareness Month," she said. "(He) does these type of interviews a lot on his Snapchat for fun."
And, as it turned out, Seán just so happened to be a brilliant interviewee.
"Seán is an amazing little man," Ann told TODAY.com. "He is so thoughtful and kindhearted and easily hurt."
But, like many with autism, Seán struggled to find acceptance among his peers.
"I had to move him from his school two years ago due to bullying and a total shambles of a support from the school," his mom said. "It broke our hearts as parents to see Seán in physical distress daily. We took a leap of faith and enrolled him in another local school. It's been one of our best decisions to date. He has come so far in the past two years."
RELATED: Adele invites girl with autism onstage for 'Someone Like You' duet
When asked about what she hopes others learn from her son, Ann had a simple answer.
"We hope kids will take note and be a bit kinder to their peers," she explained. "We hope teachers take note and give that child the extra time needed to process the information in his or her own time. We hope the person in the shopping mall looks again at the naughty kid and thinks perhaps they are having a sensory overload...an emotionally difficult time."
It comes down to "awareness and understanding," she said — the ability to take a step back and realize, as Seán put it, that people with autism "see the world in their own perspective."