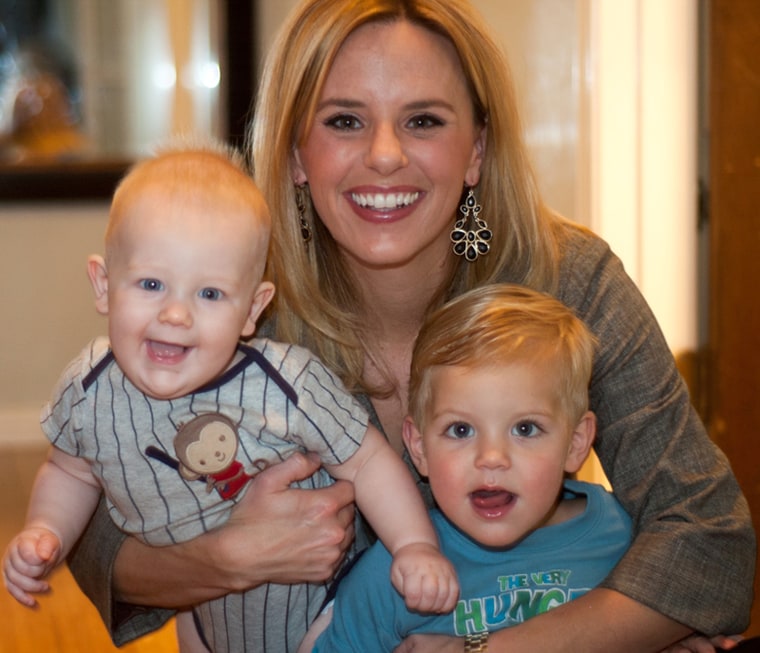 When her first child, Lane, was born two years ago, Texas optometrist Erin Taylor was back in the office giving eye exams within a week. When her second son, Rhett, arrived in February, the Amarillo mother says she "treated" herself to a longer maternity leave: 10 days.
"People thought I was absolutely crazy," said Taylor, 32, who is self-employed with three staffers to support. "But I was, like, you tell me: Who's gonna pay the bills?"
Across America, growing numbers of new mothers -- from professionals like Taylor to those in lower-paid service and retail jobs -- say they're feeling financial and personal pressure to get back to work very quickly, often within days or scant weeks after giving birth.
Jenna Bush Hager on 'nerve-wracking, bittersweet' return from maternity leave
"I originally planned to take six weeks off, but I came back in three," said Lauren Anderson, 23, a hairstylist at the upscale Square Colour Salon and Spa in Las Vegas, Nev.
She was worried about the money, sure -- Anderson pays $300 a week rent for her salon chair and doesn't earn when she can't work -- but she also was concerned about abandoning her established clients for too long, even when she directed them to competent replacements.
"Just being the controlling person that I am, I was wondering, is this person going to do it the same," said the mother of 9-month-old McKenna. "What am I going to have to fix?"
About two-thirds of U.S. women are employed during pregnancy and about 70 percent of them report taking some time off, according to most recent figures from the National Center for Health Statistics. The average maternity leave in the U.S. is about 10 weeks, but about half of new moms took at least five weeks, with about a quarter taking nine weeks or more, figures showed. 
But a closer look shows that 16 percent of new moms took only one to four weeks away from work after the birth of a child -- and 33 percent took no formal time off at all, returning to job duty almost immediately. 
That means more women are coping with pregnancy-weary bodies, the demands of a newborn and the demands of a boss -- all before the "Welcome, Baby" flowers have wilted on the bedside table.
A year off to no time at all: Your tales of maternity leave
Research has shown that shorter leaves can interfere with recommended breastfeeding duration and may contribute to higher rates of depression among new moms. 
And the women themselves say they were swamped trying to juggle so many roles at once: 
"It was trying to wear all hats -- being a doctor and caring for my patients, being an employer and all the decisions and responsibilities of running a business and caring for a newborn, trying to figure the mommy thing out and getting to know your baby," Taylor recalled.
Still, it's a trend that appears to be accelerating, said Rosemary Haefner, the vice president of CareerBuilder.com, a job board site that conducts annual surveys of workplace metrics.
In 2012, the company's snapshot poll of about 800 working parents found that one in 10 women took two weeks or less of maternity leave. This year's results place that number at one in eight.
"It's small, but it's going up. We're seeing some shifts," said Haefner. "There are some very tough decisions being made by families about how much they can afford while out on maternity leave."
Part of the change is simply because women's income has become more important. More than two-thirds of mothers overall are in the labor force and a record 40 percent of households with kids under 18 have moms who are the sole or primary source of income, a recent Pew Research Center analysis of U.S. Census data showed.

"The contributions that women make to household incomes are no longer the icing on the cake; they're half the cake," said Ken Matos, senior director of employment research and practice at the Families and Work Institute.
Sarah Strydom, 41, of Topeka, Kansas, said she was her family's chief breadwinner when her only child, Ruan, was born four years ago. 
"I worked from home the minute I got back," said Strydom, who is an executive in her family-run printing business. "Our website went live the same day my son was born and I was checking email on my Blackberry from my maternity bed." (Although she's part of the clan, Strydom said she feels as much pressure -- or more -- than non-related employees.) 

And part of the trend may be because America continues to lag so far beyond the world's developed nations in its policies for parental leave. The U.S. is one of only eight countries -- out of 190 -- that does not offer paid leave, according to a recent analysis by Jody Heymann, dean of the school of public health at the University of California, Los Angeles, and author of the new book "Children's Chances: How Countries Can Move from Surviving to Thriving."
In the U.S., the 20-year-old Family and Medical Leave Act guarantees that larger employers and public agencies offer 12 weeks of unpaid leave, plus health benefits, for the birth or adoption of a child and other family care responsibilities.
But about 40 percent of workers are left out because the law only applies to companies with 50 or more employees and it requires that workers have been at the firm a year and have worked 1,250 hours in the past 12 months. Plus, it's unpaid, and many workers simply can't afford the time off.
When they can afford it, competitive work environments and professional demands may cause women to cut short their leave -- even when their companies allow it.
That's true in fast-paced, pressured jobs like law, media and technology, where workers are expected to be accessible at all times, said Matos.
"In those cases, some women might feel that taking six months off is going to be a significant bump in their future progression," he said. "In places where even a slight disruption of the forward momentum puts you behind anyone else, any time away is a threat to your ability to stay away."
Because there's no federal policy supporting parental leave, most U.S. families simply cobble together their own solutions. In the case of Taylor, the optometrist, she brought both babies to work for the first six months, relying on willing staffers to take care of them when she was with patients.
Anderson, the stylist, left her baby daughter with her grandmother when she went back to work early. And Strydom, the printing firm executive, said that staying on the job immediately after childbirth has given her greater flexibility later on.
"Because I didn't take time off when my son was born, I don't have any qualms at all about taking the time now," she said. "I choose to work from home if I need to be with him and because I've shown that I can take on so much, my company has allowed me the latitude of creating a really flexible work scheduled to accommodate my family." 
JoNel Aleccia is a senior health reporter with NBC News. Reach her on Twitter at @JoNel_Aleccia or send her an email.