Plastic surgery and cosmetic procedures aren't rare these day, but they're not often discussed openly either. That's because many of those who get work done prefer to keep quiet about it.
So how can you learn more about Botox, fillers and more? By watching the procedures being done and getting answers to your question right here on TODAY.
Wrapping up our weeklong plastic surgery series, anchors Savannah Guthrie and Carson Daly both went under the needle Friday to show viewers just what the experience is like.
Dermatologist and psychiatrist Dr. Amy Wechsler injected fillers into Daly's laugh lines before giving Guthrie a dose of Botox in near her temples, and she eased them both through it live on the air by answering their questions.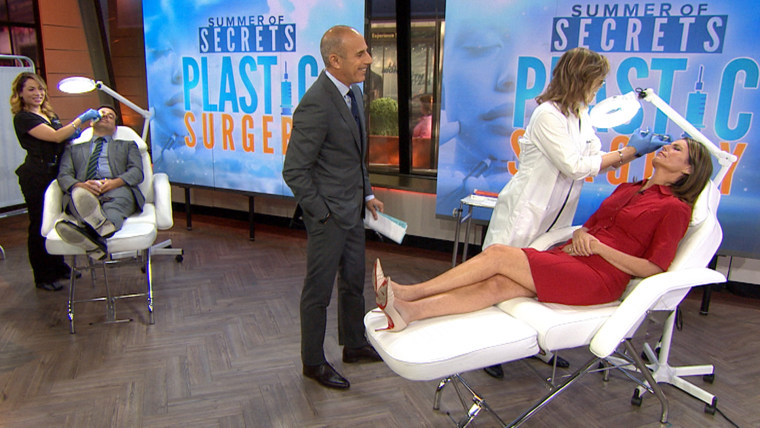 Off-air, Wechsler offered up even more valuable information.
What questions do you get most in your office with people coming in for a consultation? Most people that come in say they want to just look like a younger, well-rested version of themselves. They say they feel young on the inside and they just want their face to match that.
Why do this? People are busy and a lot of us are overworked, and it's just giving you a little bit of a more youthful you. As we get older, the volume in our face drops and the Botox/fillers can help plump them up a little. When your face looks revitalized, then you feel better as well. It's always a personal choice and there are a lot of non-invasive options out there that can help you feel and look more restful. There are minimal risks with these procedures, and they do wear off. A tiny bit of Botox or fillers can erase anywhere from five to 10 years off your face.
What exactly is Botox and how does it work? Botox works by temporarily freezing muscles. The results you will see in about one week to two weeks, and they usually last around four months. We will use a tiny needle and their is little risk with Botox. But you should always find an experienced injector.
What are fillers and how do they work? Fillers work by adding volume and smoothing out wrinkles. As we age we lose collagen and fillers can help plump up the face. I am going to be using Juvederm Ultra Plus on Carson. This is used a lot for the area from the nose to the mouth — the smile lines. It's for deeper wrinkles. depending on the filler, they can last between six months to two years.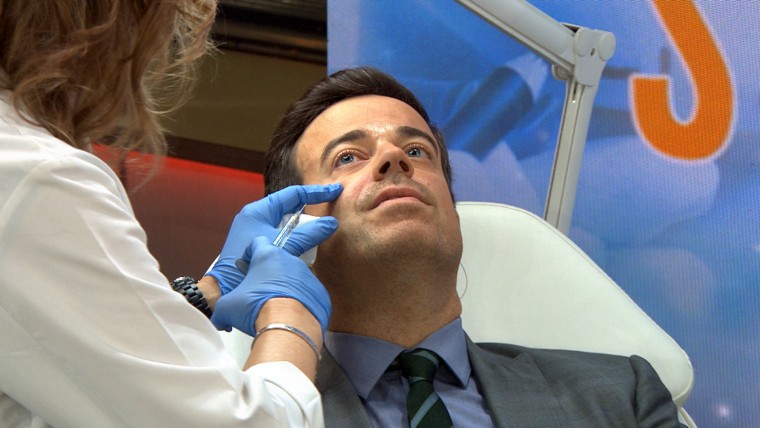 What are you doing for Carson? We spoke about his smile/laugh lines and they are perfect for fillers. You'll see an immediate difference especially when I do the one and leave the other. We will be putting numbing cream on his face so he shouldn't feel much of anything. But since I'm also a psychiatrist, I can help him get through any anxiety. I'll also do his "anger lines" [between his brows] off camera with a little Botox. Between the eyebrows is the area where most people do Botox. It makes people look less tired, and less irritable.
Are you seeing a lot more men doing fillers/Botox? Yes, there is a big uptick in my practice, but most men are still not talking about it. So I give Carson a lot of credit for trying it out. I think there is still a stigma for men, but thanks to men's magazines and people like Carson trying it, that might change.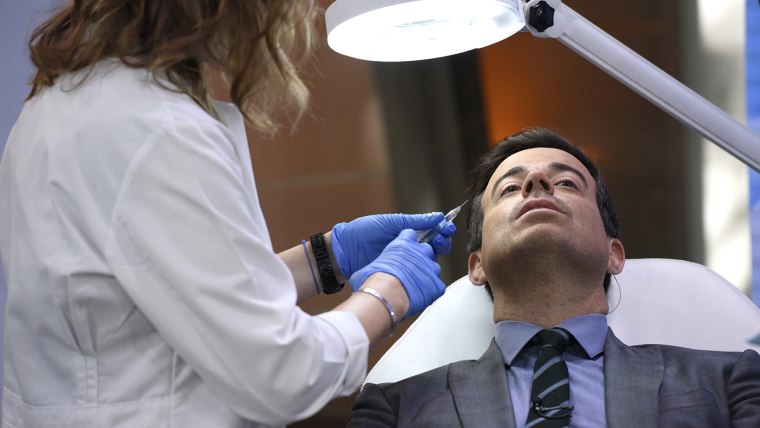 What are you doing for Savannah? I'm going give Botox in between the eyes for Savannah, and then tackle the lines on the side of her eyes. We're looking at about three to five shots in each location. You'll notice it a little in about two to three days, but it will really settle in about a week to two weeks. Botox blocks the signals from nerve to muscle, and it really takes about two weeks to do that. This will last three to four months and the beauty is that the lines are never as deep when it wears off as that part of your face got a rest. Savannah has beautiful blue eyes but she grew up in Arizona and spent a lot of time squinting at the sun and smiling, which is a great thing but over use of these muscles cause crows feet which we will freeze with Botox.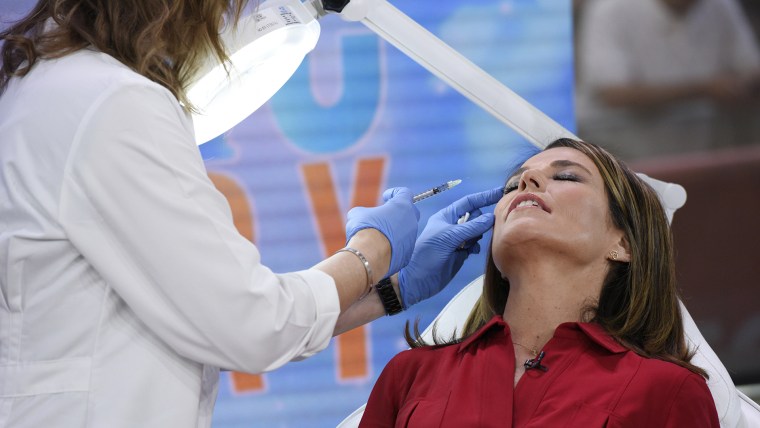 Are there any downsides to fillers/Botox? Fillers — you can have some bruising at the spot of the injection you can also have a bit of temporary swelling. As for pain everyone's pain is a little different, but I usually give my patient's a stress ball and talk them through it if they are feeling anxious. And of course if you go with someone who isn't experienced they can always make you uneven or frozen or, in a worse case scenario, hit an artery. So make sure you go with someone who knows what they are doing.
Botox — not a lot of downsides. You can always have a frozen look, but I really like movement in faces so I never overdo it. I use Botox, but you can still see my face move.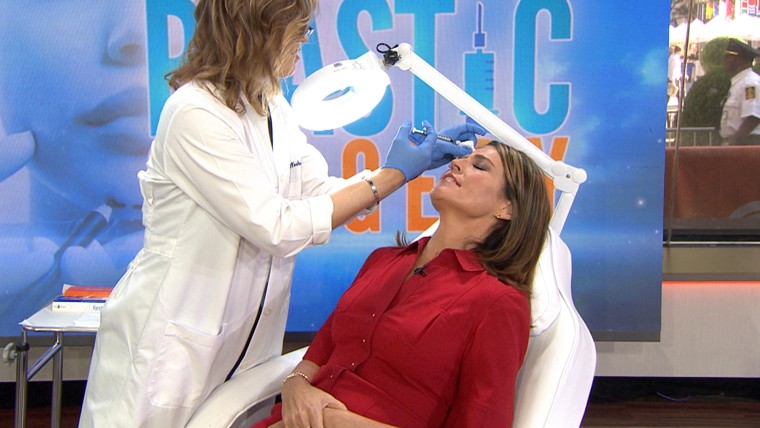 How much do these things run? Fillers between $500-1500 [and] Botox anywhere from $300 to $1500.