It started with sharp back pain. 
In early July, Jazzmin Peluchette was driving with a friend in Miami, Fla., when a pain she has described as "excruciating" made the 17-year-old suddenly stop the car. The high school volleyball player struggled out of the driver's seat and asked her friend to drive her home. The pain then spread to her chest, and she started vomiting.  

Twenty-four hours later she would be blind, paralyzed and unable to breathe on her own.
At Joe DiMaggio Children's Hospital in Hollywood, Fla., a team of doctors tried to find the cause of Peluchette's symptoms. The day after she was admitted to the hospital she suffered a seizure, and when she stopped breathing her doctors put her on a ventilator.
"I'm in the middle trying to calm her and she's so strong that 10 doctors and nurses could not control her," her mother Alba Suarez remembered. "I was confused and scared."
Peluchette's father Tim Peluchette had just arrived in Wheeling, W. Va., for a family reunion when he learned his daughter was in the hospital. He immediately drove the 1,190 miles back to Florida, and the sight of his athletic daughter in intensive care scared him.
"I walked into the room and I walked out immediately and started crying," he said. "She had a tube in her nose, two down her throat, three coming out her neck, and IVs everywhere." 
Peluchette was now paralyzed from the neck down.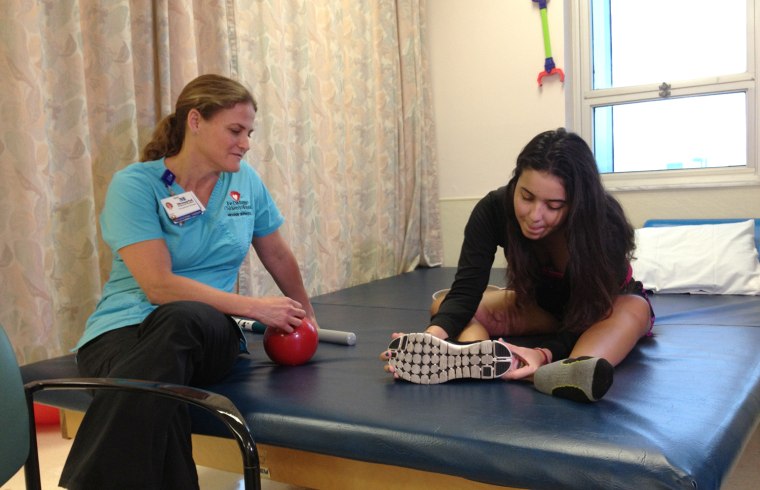 After eight days the teen was diagnosed with neuromyelitis optica, also known as NMO, or Devic's disease, a devastating autoimmune illness that is unusual in patients under 40. The condition causes the immune system to attack the nervous system, including the optic nerve, leaving some blind and paralyzed. Some patients report nerve pain similar to being incessantly pricked by needles.
NMO is rare, with an estimated 4,000 to 8,000 cases in the U.S., according to the National Institutes of Health. However, NMO patients are often incorrectly diagnosed as having multiple sclerosis. "NMO cases are severely underreported," said Jennifer Chang, director of the Myelin Repair Foundation. 
Respiratory failure is the leading killer of NMO patients. In fact, it was 20 days before Peluchette could breathe on her own, although she was determined to stay off the respirator. "My dad would help me count one, two, three, breathe," she said. "I would have to think of myself breathing." 
Because of her youth, Peluchette was actually at greater risk than older NMO patients. 
"The reports in children tend to be a little more severe and [children] tend to relapse a little more often than some of the adults," said Dr. Gary Kleiner, the Joe DiMaggio Children's Hospital immunologist who helped diagnose Peluchette.
Doctors treated Peluchette with a cocktail of steroids, painkillers and a blood plasma exchange.
"We gave her medicine to suppress the immune system specifically the cells making the antibodies," said Kleiner. 
Peluchette's breathing finally stabilized and she recovered part of her eyesight. But she still could not move. Through intense physical and occupational therapy she relearned how to lift her arms and grab things with her hands. 
After three weeks in the hospital, Peluchette had a special request for her doctors: she wanted to see sunlight. 
Gingerly, nurses put her aching body in a wheelchair and rolled her out of her windowless room. "I felt the heat on my skin and I started to cry and cry," she said. "You take those little thing for granted in life, seeing a tree or a car, so I started crying."
Three months after that sharp back pain changed her life, Peluchette is home and full of gratitude. 
"I've put everything in perspective," she said. "Health and family are the two things that I cherish now."   
She depends on steroids and painkillers and faces many hours of physical therapy to strengthen her upper body. But she hopes one day to walk again and to go to college. 
"I just want a normal life, that is really what I want more than anything," said Peluchette. 
A fundraising web site, "Be strong Jazz!!!" and Facebook page have been created to help cover her medical expenses.
Her doctors say so little is known about NMO, it's hard to predict her recovery.
"She has a very positive energy about her and I think that's going very important for her recovery," said Heidi Torocsik, Peluchette's pediatric neurologist. 
Kleiner hopes sharing information with other doctors and patients fighting NMO will lead to a breakthrough soon.

"Hopefully this story will get out to the medical community and the public, to patients who have gone through this," Kleiner said.