At 101 years old, Richard Mann stays more active than most young people today.
He keeps himself physically fit by doing daily routine exercises and taking walks through his neighborhood. In the winter, he opts for indoor cardio by walking up and down his stairs, but the cold will never keep him from shoveling snow.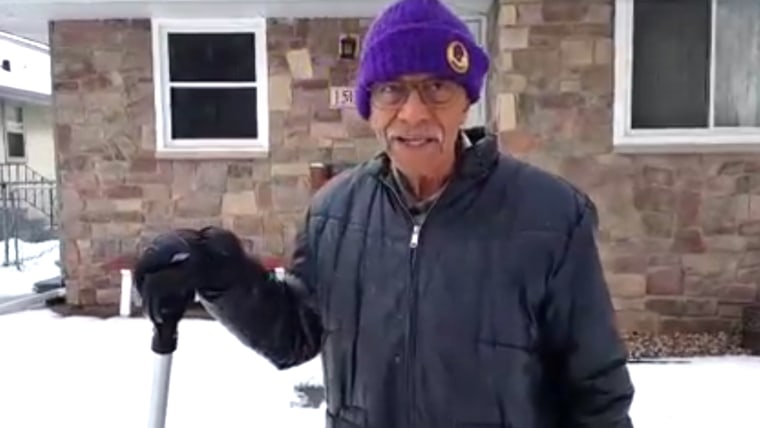 RELATED: Gutsy grandpa, 73, finishes 13-year quest to run 50 marathons in 50 states
"I've been doing it forever," Mann told TODAY.com. "I do it because it's necessary and part of my life."
After his father died when he was 4 years old, he took on tasks around the house to help his single mom — snow shoveling being one of them.
RELATED: New Jersey couple gets snowed in — literally — after blizzard
When the retired post office clerk's neighbors go out of town, he's got their driveways covered, including Keven O'Bannon, 55, who caught him in action shoveling snow on Jan. 8.
"I can use the exercise as long as I don't exert myself," Mann said in the video O'Bannon posted on Facebook, where it's been viewed almost 2 million times. "I know what my limitations are."
During a recent doctor's visit, Mann's nurse examined him only to find out that his blood pressure is perfect, heartbeat is fine and muscles are strong.
RELATED: Family rescues freezing piglet by the side of the highway in blizzard
"She was impressed by my age and physical condition," Mann told TODAY.com. "She called me a '101-year-old specimen.'"
Although Mann is healthy himself, he's lost two wives to different diseases — the first to cancer and the second to Alzheimer's disease.
His secret to a long life? "Fine wine, women, getting plenty of rest and eating good food." He enjoys starting each day with bacon and eggs.
RELATED: 100-year-old Felimina Rotundo works 11-hour days, 6 days a week to keep active
"This is an inspiration to a lot of people to get up and get out and get something," O'Bannon said in the video.