The firefighter who tenderly cradled a baby girl killed in the Oklahoma City bombing is ending his tour of duty.
Chris Fields retired this month after 31 years, 7 months and 16 days at the Oklahoma City Fire Department. He spent much of his life rushing to emergencies, but it was that one moment — captured in a searing photo — and the attention it garnered that shook him, impacting his mental health and family relationships.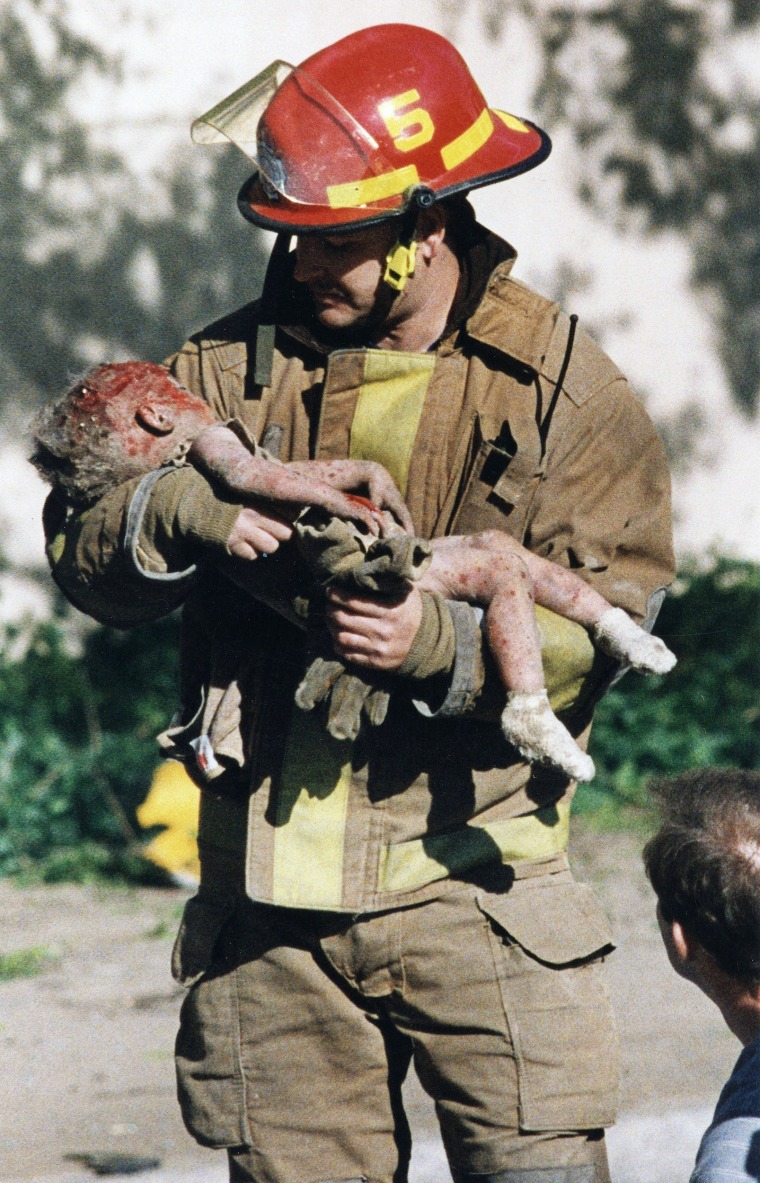 It took counseling for post-traumatic stress disorder and years to process the events, but Fields says he's finally in a good place. He's a husband and the father of two grown sons. And he's friends with the baby's mom, a bond he calls a blessing.
"I have come a long way," Fields, 53, told TODAY. "It took me a long time to get to this point… it definitely affected my personal life as the years went on, but everything is great now."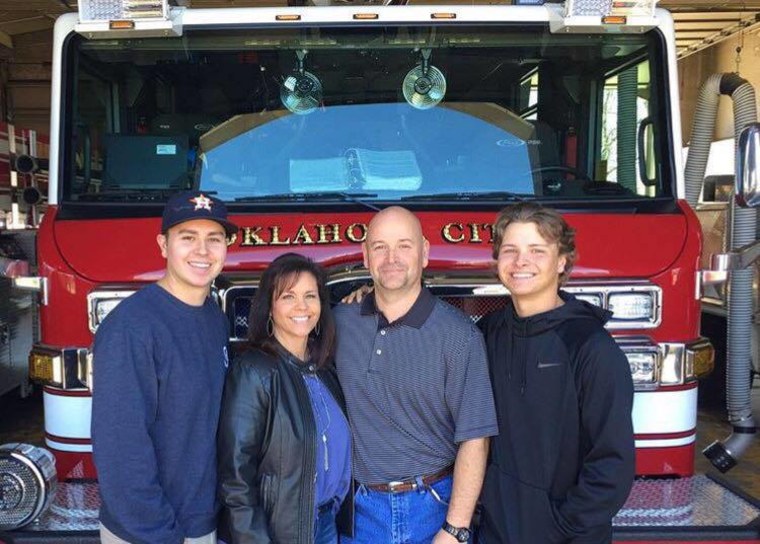 Fields was at a fire station 17 blocks north of downtown Oklahoma City when a bomb destroyed the Alfred P. Murrah Federal Building on April 19, 1995. He and his colleagues felt the blast, saw the smoke plume and raced to the site.
As Fields helped with triage, a police officer approached and said he had found an infant in critical condition. The firefighter took the bloodied baby and carried her to the ambulance. He would later find out her name was Baylee Almon. She had turned 1 the day before.
"I'm an EMT so I just checked for signs of life, I didn't find any. But I wanted to get her to the ambulance and let the paramedics see if there was anything they could do," Fields said.
All the stretchers and ambulances were full, and as Fields waited for workers to put a blanket on the ground for the baby, he thought about the little girl's family. The photo captured that moment.
"I was thinking, this is somebody's world just getting ready to be totally undone," Fields recalled. "Knowing that they're going to find out that their child is dead."
His firstborn son was 2 years old at the time, not much older than the baby in his arms.
"It's always devastating when it involves children, but when you have one, it hits home even more," he said.
The bombing killed 168 people, including 19 children.
RELATED: 20 years later, TODAY looks back at the Oklahoma City bombing
Fields caught up with his crew and worked into the night, unaware of any photographs until he returned to the station. A news agency had faxed a copy of the picture to the fire department, asking the name of the firefighter holding the baby.
"I said, I guess it's me," Fields recalled. "I thought, no big deal."
The photo was published the next day, ultimately appearing on front pages around the world, becoming one of the most iconic images of the bombing and winning the Pulitzer Prize.
RELATED: Oklahoma City bombing child survivors now grown up
It took Fields years to come to terms with the attention, he said. He knew the image represented all the rescue workers and the innocents. Still, out of all the people scrambling to help that day, it was his name associated with the photo. He didn't want to be singled out.
Other thoughts haunted him, too.
"I was the last one to hold a parent's baby when that should be a parent's deal," Fields said. He worried about Baylee's mom and what she went through because of the photo: "I struggled a long time feeling responsible for that," he noted. Aren Almon-Kok was a 23-year-old single mother when Baylee was killed.
Fields was nervous about meeting her, but was relieved when she thanked him. "She said, I could tell by looking at the photo that you were a dad by the way you were holding Baylee," he recalled. The friendship has helped him heal.
After the bombing, Fields came to realize "PTSD is a real thing," he said. The smell of wet concrete could trigger painful memories because it rained on the day of the blast. Fields used to like to socialize, but he would come home from the station and lie around all day. He dreaded the bombing anniversaries.
It took a couple of years of counseling for PTSD for Fields to recover and accept he had no control over the situation. He wants other rescue workers and their bosses to pay attention to their mental health.
"Twenty or 30 years ago, you just didn't show emotion, you went on about your day… we've come so far since then," he said.