They were high school sweethearts who married other people. But six decades later, when both their spouses died within a few months of each other, they rediscovered their love.
When Lois Vitt's husband Noel A. Schweig died three years ago from lymphoma, she assumed she wouldn't have another chance at love. She was 75 with a broken heart that didn't appear to be healing any time soon.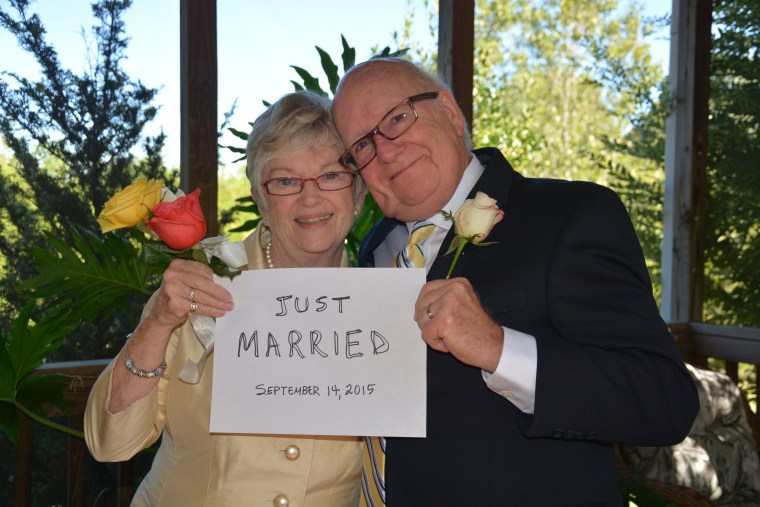 Yet she found herself occasionally wondering about a high school sweetheart. They'd fallen in love when she was a junior and he was a senior, but their whirlwind romance petered out when he went to college. Before she met her late husband, she frequently told her kids from her first marriage that Jeff Greenwell was the "love of her life."
But, Vitt knew, Greenwell had been happily married to his wife, Claudette, for decades.
A year and a half ago, Vitt, who lives near Richmond Virginia, and a friend looked Greenwell up on Facebook. When she saw him and his wife posing together with another couple, she thought, 'Well that's the end of that."
What Vitt didn't know is that the Facebook photo of the couples was an old one. Claudette, Greenwell's wife of 54 years, had passed away after a long battle with cancer within months of Vitt's husband's death.
Vitt also didn't know that Greenwell had been thinking about her too. In fact, he had checked the phone directories for his old flame's family members in the D.C. area, but had no luck. Then he found an old mutual friend who still kept in contact with Vitt.
"First I asked, 'Is Lois alive?'" explains Greenwell. "Then I asked, 'Is she still with her husband?'"
The friend filled him in on Vitt's life and then offered to pass along his phone number.
Within seconds of getting the news, Vitt dialed Greenwell's number.
"It's Lois. I can't believe this," she said and began a nearly four-hour conversation that rekindled their romance and led to their wedding on a flower-strewn porch last month.
"We laughed and cried. We were both still grieving our spouses, and we talked about how hard it was to see them sick," says Vitt, now 78. "But it was extremely comfortable as if no time had gone by. Jeff wanted to know everything that had happened in the last 50 years."
They reminisced about the first time he had put his arm around her while riding in the back seat of a car on the way back from a group beach trip.
She thought he was fun and loved the way he supported her crazy schemes, such as driving to New York City on a whim in the middle of the night.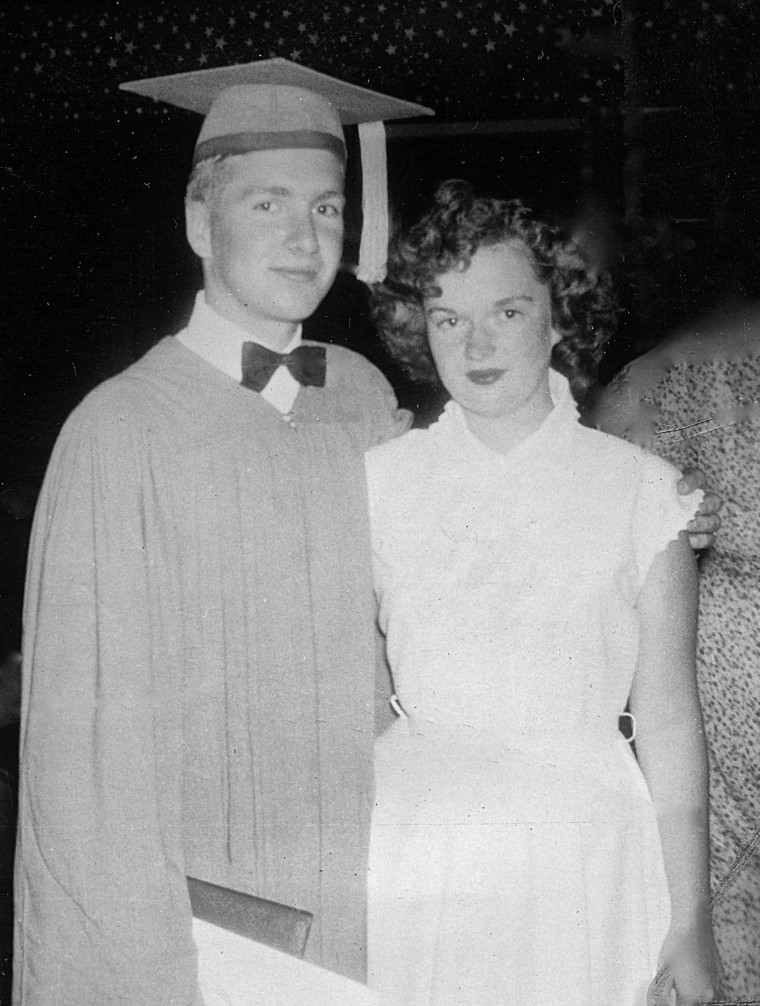 Then they recalled the conversation that changed the course of their lives. Greenwell had become intensely focused on his schoolwork during his freshman year of college 30 miles away. Frustrated, Vitt started dating other people. A year later Greenwell learned Vitt was marrying someone else — at age 17.
He confronted her, saying,"That's a foolish idea. You're too young to be getting married."
"I'm not too young," Vitt protested.
"I was in love with her, but I wasn't ready to get married myself," reflects Greenwell, now 81. "Maybe I should have told her the real reason I didn't want her to get married."
"Maybe I wouldn't have gone through with it," says Vitt. "Who knows? At the time, getting married was the way to leave home."
The kept in contact as she eventually left the rocky eight-year marriage, moved her six children to Manhattan and started a career in finance.
Greenwell also got married and became an aerospace engineer and a dad to five kids. "I was in love with my wife," he says. "But I kept track of Lois until I learned she was getting remarried."
"After my wife's death, I never planned on dating. But I wanted to know where Lois was. When I learned we both had lost our spouses in the same year, I thought 'This was a done deal.'"
After they reconnected, they talked every night over the next week until Greenwell suggested driving 165 miles to visit her.
Related: 83-year-old man who walked 6 miles to mow lawns gets happy surprise
They quickly became inseparable and split their time between their two homes in Maryland and Virginia. They took up golf and revived their shared love of opera and the arts. They also got to know each other's families through non-stop birthdays, weddings and holidays.
"I realized I had loved him all my life and never wanted to be without him again. I loved the boy he was, and I grew to love the man he had become," says Vitt. "It never occurred to me I'd fall madly in love at this age."