Kerri Walsh Jennings, the Olympian who discovered she was five weeks pregnant after winning a gold medal in beach volleyball in London, and her husband Casey found out the gender of their unborn baby live on TODAY Monday morning.
"It's a girl!" the volleyball star exclaimed through tears on TODAY. "We're having a girl... I can't believe it."
They continued a family tradition that started with their two sons: Her doctor wrote the gender on a Christmas ornament, which they unwrapped together. Both of their sons were born in May, and the newest addition to their family is due in April.
"You're having a baby sister" Walsh explained to her boys.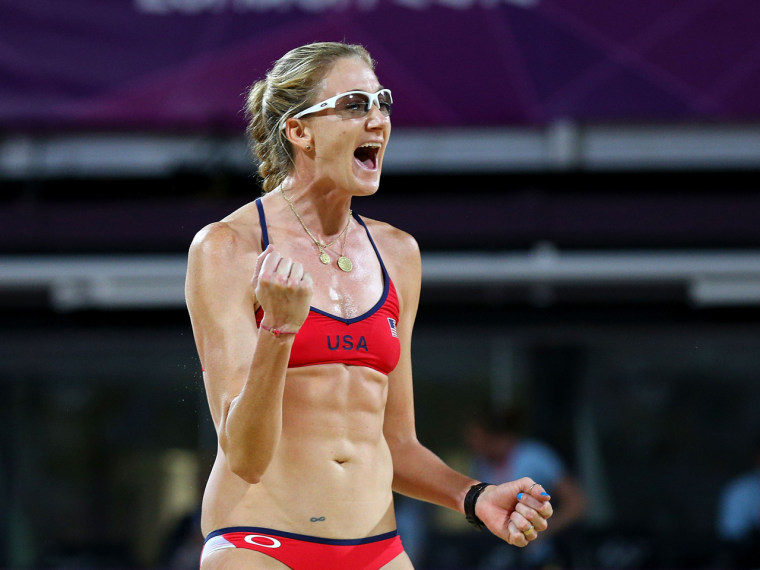 Gender reveal parties have been a growing trend in the recent couple years: Pregnant women gather family and friends for a party to announce the baby's gender. One popular party trick is to have your doctor write down "boy" or "girl" and give the paper to a baker, who bakes a cake with a pink or blue center. You cut into the cake and, tah-dah! Everyone gets the news (and a tasty piece of cake) at the same time.
"We're really excited to find out," Walsh Jennings told TODAY Moms beforehand.
Walsh Jennings and her husband kicked the concept up a notch with her reveal on live, national television. She announced her pregnancy on TODAY back in September.
"It feels a little cheesy if I overthink it, but I'm just not going to overthink it," the three-time volleyball gold medalist told TODAY Moms. "I feel like people are along for the ride with us. We've gotten so many words of encouragement… I welcome all the love and prayers I can get!"
There's one thing Walsh Jennings won't be sharing about this pregnancy: the name she and her husband have picked out. Walsh-Jennings said she learned her lesson with Sundance, their younger son, who's 2-and-a-half. Older son Joey is 3-and-a-half.
"We heard plenty about (the name) Sundance," Walsh Jennings said, her eye roll almost audible over the phone. "This time, we're just going to minimize the stress" and not discuss names, she said.
Sundance and Joey are really excited about the prospect of a new baby, she said – though they don't quite know what to make of mom's growing belly. "I'm a tank," Walsh Jennings said with a laugh. "They just stare at me a lot."
"The other day Joey said, 'Mommy, your belly is getting SO big!'" she said.
Sundance, the youngest, is excited to be a big brother, while Joey plans to teach the baby about everything. Both boys are psyched for their new bunk bed, which will make room for the baby's crib.
Before the big reveal, Walsh Jennings said she was ready for either a boy or a girl. At first, she – and everyone else – thought she was having a girl, mostly due to her wicked pregnancy symptoms like nausea and headaches, which she never had with her two boys. But halfway through her pregnancy and feeling good, Walsh Jennings said she felt like it might be another boy. Either way, Walsh Jennings said, "I'm really happy."
The Olympic athlete is keeping fit during her pregnancy with regular weight-lifting and Pilates, and she still plays volleyball at least once a week. "I want to stay strong and flexible," she told TODAY Moms. Of course, she's been indulging in her pregnancy cravings, too – lemonade, fried egg sandwiches with crispy bacon and avocado, and cotton candy – not exactly her standard training diet.
"Maybe it should be, though," she said. "It makes me so happy!"
Related links:
Kerri Walsh Jennings reveals: I was pregnant at the Olympics
Triathlons, yoga and warfare training: Pregnant women do it all