It's been five years since Charla Nash was viciously attacked by a 200-pound chimpanzee; that day, she lost her sight, her hands, her nose and most of her face. Now, Nash is fighting for her day in court, with a hearing scheduled for Friday. 

"What happened to me, how it was handled, it could happen to any hundreds of others out there," Nash said in a phone interview with NBC News. She later said, "I'm hoping that the legislation will allow me to have my day in court. That I will be able to have a judge listen to the evidence that is brought before him about the vicious attack on me." 
In 2012, Nash received $4 million from the estate of the chimp's owner, but she is now asking the state for $150 million to cover additional medical costs. The office of Connecticut's attorney general released this statement to TODAY: "While we have the utmost sympathy for Charla Nash, we do not believe that the state is liable for Ms. Nash's injuries; to decide otherwise would set a very dangerous precedent, exposing the state and its tax payers to unlimited liability and costly litigations." 
Last month, Feb. 16, marked the fifth anniversary of the horrific attack. For Nash, it really felt just like "another day." She tries to focus on her recovery, on the present day, and the days ahead.
"You can't live on the past; it's only going to hurt you," she said. "You can remember it, but the best thing is to keep thinking of the future."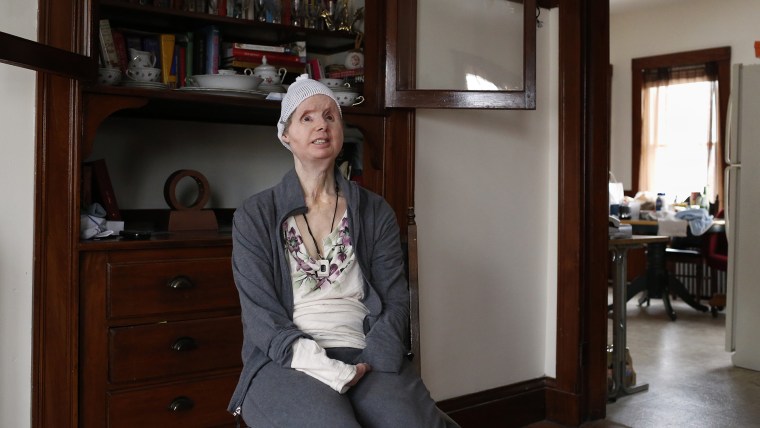 In 2011, Nash was one of the first face transplant recipients in the U.S., and she revealed her new face on TODAY later that year, telling Meredith Vieira it was the first time in her life anyone had called her "beautiful." At that time Nash needed subtitles to be understood, but now her speech is clear.
The next big milestone for Nash will be getting a new pair of hands, via transplant. On her right hand, she lost everything but her thumb; on her left side, she has only as far as her elbow. She had a successful hand transplant at the time of the face transplant surgery. But when she developed pneumonia, her doctors had to remove the transplanted hands because of the infection and poor circulation. 
"So it's like I lost my hands twice," Nash said.

With hands, "I know that will improve my life greatly, I just know it. … I could feed myself. And I could wash my whole body. There's more I'd be doing on my own." 
She's on a waiting list now. 

Last year, Nash attempted to sue the state of Connecticut, arguing that the state should have seized Travis the chimpanzee, because his owner, Sandra Herold, didn't have a permit allowing her to own the animal. But the state's claims commissioner denied Nash's case; Nash's lawyers hope to overturn that denial in next week's hearing with the state legislature. If it is overturned, Nash will be allowed to proceed with her lawsuit, which would provide Nash and her family with a sense of justice, said her brother, Steve Nash.
"It's been a very long road. It's been five years since she was attacked," said one of Nash's attorneys, Matthew Newman. "And all we're looking for is an opportunity to have all the evidence heard, and for a judge to make a decision based on all the evidence and the law."
Pursuing the lawsuit sometimes helps provide a sense of meaning to all that she's been through, but mostly, she's found peace through connecting with other people: her family, those who've cared for her, and even strangers who've written to her with their own stories. 
"They tell me I've been an inspiration to them," she said. "It makes me think, maybe I'm not as bad. Everybody's got their problems, or accidents, or tragedies. And it's sad, but it's nice to know you're amongst others. You're not alone."
Charla Nash was severely disabled after she was attacked by a friend's chimp. See how she looked before, and what she looks like now, after a face transplant.