If Shelby Sisco ever wonders how deeply her community supports her in her fight against cancer, all the 15-year-old has to do is look around: It's written across their bodies. Literally. 
Her step-father, Nick Christofano, held a tattoo fundraiser last weekend, inspiring dozens of people to get inked for a good cause. Christofano, 34, owns Unique Ink Tattoo in Greensburg, Pa., where about 50 people participated in "Tattooing for Shelby" to help Shelby's family with costs associated with her fight against acute myeloid leukemia.
"It was just great to have people show up and support us and Shelby," Christofano says, happy to report that his step-daughter is now in remission. "It was nice for Shelby to see people behind her. That was the big thing."
One particpant chose a cross tattoo as a memorial to his late father; another, a lighthouse. There was an antique birdcage and a "Lucky 13," too. Christofano's friends and regular customers paid $100 for each new tattoo at the Greensburg shop, where he and four other tattoo artists spent about an hour with each customer, raising about $5,000. On the same day, five of his close friends with tattoo shops -- in Ohio, Maryland, New York, Tennessee and Nebraska -- also held events for Shelby, raising about $3,000 and counting.
After Shelby was diagnosed last February, she underwent four chemotherapy treatments that kept her hospitalized for weeks until early July, Christofano says.
"She was probably home three to four weeks max throughout that time," he says, adding that his daughter missed a lot of her freshman year of high school and a chunk of summer. She also lost her hair.
"She's a teenage girl," Christofano says. "That's a big deal."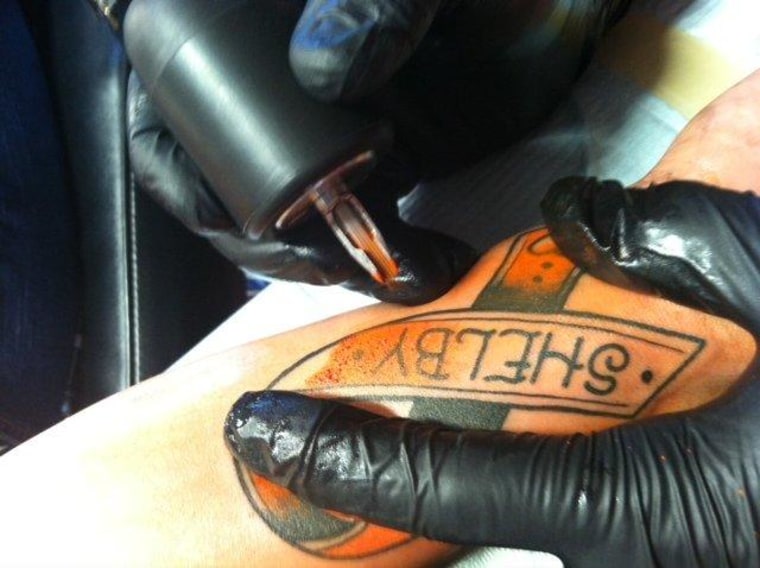 Luckily, the chemo seemed to do its job.
"They're dropping her fifth [treatment] because she's doing so well," he says. "It was the best news of the year."
Shelby returned home from Children's Hospital of Pittsburgh on July 9, and is preparing to start her sophomore year later this month.
While a lot of her medical expenses were covered by health insurance, the money raised will help offset expenses the family incurred during her hospitalization, such as travel costs and meals. Donations will also help with future expenses, like the tutor she'll get when she returns to school, says Christofano.
"She missed so much that year that even with online classes, we figured she'd need a little bit of help to keep up," says Christofano, whose wife stays at home with Shelby and her six-year-old sister.
A tattoo fundraiser isn't the only unique way people have raised money to fight cancer. A dog that accidentally joined the Maryland Half Marathon last year now raises money to fight the disease, a salon in Michigan has given haircuts with the proceeds donated toward research and a breast cancer event put on by Hooters employees in North Dakota was appropriately dubbed "Support our Melons."
As for funds raised with the creative ink event, Christofano says the money will make a big difference.
"Anything that she's going to need, it's sitting there for when she needs it," he says. "Whatever may come up."
Christofano says he had no problem finding people to help with the fundraiser. Once he spread the word about the event online, the time slots for tattoos filled up in just a few hours, he says.
"We have a pretty solid business, so it wasn't real hard to find 50 people," says Christofano, a native of Greensburg, located about 35 miles east of Pittsburgh.
Shelby spent most of the day at the shop mingling with the crowd on Sunday as customers sat down in the chair to face the needle.
"She was the celebrity," says tattoo artist.
(Hat tip to the Pittsburgh Post-Gazette.)
More stories from TODAY Health:
Girl's oxygen support dog is her best friend
New leukemia treatment exceeds 'wildest expectations'