One woman is determined to turn a painful experience into an inspiring campaign for women.
After Ali Miller, now 20, was sexually assaulted in high school, she launched a photo project, "I am movement," which features women reclaiming power from their vulnerabilities. Mental illness, body shame and abuse become sources of courage and strength for the 53 many women in the ongoing project, launched in March.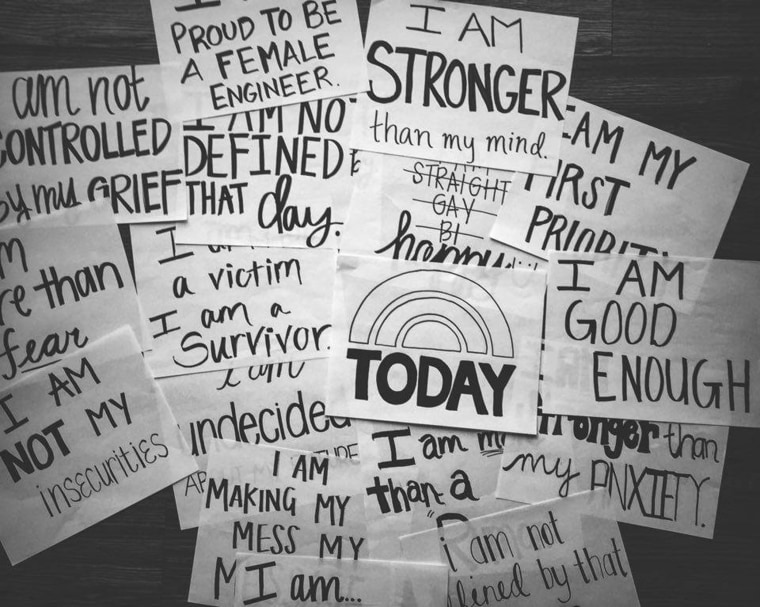 The project has gone viral. Almost 1,500 people follow the "I am movement" on Instagram, but that's increasing at a steady pace — about every 10 minutes, a new person follows it. Each day, anywhere from two to six women email Miller asking to participate in the project.
"I know how hard it is to live in the 21st century," Miller, a strategic communication major at University of Minnesota, Twin Cities, told TODAY. "What I tell people is that 'you need to share something that is scary for people to share. You need to get outside your comfort zone.'"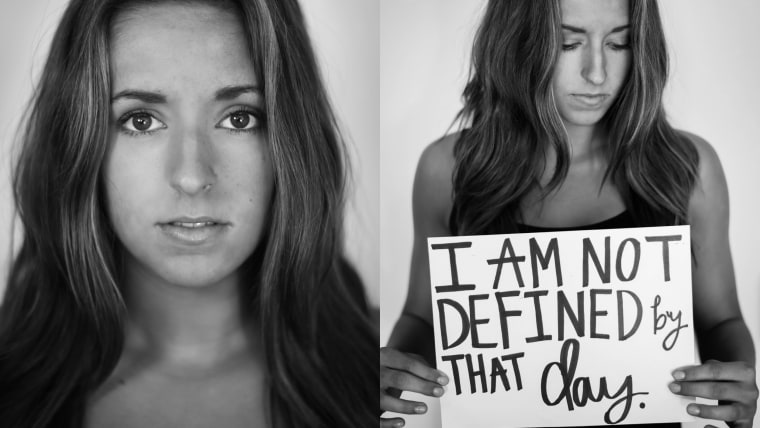 Throughout high school, Miller coped with depression. The summer between her junior and senior years, she discovered that being drunk made it easier for her.
Ali Miller wanted women to feel empowered so she started the 'I am movement' encouraging women to reclaim who they are.
One night, after drinking an entire liter of vodka at a party, a young man she thought was a friend picked her up, took her to an empty house, where he pushed her onto a mattress, bashing her head against the wall, knocking her unconscious. She woke the next morning feeling sore, with deep purple bruises on her thighs.
RELATED: Lady Gaga reveals family learned of her sexual assault during Oscars performance
She texted him to see what happened and he told her nothing. But, she still visited Planned Parenthood for Plan B. Later the man's friends told Miller that he bragged about having sex with a passed-out girl. Miller went to the police but there wasn't enough evidence to prosecute.
She didn't let that stop her from speaking out about her rape.
"The more people that actually start talking about this … the more people will understand what rape is and what consent means. The more that we talk about it, the more likely change will happen," Miller said.
RELATED: Stanford rape case: Brock Turner's sentence sparks outrage as hero speaks out
Her guiding principal — to live openly — has long been motivated by Taylor Swift's "Teardrops on My Guitar."
"Because she had gone so public with her feelings, I wanted to be, too," said Miller. "That is how I became so open and so talkative, and that shaped this obsession with vulnerability that I have," she said. "Being this open, and embracing these sides of me … it's really helped me connect more easily to people."
The "I am movement" project isn't only about sexual assault — it covers many of the challenges women confront growing up and in their daily lives. The photos include two images of each woman: one staring directly at the camera; one holding a sign, revealing past difficulties, insecurities or struggles.
"It's definitely been overwhelming. Everyone feels so relieved" after taking the pictures, said Miller.
She hopes it continues to grow.
"I would love nothing more than for this to become a nationwide movement," she said. "I would love for this to affect other people."