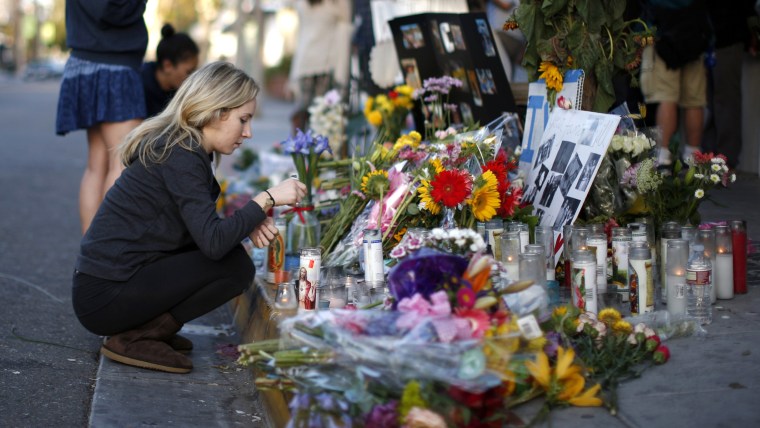 The 22-year-old college student who killed six people on Friday had seen a therapist and had even convinced authorities sent to check on him several weeks before the violence that he was not a threat. Shortly before the killing spree began, Elliot Rodger's parents rushed to find him, but they did not reach him in time.

After the latest burst of violence in Isla Vista, Calif., many are wondering if anything more could have been done to prevent the shooting and stabbing deaths that ended with the attacker's apparent suicide, and how parents can help the millions of troubled kids in this country.
Experts say it's difficult to predict who will become violent. And mentally ill children and adults are far more likely to hurt themselves than they are to become violent against anyone else. But on Wednesday, TODAY's Matt Lauer welcomed three guests who agreed that parents need to speak up and seek help immediately about troubling behavior, whether it's concerning their own child or someone else's.
Lauer asked about warning signs for violent behavior.
"You know your kid," said Dr. Harold Koplewicz, a child psychiatrist. "If there is a change in appetite, a change in sleep, a change in the way they socialize, in academic activities, in extracurricular activities, don't hesitate.
"That's when you say, 'I know my kid, something is new, something is wrong,'" he added. "In the same way that if they had a flu or a virus, you would go to a doctor. That's what you should do."
Lauer noted that Rodger's parents got him help, stayed in touch with him and his therapist, monitored him, and ultimately called police on him. Speaking generally, Koplewicz said troubled kids need more supervision.
"If your kid is not doing what you want them to do because, you're worried they're socially isolated, that they seem to be more depressed, that they are peculiar in the respect that they're not engaging with the rest of the world, these parents have the ability to cut kids off financially, to contact, by the way, the police," he said.
Mass killings are rare, he said, but there are millions of children nationwide who suffer from mental disorders, which put them at greater risk for academic failure, substance abuse, suicide and for being a bully.
What should parents do when their child is worried about another student at school who is withdrawn, sad and lonely? How do you handle your child's fears that the student "may do something bad."
Jessica Lahey, a New York Times columnist and former middle school teacher, said parents need to be honest with their children, and let them know that even though violence has been declining since 1993 and mass killings are rare, kids should know that their teacher can help. Parents can turn to educators as well.
"Absolutely, teachers do want to know that kind of information because it helps us teach kids more effectively and it helps us intervene when we're obligated and when we feel it's time to do so," she said.
Koplewicz added: "If we're going to be honest about this, it's time for parents not to be ashamed. If a kid was coughing all the time, or a kid was bleeding in the class, you would call the teacher. I think that hesitating is the worst thing. If you have concerns, speak to the teacher."
But Lauer said he believed political correctness keeps people from speaking up.
"You know what everybody's afraid of?" Lauer said. "If I call a teacher and I say, 'There's an odd kid in your class,' and God forbid we use the words like, 'that seems to me like a kid who could snap,' we're chastised," Lauer said. "We're ridiculed."
On the flip side, Lahey said, it can be very hard for teachers to approach parents with concerns about a child. When teachers do express raise those issues, Lahey said, parents need to take it seriously.
"Teachers spend an incredible amount of time with kids," she said. "And when teachers go to parents and say, 'I'm concerned about something,' it's time for you to listen. Because teachers often spend more time with your children then you do."
Former New York Police Department detective Thomas Ruskin sounded a similar note, urging parents to speak to authorities about kids who concern them — just as Rodger's parents did.
"Most schools now have either security or law enforcement officials assigned to those schools who work with the schools and work with the districts in identifying these type of problems as well as other problems and are available to parents of other students," he said. "Those parents should go to those law enforcement or security officials or the officials for the schools."
As the discussion wound down, Lauer asked whether political correctness should be put aside and authorities contacted amid concerns about a child. The experts answered unequivocally: "Yes."
"It's time to start treating these diseases like they were physical illnesses," Koplewicz said. "That's the important part."
Lisa A. Flam is a news and lifestyles reporter in New York. Follow her on Twitter.