Five women battling breast cancer received a special day of pampering to give them an escape from schedules filled with biopsies, chemotherapy and doctor's appointments.
The women enjoyed a spa day to help fuel them for their battle, courtesy of TODAY anchor Hoda Kotb, a breast cancer survivor who also gave each of the ladies a pink ring inscribed with the word that helped keep her motivated during her own fight: forward.
"I used to scribble in my journal every day. The very last word I would write in my journal was the word 'forward' because it made me realize that's the direction I'm going," she told the ladies. "I'm not stuck here. Because the scary thing is when you're stuck, that's when you got to move forward."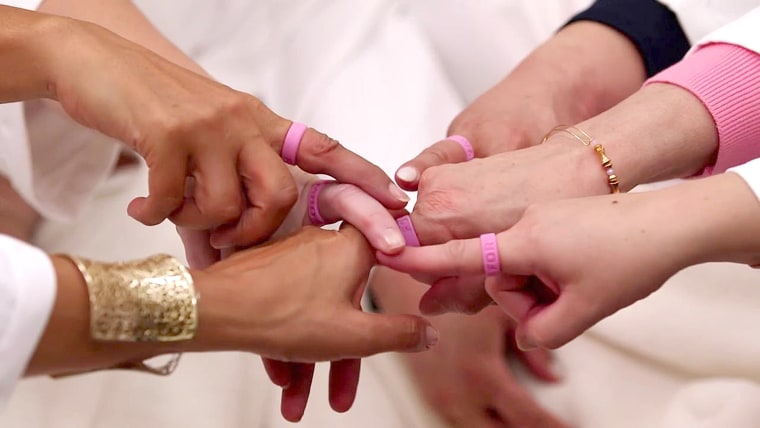 The women were treated to limousine rides, manicures and massages — and lots of pink boas, all which served as a much-needed distraction from weekly visits to hospitals and treatment centers.
"I know a lot of people are in the middle of it and scared and worried. This is a nice little break from all of that," said Michelle Fenwick, who has had two surgeries and currently undergoing radiation. "This is probably one of the best days I'll ever remember."
Tricia Sents, a single mom of four teens, said when was diagnosed about a month ago, "It was a sucker punch to the gut."
But she said spending a day with others going through the same experience helped energize her.
"It was an amazing day of connecting with women who are strong and courageous," she said. "I'm going to be a warrior. I'm going to be strong. And my children will have their mother for a long time."