Jessica Knoll admits she lied about the truth.
The best-selling author revealed this week that she based the pivotal graphic moments from her best-selling debut novel, "Luckiest Girl Alive," on her own experiences from high school.
The book centers on a young woman who survives a gang rape. Knoll had repeatedly described the book as fiction, but in an essay she wrote for the online newsletter, "Lenny," the 32-year-old author described details about the real rape that shaped the novel. It happened to her when she was 15 and assaulted by three boys at a party.
"I knew it the morning that I opened my eyes. I just felt horrible and violated and I knew it was wrong," she told TODAY's Hoda Kotb.
Knoll was bullied about afterward by classmates who taunted her and called her names.
"It was terribly hard to go to school everyday. I look back on that year and I just remember feeling completely raw," she said. "I felt like an exposed nerve. If you just touched me, I just shriveled up in pain. That's all I can recall about that year of my life."
Seventeen years later, Knoll said she decided to stop lying about what happened because of the conversations she had with readers, especially those who also were rape victims.
"It really killed me to see the looks on these women's faces when I would say, 'Oh no, you know, I just made it up,' and I just never wanted to see that look on anyone's face again," she said.
The message she received from a 55-year-old who also survived a sexual assault especially stood out to her.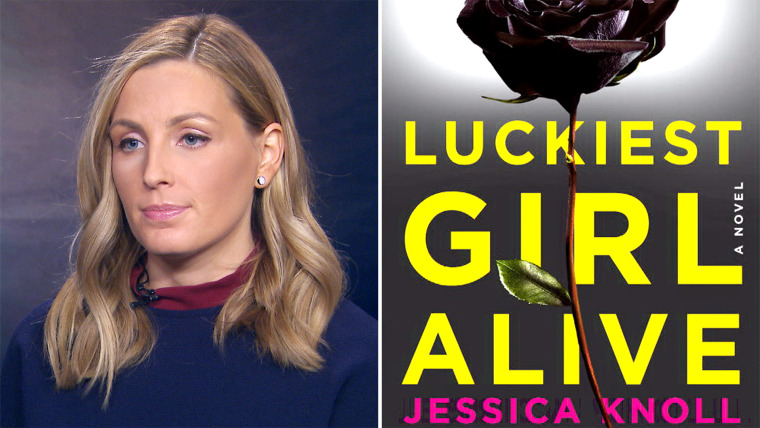 "I just thought, what a horrible thing to have carried that with you for 40 years. And I just hope no one has to do that ever again," she said. "I hope that more people feel compelled to share their stories and to talk about what's happened to them and to know that they have nothing to be ashamed of."
"Luckiest Girl Alive" has sold more than 450,000 copies and is being turned into a movie through the production company of Reese Witherspoon.
Read an excerpt from "Luckiest Girl Alive: A Novel" by Jessica Knoll. Copyright © 2015 by Jessica Knoll. Reprinted by permission of Simon & Schuster, Inc. All Rights Reserved.
Follow TODAY.com writer Eun Kyung Kim on Twitter.