For children, prosthetic limbs don't come cheap. Like shoes, they are easily outgrown, which is why 6-year-old Alex Pring was so happy when an engineering student and his friends found a way to 3-D print a new right arm for him.
Alex's new limb only cost $350 to build, compared with up to $40,000 for similar prostheses currently on the market. When he gets too big for it, new parts can be printed on the cheap – only $20 for a new hand and around $40 to $50 for a new forearm.
Albert Manero, currently getting his Ph.D. in aerospace engineering at the University of Central Florida, got the idea while driving in his car. He heard a story about a man in South Africa who used a 3-D printer to make a new hand.
"I was really inspired," Manero told NBC News. "When I got back, I talked to my colleagues and friends and said, 'We can do this.'"
Manero already belonged to e-NABLE, an online community that collaborates to make prosthetic hands, which he joined because he grew up with a friend who was missing fingers. That is where Alex's mother, Alyson Pring, of Groveland, Florida, first got in touch with him.
She told him about how Alex had been born without a right arm. That kicked off a seven-week quest to make a prototype using off-the-shelf servo motors and batteries, and custom 3-D printed parts. Recently, 3-D printing has become much cheaper, letting hobbyists and researchers fabricate everything from toys to sculptures of the president by printing materials layer by layer on top of each other.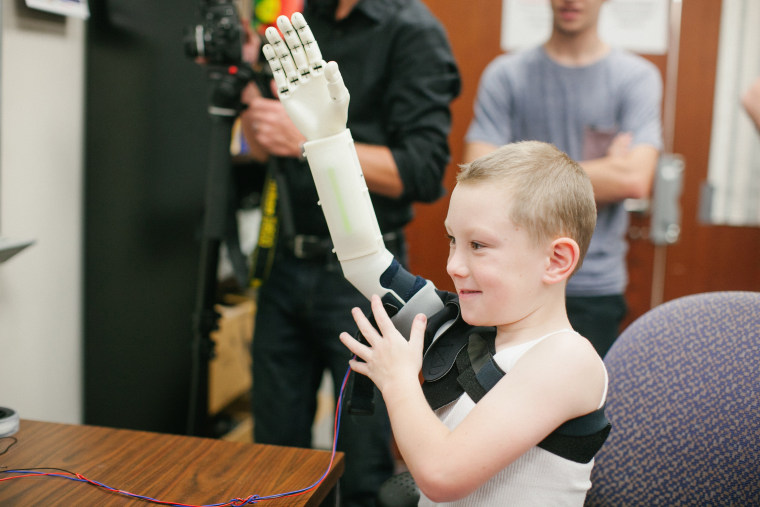 With this technology, Manero figured out how to build an arm that could sense movements in Alex's bicep, letting the boy grip and pick up objects. Unlike many 3-D printed prostheses, this one works with arms that lack a working elbow. Its battery also has enough juice to run for an entire day on a single charge.
Manero put the blueprints for his design on websites like e-NABLE and Thingiverse so that other kids like Alex can download them for free. He also hopes that engineers will take them and make some tweaks.
"We are going to put these files up there, and we hope that people will take what we have and make it so much better," he said. "I have no doubt that the international community will try to move this technology forward and lower the cost."
Update for 9 p.m. ET July 29: Manero and his teammates at the University of Central Florida have uploaded the blueprints and instructions for building the arm to Thingiverse. Now anyone with access to a 3-D printer and off-the-shelf accessories can take the designs and use them to help other children. Check out this update from UCF.
Keith Wagstaff writes about technology for NBC News. He previously covered technology for TIME's Techland and wrote about politics as a staff writer at TheWeek.com. You can follow him on Twitter at @kwagstaff and reach him by email at: Keith.Wagstaff@nbcuni.com