As Dan Lasko walked to the edge of the pool, he felt doubt creeping in. The single leg amputee wondered if the 3D-printed device attached to his prosthetic leg could help him swim like he did before his injury.
It just didn't seem possible, but then he slid into the water and was able to swim so hard that the device, called The Fin, slipped off his leg and needed to be reattached.
"It's kind of like having my leg back," Lasko told TODAY. "As I kick, I can feel the propulsion of the water. It feels very free."
In 2004, Lasko — then a U.S. Marine in Afghanistan — was riding in a vehicle that rolled over an improvised explosive device. The explosion mangled his left leg.
Only seven months after being fitted with a prosthetic, Lasko returned to running. A few years later, he started triathlons. But swimming always posed a challenge: He'd take his leg off before entering the water and hand it to his wife, who would meet him with it at the end. There simply were no good prosthetics for swimming and it was easier for him to go without.
RELATED: Double amputee former Marine Chris Van Etten models in Jockey underwear campaign
When swimming with his children, he'd take off his leg and hop over to the side of the pool and slide into it. If he needed to hold one of his sons, ages 2 and 6, in the shallow end, he hopped constantly and struggled to balance.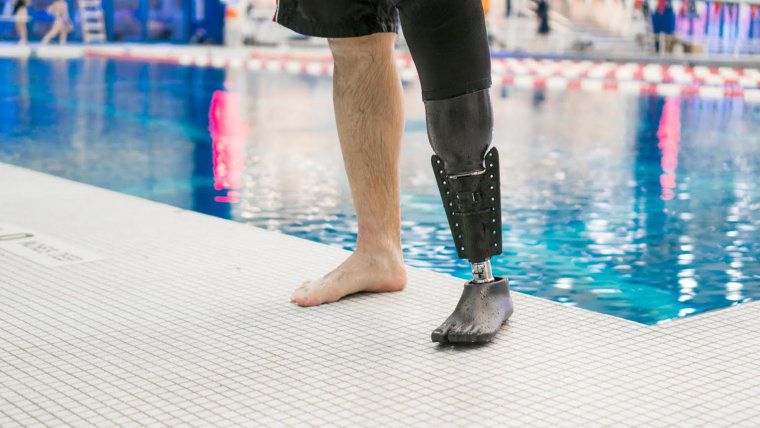 RELATED: 'You can overcome anything': Amputee runner plans to make history at Boston Marathon
Before The Fin was developed, people with lower leg amputations could do what Lasko did: swim without a leg, or wear a waterproof leg, which does not help someone move through the water. There was no device that allowed a person to just walk to the edge of the pool, jump in and start swimming.
"This is the only prosthetic that will allow the user to forget that they're wearing a prosthetic when they are swimming," said Todd Goldstein, manager director of Northwell Ventures 3D Printing Laboratory.
The Fin is a 3D-printed attachment that connects to a person's prosthetic leg. It has holes in the sides and is custom-made to provide the proper amount of resistance to allow people to swim at their strength. While Lasko uses it as a prototype, the company hopes to provide The Fin commercially soon.
It will cost between $2,000 to $5,000, depending on the customization.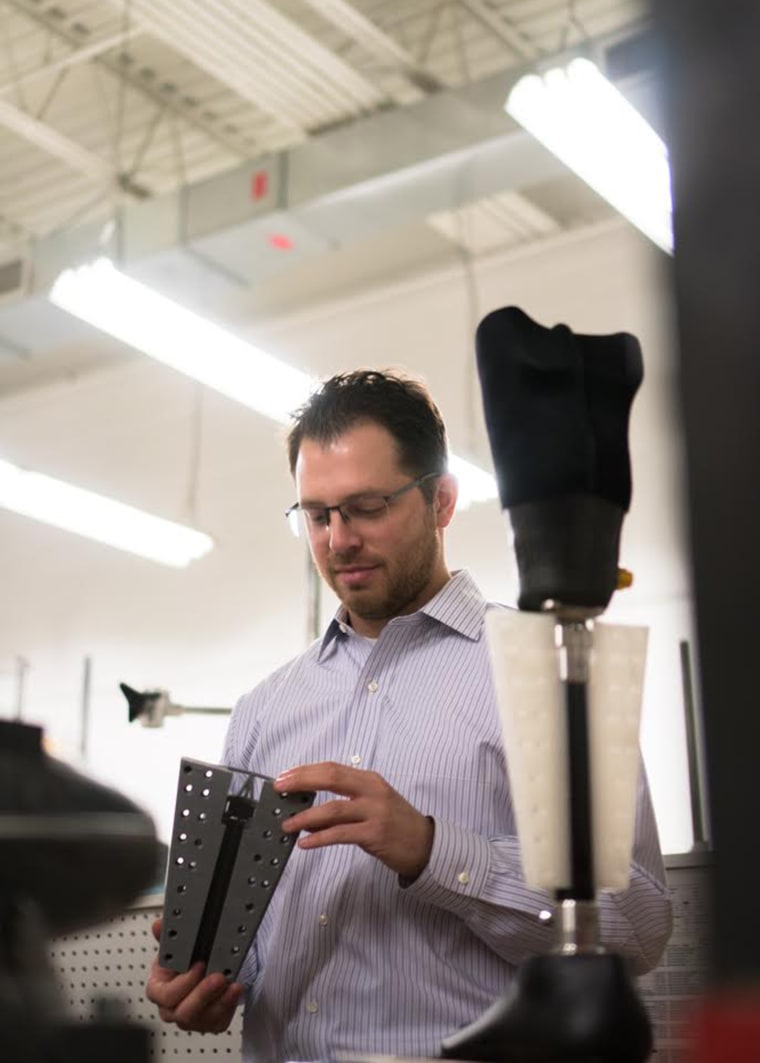 Seeing Lasko swimming with The Fin felt rewarding for Goldstein.
"He had the biggest smile on his face," he said. "Now, he is stable in the water and he can swim."
As for Lasko, being able to play with his sons and swim like he once did improves his life in ways he struggled to articulate.
"It's hard to put it into words. I don't have to worry about my safety," he said. "I don't have to hop. I have two feet on the pool floor."