"Is this local?"
That was the question asked most seriously of a restaurant's chicken dish on the hit IFC show "Portlandia," launching a surreal adventure in which a couple investigates the organic upbringing of their dinner. 
"His name is Colin," a waitress informs them of their fallen fowl. "Here are his papers."

It's that type of silly, hipster-poking fun mentality — led by stars Fred Armisen and Carrie Brownstein — which fosters an obsession among the show's fans, who are gearing up for the season four premiere on Thursday. That includes New York chef and City Grit culinary salon founder Sarah Simmons, who devotes a dinner each year to "Portlandia"'s tasty absurdity. All courses pay homage to the most popular sketches, which means a menu of raw food salad, "Prairie Home Companion" soup and more.
"'Portlandia' does such a killer job of making fun of the ridiculousness of food trends, but also gives me some cool ideas, which is why I love doing this dinner," Simmons told TODAY. "The food is its own character in the show, whether the skit is based around the food or meal or it's just in the background."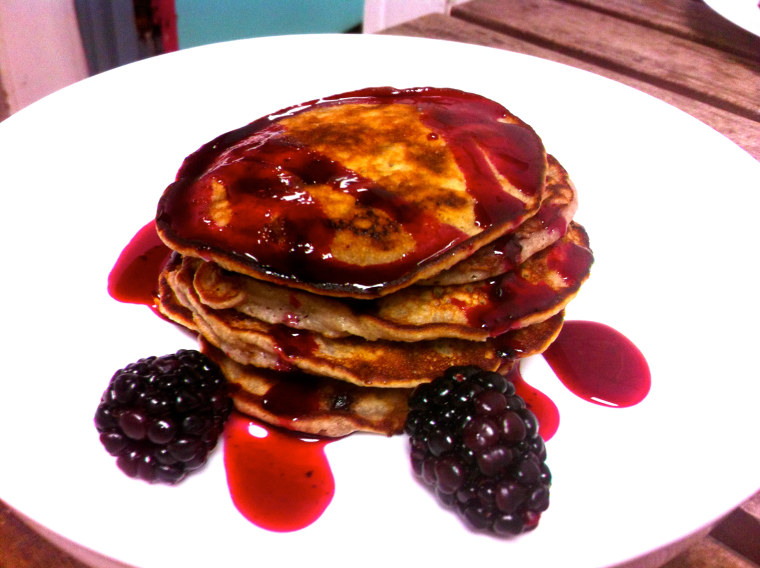 Simmons is such a dedicated viewer (and chef) that she actually flew to Portland during Marionberry season, inspired by the show's "Brunch Village" sketch, which mentioned the under-the-radar berry. "I bought three bags of berries, vacuum-sealed them, flew back to New York City and froze them, just so we would have them to make Marionberry pancakes [three months later] at City Grit," she said. "I think that makes me an official fan… and crazy."
It'd be an understatement to say that the satirical sketch comedy show is fascinated with food: the teaser for the new season, featuring actor Steve Buscemi, centers around the plight of the celery, which never quite found the foodie fame of its trendier contemporaries, Brussels sprouts and kale. Other popular skits call attention to our nation's pickling frenzy ("We can pickle that!"), our obscene willingness to endure long brunch lines, and even the immense undertaking of splitting a restaurant bill.
"I couldn't miss an opportunity to bring some of the crazy food scenes from the season to life," said Simmons, whose dinner sold out last year.
So we had to ask: Is Sarah's chicken…local?
The answer is yes, the birds are local — and they're fabulous.

"All of our chickens enjoy a daily routine of SoulCycle, trips to the spa, shopping in Soho and a diet of pimento cheese, gumbo, and hushpuppies," the chef joked. "Seriously, we do spend a lot of time looking into the farms from where we purchase our proteins. Serving sustainable food is critical to our overall mission as a business."
In honor of Thursday's episode of "Portlandia," Simmons shared a few of her treasured recipes inspired by the show. Serve them to your loved ones — and make sure you have your ingredients' papers ready:
Prairie Home Companion Secret Soup (a nod to the "Tailgating" sketch)
Ingredients
1 tablespoon canola oil
1 medium onion, finely diced (about 1 cup)
1 green pepper, finely diced (about ½ cup)
1 red pepper, finely diced (about ½ cup)
1 garlic clove, minced
1-2 carrots, thinly sliced (about ½ cup)
1-2 celery stalks, thinly sliced (about ½ cup)
28 ounce can fire-roasted tomatoes
1 tablespoon Thai red curry paste
½ teaspoon ground cumin
½ teaspoon cardamom
2 cups vegetable stock
14 ounce can light coconut milk
Directions
Heat oil over medium heat in a medium-size stockpot. Add onion and a pinch of kosher salt. Stir until onions are translucent (about 5 minutes).
Add the green pepper, red pepper, garlic, carrots, and celery, and cook an additional 3-5 minutes.
Add the tomatoes and bring to a boil.
Add curry paste, cumin, cardamom and vegetable stock. Cover partially and reduce heat to medium-low.
Simmer, stirring occasionally, for about 20 minutes.
Add coconut milk and use an immersion blender to puree until smooth.
Salt and pepper to taste.
Shiva Salad (a nod to the "Fart Patio" sketch)
Ingredients 
2 tablespoons grapeseed oil
1/3 cup onion, finely diced
1 tablespoon ginger, peeled and minced
2 garlic cloves, minced
1 jalepeno, seeded and minced
2 tablespoons red curry paste
1/2 cup smooth peanut butter
1 tablespoon tamarind paste
1 cup unsweetened coconut milk
1/2 cup vegetable stock
1 tablespoon sugar
1 tablespoon soy
1/2 teaspoon freshly ground pepper
1 lb rice noodles, cooked according to package directions
2 limes, zested and juiced
1 cucumber, halved, peeled, and thinly sliced
2 cups, lacinato kale, cut into 1" chiffonade
1 cup cabbage, thinly sliced
½ cup pickled beets, julienned
3/4 cup carrots, peeled and julienned
1/2 cup cilantro
Crushed peanuts to garnish (optional)
Directions
Heat oil in a large saucepan. Saute onions until softened about 3-5 minutes.
Add ginger, garlic, and jalepeno and stir for one minute.
Fold in peanut butter with a heatproof spatula.
Add coconut milk, vegetable stock, sugar, and soy sauce, whisking until fully combined.
Bring to a boil. Reduce heat to medium-low and simmer until reduced to 2 cups.
Meanwhile fill a large stockpot 3/4 full of cold, salted water and bring to a boil over high heat.
Cook pasta according to package directions.
Reserving 1/2 cup of the pasta water, drain pasta and return to pot.
Add peanut sauce to pasta and stir with a rubber spatula until combined using reserved pasta water if the sauce is too thick.
Transfer to a large serving bowl
Combine cucumber, kale, beets, carrots and cabbage in a medium bowl with lime juice, toss to coat.
Top pasta with seasoned vegetables and garnish with cilantro, lime zest, and crushed peanuts.
"Portlandia" premieres on Feb. 27 at 10:00 p.m. ET on IFC.