Vegans, keep an eye on your freezer case—Ben & Jerry's is jumping on the bandwagon with a new line of dairy-free ice cream.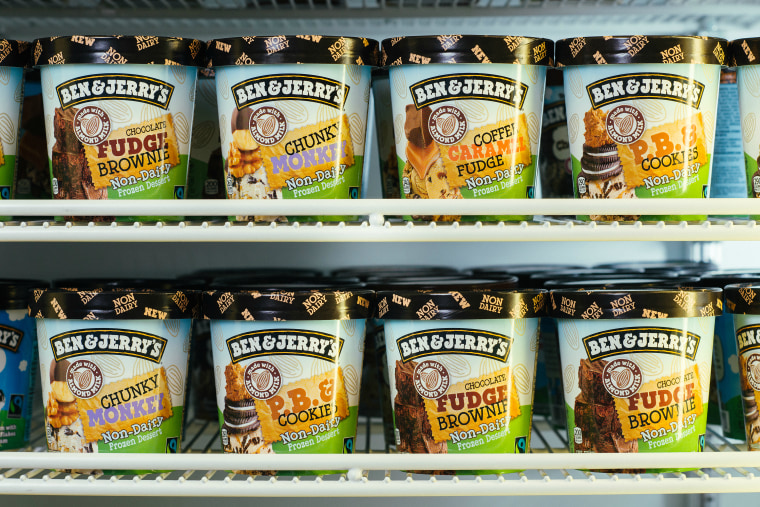 Rumors swirled earlier last summer that the Vermont dessert-maker was experimenting with non-diary flavors and the pints are finally heading to a store near you.
RELATED: Taste test—TODAY reviews new Ben & Jerry's new 'Core' flavors
"For years, non-dairy fans have been forced to watch ice cream consumers with envy and were unable to participate in a truly indulgent frozen dessert experience," Ben & Jerry's said in a statement. "Now the tables have turned."
After experimenting with various alternatives, Ben & Jerry's flavor gurus settled on an almond milk base that they deem as rich as its regular pints.
There are two veganized versions of beloved flavors Chunky Monkey and Chocolate Fudge Brownie—the latter incorporates pastries made by New York's Greyston Bakery. The other two pints are brand-new concoctions: P.B. & Cookies, a vanilla base with chocolate sandwich cookies and peanut butter swirls, and Coffee Caramel Fudge, a coffee ice cream packed with chocolate chunks and fudge swirls. All four are certified by veganaction.org.
RELATED: Ben & Jerry's founder creates Bernier Sanders ice cream flavor
The new non-dairy pints will start rolling out in stores nationwide in the next four to six weeks.