Oh yeah, baby: Halloween = freaky cocktail time. And if you're not quite sure what kinds of adult beverages to serve up at your Halloween bash tonight, not to worry – the folks at Vampire Vineyards have got you covered.
They make all sorts of creepy-sounding wines, including Dracula syrah, Vampire merlot and Trueblood pinot noir. They also make an exceptionally sinister-looking red vodka that's hailed as "triple-distilled and succulent ... with a remarkable viscosity that means its 'legs' appear in the glass like so many drops of blood."
In fact, Vampire Vineyards is so hell-bent on promoting a ghoulishly good time that it's expanded its offerings to include Vampire chocolates, Vampire coffee, Witches' Brew beer, Vamp energy drinks, Vampire olive oil and, coming soon, Vampire balsamic vinegar and marinara sauce. What else would you expect from the people who actually trademarked the name "Vampire" and snapped up the domain name Vampire.com?
"The whole vampire wine idea popped into my head while driving across the desert on a cross-country trip in the middle of the night," said Michael Machat, the attorney who founded Vampire Vineyards in the mid-1980s. "I thought, 'Wouldn't it be cool to make wine with grapes from Transylvania?' ... But of course, Romania was communist back then."
At first Machat's company used grapes harvested in Algeria to produce its spooky wines in France. Production next shifted to Verona, Italy – and right around then the blood red wines became a huge hit with Anne Rice fan club members.
In the early 1990s, after the Berlin Wall fell, Machat fulfilled his dream of moving his wine operation to Transylvania. Vampire Vineyards harvested its grapes there for about 12 years, and sales grew to 600,000 bottles a year.
"Then what happened was I started becoming a bit of a wine snob," Machat said. "The wine from Romania wasn't quite what I was expecting anymore, so finally I decided I'd move the whole operation here to California where I live."
Vampire Vineyards has an eerily cozy tasting room in Beverly Hills – so if you live in Southern California, you can stock up on creepy beverages and snacks there today. You also can place online orders here or find the wines at several retailers.
Still stumped about what to serve guests at your Halloween party tonight? Here are some suggested cocktail recipes and menu options for a bewitchingly memorable bash.
Vampire Vineyards' cocktail recipes:
Blood Berry Martini
1.5 ounce Vampyre Vodka, red
2 strawberries, hulled and sliced
1 ounce orange juice (blood orange juice, if available)
1/2 ounce lemon juice
1 teaspoon sugar
Half a strawberry, for garnish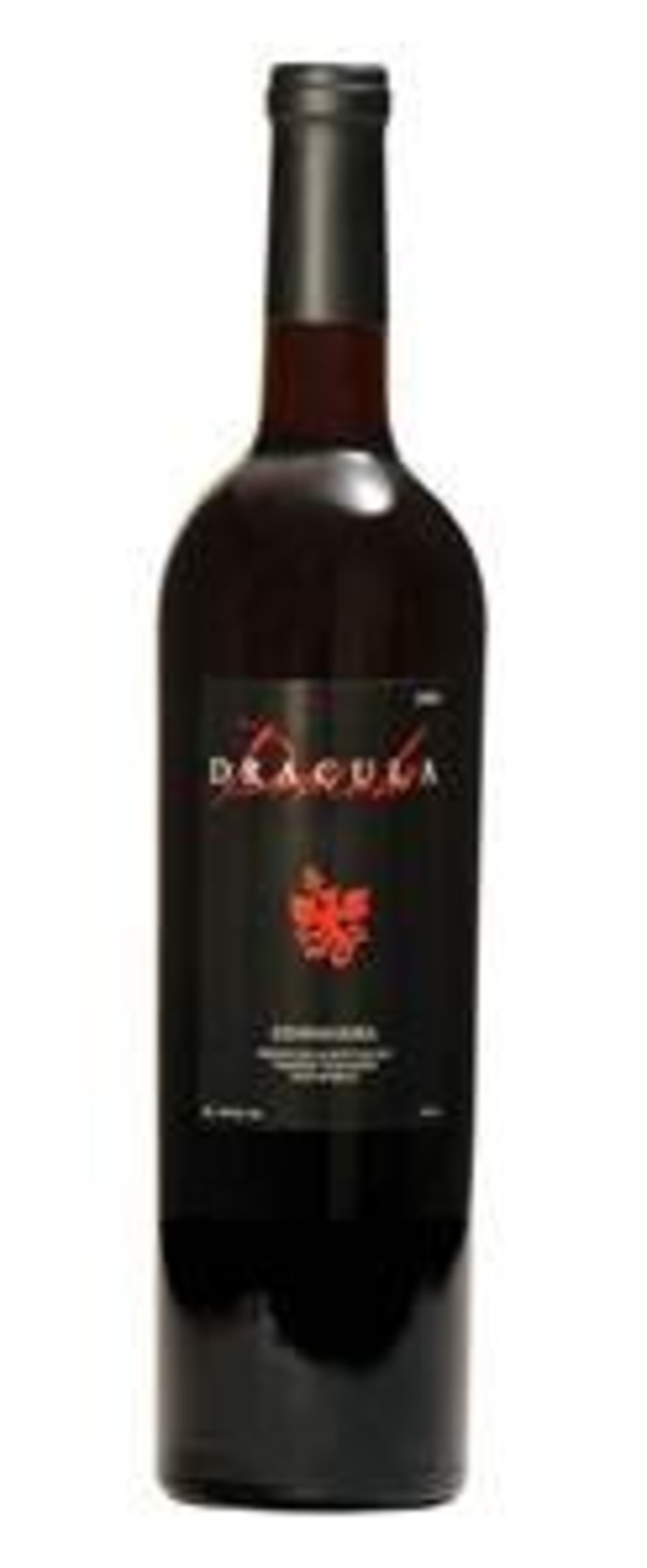 Directions: In a cocktail shaker, muddle the strawberries with the orange juice and sugar. Add the Vampyre Vodka. Top with ice and shake vigorously. Strain into chilled cocktail glass. Garnish with a half strawberry. (Variation taken from "101 Martinis" by Kim Haasarud)
Vampire Crush
1.5 ounces Vampyre Vodka, red
3 ripe strawberries, hulled (plus one for garnish)
1 ounce lemon juice
2 teaspoons sugar (or 1 ounce simple syrup)
Splash of club soda
Directions: In a cocktail shaker, muddle the strawberries with the lemon juice and sugar (or simple syrup). Add the Vampyre Vodka. Add about a cup of ice and shake vigorously. Pour contents into Collins glass (or a goblet). Top with a splash of club soda and stir. Garnish with additional strawberry and serve. (Variation taken from "101 Mojitos & Other Muddled Drinks" by Kim Haasarud)
Vampire Vineyards' suggested menu options:
Bleeding Chocolate Truffle: Frozen "Witches' Brew" blond ale, covered with a layer of white chocolate ganache. Mix the chocolate with pumpkin puree for a touch of orange.
Stake in the Heart: Chicken tender-marinated with fresh herbs and a sliver of chestnut, served with a blood orange reduction. Serve with a wooden stake, guaranteed to fend off any vampire. Pair with Dracula Pinot Noir.
Slaughtered Lamb: Served with sautéed morel mushrooms, found deep in the heart of the forest. Pair with Chateau de Vampire Cabernet Sauvignon.
From the Flesh:  Succulent ahi tuna served on top of a garlic rice cake. Pair with Vampire Chardonnay.
Read more:
7 foods to freak out your trick-or-treaters
This Halloween, set your inner nerd free in the kitchen