Folks who want to partake in a little "girl dinner" can now take it to-go.
On July 19, Popeyes debuted its version of "Girl Dinner," the TikTok trend that has now gone mainstream, even being enjoyed in Studio 1A on Tuesday by Jenna Bush Hager, Savannah Guthrie, Hoda Kotb and Sheinelle Jones, sharing what their spreads would include.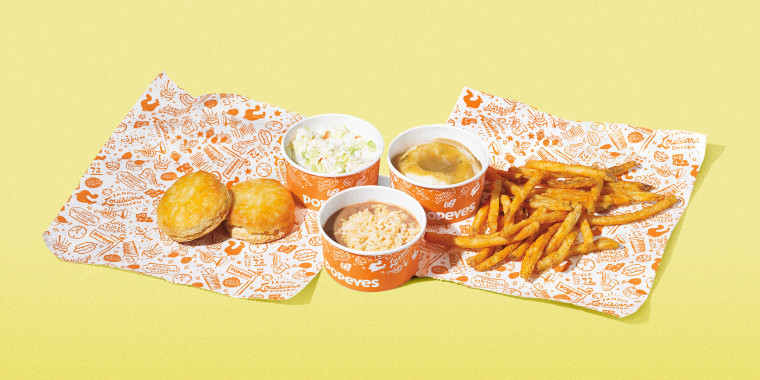 For those who missed it, "girl dinner" is a TikTok trend that's garnered over 224 million collective views under its hashtag.
The phenomenon was first coined by TikToker Olivia Maher when she noted that morsels of cheese, fruit, bread and pickles are her ideal meal. "I call it 'girl dinner,'" she said, starting a movement.
Popeyes' response to the recent trend, which has seen many women (and men and nonbinary folks, too) all sharing their own versions of their ideal spreads, was to unveil its own take on it, now available to order.
As for the options that Popeyes offers for "Girl Dinner," well, it's just the chain's usual sides: Mashed Potatoes with Cajun Gravy, Homestyle Mac & Cheese, Red Beans & Rice, Coleslaw, Cajun Fries and A la Carte Biscuits. But it's not a combo meal: The dishes have to be ordered individually, just like the side dishes. So there is literally nothing different about it. (Where is the chicken???)
Even the image used for "Girl Dinner" on Popeyes' website is the exact same as the one for the chain's sides.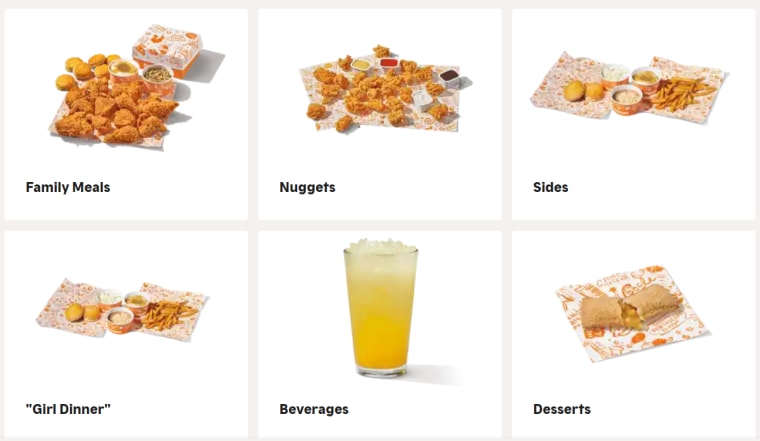 "With the intention to offer a delicious variety of flavors to 'Girl Dinner' enthusiasts, Popeyes designed its 'Girl Dinner' menu to offer guests options packed with robust Cajun flavors that are made with the same slow, time-honored, homemade traditions of Southern cooking that the brand started in 1972 — many of which defy logic for a fast-food restaurant, but which make Popeyes food taste great,'" a Popeyes spokesperson tells TODAY.com. 
The new menu addition has been met with plenty of laughter on social media.
"HONEY WAKE UP!!! POPEYES ADDED GIRL DINNER!!!!!!!" tweeted one user on Twitter.
"POPEYES HAS A GIRL DINNER TAB WHAT," tweeted another.
"Popeyes is so funny 😭 wtf is girl dinner," wrote another Twitter user. 
"The girl dinner tab on the Popeyes app just being sides says so much," wrote another Twitter user.
"Trying to order popeyes and they have a 'girl dinner' section i'm cryingggg LMAO," tweeted another.
"Popeyes really added girl dinner," wrote another user to which Popeyes replied, "girl dinner is top tier 💅."
Starting today, Popeyes' "Girl Dinner" menu will be available nationwide on its website for pick-up or delivery, but only for a limited time. After that, you'll just have to go back to ordering regular old sides (aka the exact same thing).