One of the perks of football season is having a good old fashioned tailgate to cheer on your favorite team. Celebrity chef and host of "The Kitchen" Sunny Anderson has the perfect menu that will be touchdown for everyone. Here, she's sharing her recipes for nacho dogs, root beer chicken, Bloody Mary cocktails and more. 
Sunny's nacho dogs
Recipe courtesy of Sunny Anderson, 2014
Makes 6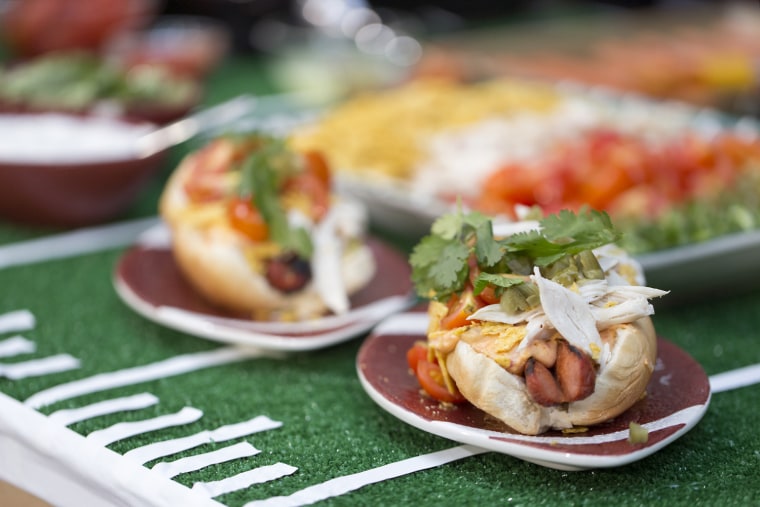 Ingredients

For the cheese sauce:

1 block (16 ounces) Velveeta, cut into cubes

1 can (10 ounces) diced chilies and tomatoes (Rotel is great)

2 tablespoons hot sauce (Cholula is great)

For the hot dogs:
6 hot dog buns

6 oversized, plump hot dogs

1 tablespoon lime juice

1 packet dry taco seasoning

For the toppings:
1 cup chopped rotisserie chicken

2 cups gently crushed tortilla chips

1/2 cup chopped plum tomatoes

1/4 cup chopped pickled jalapenos

1/4 cup Mexican crema

1/4 cup chopped fresh cilantro

1. Make the cheese sauce: In a pot on medium heat add the Velveeta, the entire can of diced tomatoes and chilies, and hot sauce. Cook while stirring until everything is melted and combined, about 15 minutes.
2. Prepare and grill the hot dogs: Heat a grill to medium high heat. Cut a slit into each hot dog lengthwise without cutting them in half. Place the hot dogs on a tray and brush each with lime juice, then sprinkle with the taco seasoning. Place hot dogs on the grill and cook until they begin to plump more and blister at the split, about 8-10 minutes. Wrap the buns in aluminum foil and place over indirect heat until warmed, about 5 minutes.
3. Top and eat: Place a hot dog in each bun then top each in order with the chicken, chips, a drizzle of cheese sauce, tomatoes, jalapenos, a drizzle of Mexican crema and cilantro.

Sunny's easy chili pie in a bag
Recipe courtesy Sunny Anderson, 2014
Makes 6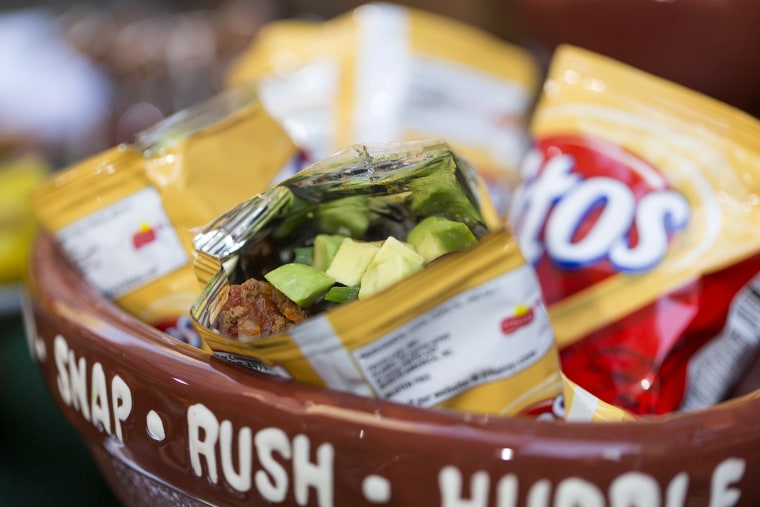 Ingredients

For the chili: 

1/2 cup chopped white onion

1 tablespoon vegetable oil

Kosher salt and black pepper

2 tablespoons chili powder

1 clove garlic, grated on a rasp

1 pound ground chuck beef (80% meat, 20% fat)

1/2 teaspoon cornstarch

1 beef steak tomato, chopped

1 cup beef broth

1/2 cup beer (just like wine, if you like it, use it. I like Corona here.)

For the bags:
2 avocados, pitted and chopped

1 tablespoon fresh lime juice

6 single serving bags of corn chips

1 cup finely shredded iceberg lettuce

11/2 cups shredded cheddar/jack blend

1/2 cup finely chopped scallions (white and green parts)

1/4 cup sliced black olives

1. Make the chili: In a pot on medium heat add the onions, oil, a pinch of salt, and a few grinds of pepper. Cook while stirring until the onions are tender, about 6-8 minutes. Add the chili powder, garlic and beef. Brown the beef while breaking up with the spoon into bits, then once browned add the cornstarch, tomato, broth and beer. Allow to cook and simmer uncovered until slightly reduced, about 15 minutes.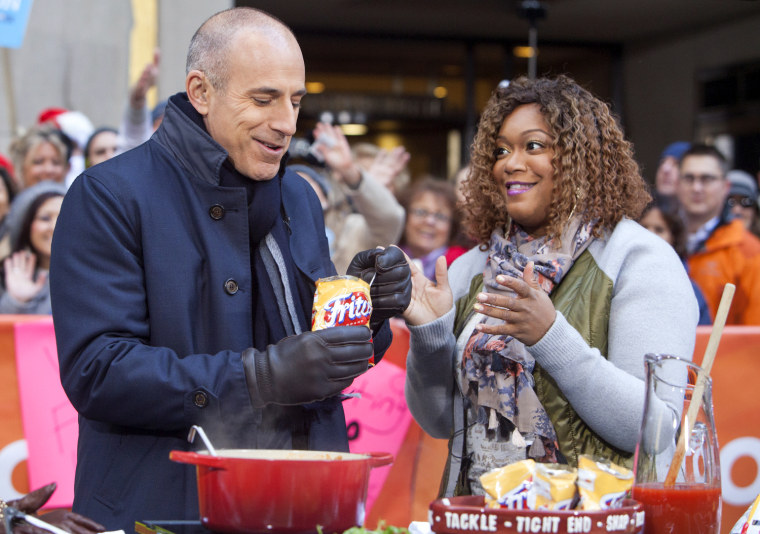 2. Load up bags and eat: Toss avocado with lime juice. In each bag of chips add a mound of lettuce, then pour on a scoop of chili and top with cheese, scallions and olives. Serve hot with a spoon or fork! 

Sunny's root beer chicken
Recipe courtesy Sunny Anderson, 2014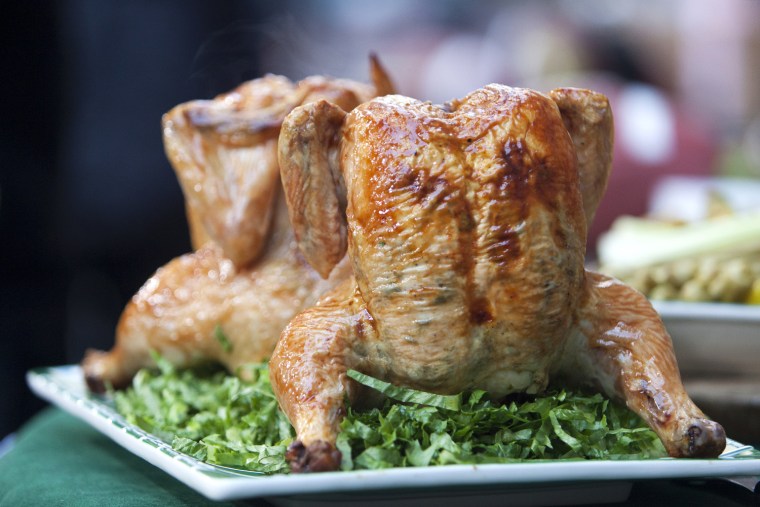 Ingredients

For the rub:
4 tablespoons unsalted butter, softened

1 tablespoon fresh thyme, stripped and chopped

2 limes, zested

Kosher salt and black pepper

2 whole chickens, gizzards and neck removed
For the glaze:
2 cups root beer

2/3 cup ketchup

1/2 cup light brown sugar

2 inches fresh ginger, cut into 1/4 discs

2 cloves garlic, grated on a rasp (not minced)

2 tablespoons fresh lime juice

1 ghost pepper or habanero pepper, pierced with the tip of a knife

1. Rub the chicken: In a small bowl, mix together the butter, thyme, lime zest, and season with a nice pinch of salt and a few grinds of black pepper. Loosen the skin of the chicken and rub the butter mixture under the skin.

2. Make the glaze: In a pot on medium high heat add the root beer, ketchup, sugar, ginger, garlic and lime juice. Whisk together until the mixture begins to boil and the ketchup and sugar are dissolved into the root beer. Lower to a simmer and when it begins to reduce in volume and thicken, turn off the heat and add the chili pepper. Allow the ginger and chili pepper to steep in the residual heat for 10 minutes, then remove both and stir the sauce.
3. Prepare and grill the chickens: Turn a burner on one side of the grill on. Keep the lid down and allow the grill to preheat. On the opposite side of the grill from the burner that is on, place the root beer cans. Carefully place the chicken cavities (leg side down) over each can. Make sure the chicken stands on its own. Close the lid of the grill and do not open. Cook for 25 minutes, open the grill, rotate the chicken and close the grill again. Allow to cook for another 20-30 minutes, or until an internal thermometer placed into a leg reads 155-160° F. Glaze the chickens the last 5-10 minutes of grilling, reserving the remaining glaze to toss shredded chicken with as a sauce. Remove the chicken from the grill and cover gently with aluminum foil. Let the chickens rest for at least 15 minutes, carve and serve.
Sunny's Bloody Mary bar
Recipe courtesy Sunny Anderson, 2014
Serves 6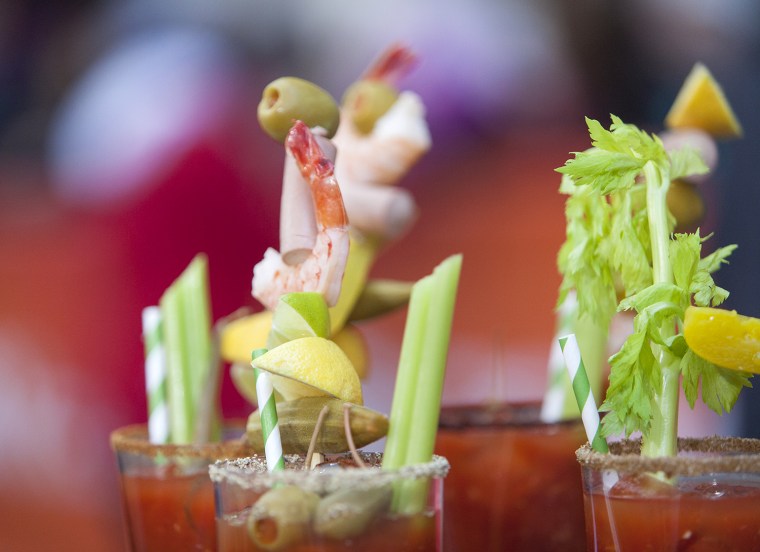 Ingredients
For the Bloody Mary:
16 ounces vodka

30 ounces tomato juice

2 tablespoons lime juice

2 tablespoons lemon juice

1/2 teaspoon hot Hungarian paprika

3 tablespoons prepared horseradish

1 tablespoon worcestershire sauce

For the rimming bar:
Lime and lemon wedges

Celery salt

Chili powder

Old Bay seasoning

Lemon pepper

For the garnish bar:
Various bottles of hot sauce (red and green)

Various stuffed olives

Horseradish

Worcestershire sauce

Caper berries

Celery stalks

Cucumber spears

Pickle spears
Pickled green beans
Pickled okra

Lime wedges

Crisped bacon

Cooked and chilled shrimp

Dill

Vienna sausages

Chicken wings

Skewers 

1. Mix and chill drink: In a large pitcher add the vodka, tomato juice, lime juice, lemon juice, paprika, horseradish and Worcestershire sauce. Stir and chill until serving.


2. Rim glasses, pour and garnish: Pour the celery salt, chili powder, Old Bay, and lemon pepper onto 3 different plates or trays. Moisten the rim of each glass with water or a wedge of lime or lemon. Roll and dust each rim in one of the rimming trays. Fill glass with ice then pour over Bloody Mary. Garnish using items from the bar.