This time of year means sunset happy hours, picnic perfect weather, and the beginning of grilling season. Looking for a new cocktail that's perfect for all three? Try switching to saké as your base alcohol of choice.

While often known as "rice wine," the brewing process used to create saké is actually closer to beer brewing, as starch from the rice is converted to sugar through fermentation using yeast and a mold called koji.
Undiluted (genshu) saké usually contains 18-20 percent ABV and, if diluted, saké can run about 15 percent -- as much as a strong bottle of wine. The clean, refreshing taste of a filtered saké is the perfect base for a citrus or herb-infused cocktail, while the smooth milkiness of unfiltered saké (nigori) is equally ideal mixed with flavors like chocolate and coconut, then paired with desserts or spicy foods. And all variations of saké take on other flavors well, making it a very mild and versatile liquid foundation.
Sarma Melngailis, co-owner of New York's raw food mecca Pure Food & Wine, uses saké in several of the drinks on their menu. (In fact, they go through so much of it that they actually began to serve SakéOne Momokawa organic junmai ginjo saké on draft to eliminate the excess of glass bottles leftover at the end of each shift.)
"Saké mixes beautifully with fresh fruit and other flavors in cocktails," Melngailis told TODAY. "It doesn't overwhelm the other flavors so, for example, when we juice fresh cantaloupe to mix with a bit of lemon, saké and fresh cilantro, you really taste the flavors of the fruit and herbs...(It) is also delicate and nuanced, and so whether on its own or in cocktails, it pairs well with our raw food."
Chris Johnson, director of operations and saké sommelier at Cherry Restaurant in New York's Dream Downtown hotel, keeps the bar stocked with over 80 types of saké. He also loves using it paired with other spirits to replace vermouth, which has a higher acidity. "It is a great foil and can bring depth to cocktails," Johnson explained. "I like to call them afternoon beverages. Lower in alcohol, yet still full of flavor. They provide light, refreshing options that you can enjoy all day long."
As sake sales continue to rise in restaurants around the country, SakéOne, which is brewed in the Williamette Valley of Oregon (typically known for pinot noir), is getting more and more requests for kegs. They now distribute to nearly three dozen restaurants and bars across the country, including Poppy Den in Las Vegas, The American Local in Portland, Ore., and Chicago's new Asian Outpost. Steve Vuylsteke, president of SakéOne, sees the rising popularity of saké as a natural progression.
"As we Americans more closely scrutinize what we eat and drink, saké is a great choice for those seeking a gluten-free, sulfite-free, tannin-free, additive-free, low acidity, cool and fun beverage choice," he told TODAY.com.
So kick off the summer season by serving up some refreshing sake cocktails that are sure to please your guests.
White Light Tini
Serves 4
Excerpted from "Living Raw Food" by Sarma Melngailis
This cocktail, created by Pure Food and Wine's Italian sommelier Joey Repice, is made with green tea infused with fresh lemongrass. We use an unfiltered sake called Summer Snow—I love that name! It's milky white (because the rice particles have not been filtered out) and has a mild, sweet, and refreshing flavor.
2 tablespoons loose green tea leaves

One 1-inch piece of fresh lemongrass, outer husk removed and thinly sliced or shaved with a peeler

A little more than 1 cup hot, filtered water

3 cups unfiltered sake

½ cup ginger juice*

1 cup freshly squeezed lime juice

½ cup agave nectar

4 fresh orchid blossoms or other edible flowers

Steep the tea and lemongrass in a little more than 1 cup of hot water and let it sit for 30 minutes or more.
Strain the tea and let it chill completely in the refrigerator.
Combine the tea with the sake, ginger juice, lime juice, and agave nectar and stir well to dissolve the agave. In a martini shaker, pour the chilled liquid over ice and shake or stir very well to chill. Strain and pour into martini glasses. Garnish with orchid blossoms or other edible flowers.
To make ginger juice, simply grate ginger on a fine grater and pack the pulp into cheesecloth. Squeeze the cloth with your hand to extract the juice. Roughly one tablespoon of pulp will produce one teaspoon of juice.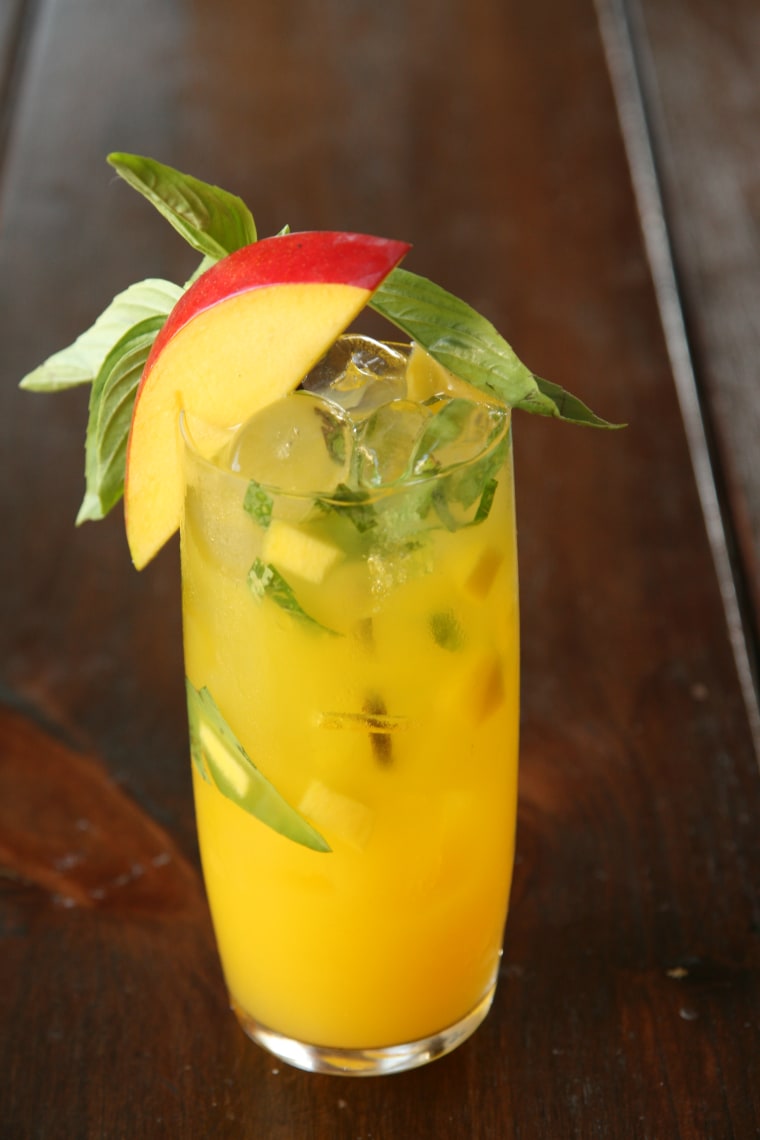 Thai Basil Mojito courtesy of Chris Johnson

2.5 oz Momokawa organic sake 

3 to 4 pieces of Thai basil 

2 pieces of ripe mango (1/2 inch cubes) 

Juice of one lime 

1 oz. mango nectar (Goya or Kerrs)

Muddle basil and mango with ice in a shaker. Strain into a half-iced Collins glass, allowing the basil to get into the glass. Garnish with a piece of basil or mango.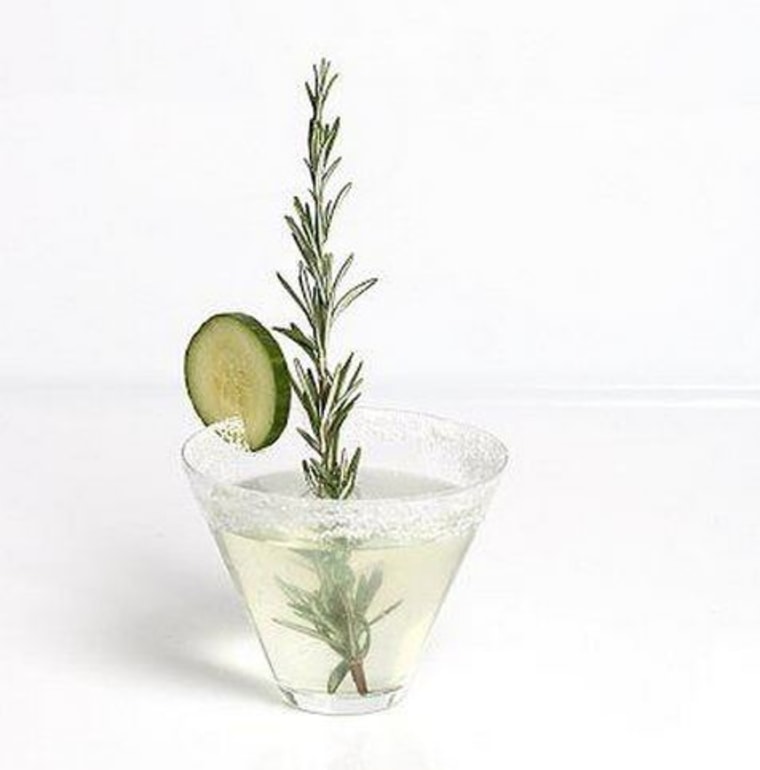 Cucumber Rosemary Saketini courtesy of Chris Johnson

2.5 oz sake

1 oz vodka.

3 pieces of sliced cucumber

Sprig rosemary

Muddle 2 cucumber pieces and half sprig of rosemary. Add sake and vodka to mixing glass. Shake with ice. Double strain in to martini glass. Garnish with cucumber and rosemary.