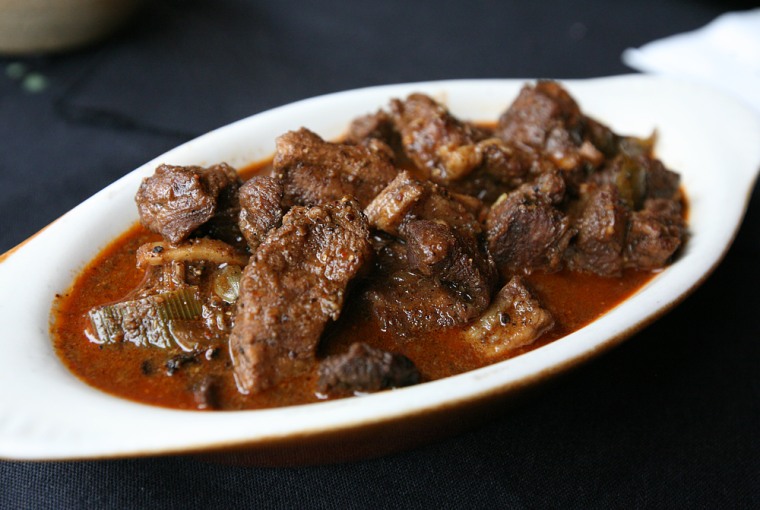 When foodie friends come to visit me in New York City and they want to try "something new," I suggest Sri Lankan food.
Similar to Indian cuisine (understandable due to its geographic and cultural proximity to India), Sri Lankan fare is a bit lighter and has Thai flavors, thanks to the liberal use of coconut milk, especially in curries. 
And it is spicy. Sri Lankans use their share of hot chilies. Whenever I go to my favorite Sri Lankan restaurant in New York City, Sigiri, and tell my waiter I want the food spicy, I'm asked, "Spicy or Sri Lankan spicy?" 
"People don't believe me when I say it's really spicy," said Nalinda Peiries, co-owner of Sigiri and a native Sri Lankan. Then they taste it and tears stream down their face.
"We use ghost chili," he said, referring to the kind of chili that was certified as the world's hottest pepper—400 times hotter than Tabasco sauce—by the Guinness Book of World Records. Ghost chili is what makes a dish "Sri Lankan spicy."
But if you're averse to spicy food, don't let that stop you from trying this cuisine, as restaurants will gladly tone down the heat for you.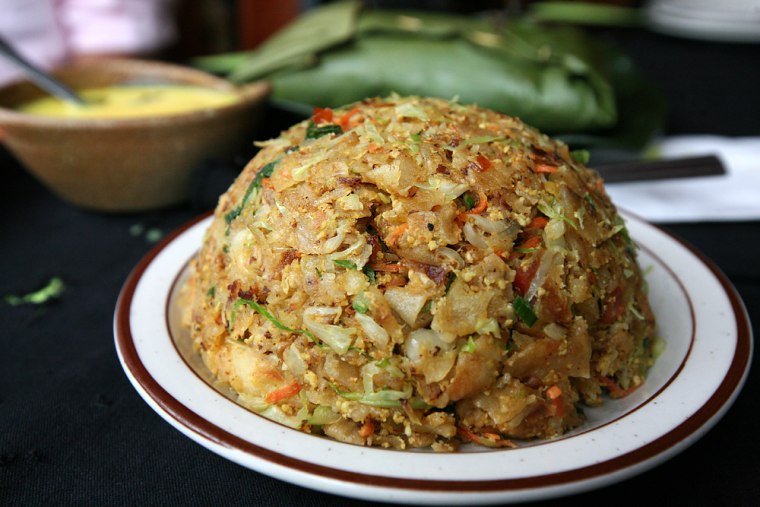 For newbies, Peiries suggests ordering the kotthu roti. "This is a signature dish, and everybody likes it," he said. It's billed as a "road-side specialty" prepared from doughy pancakes shredded and stir-fried with vegetables, onions, eggs and a choice of chicken or beef. If you are a fan of fried-rice, this will be your new obsession.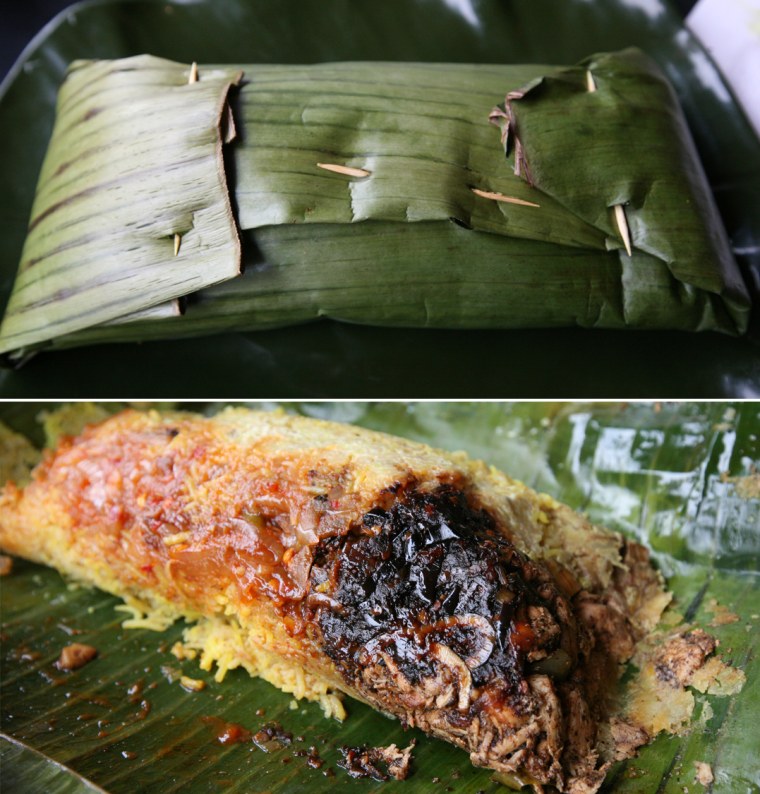 My favorite dish—one that I frequently crave—is the lamprais. It is chicken, fish cutlet, boiled eggs, ash plantains, eggplant and rice all wrapped in a banana leaf and baked in the oven at a low temperature for several hours. When you unwrap the banana leaf, the aromas waft out, making anyone at the table who did not order lamprais extremely envious. Because it is cumbersome to make, this dish is usually reserved for special occasions in Sri Lanka.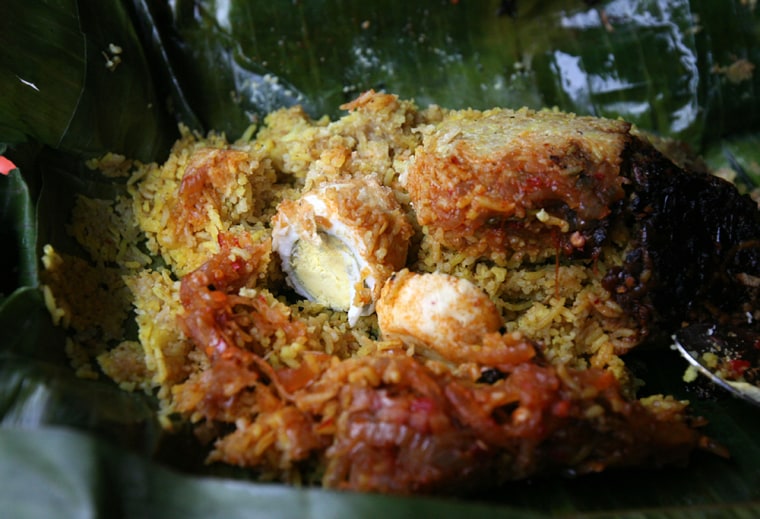 Lamprais, influenced by Dutch culinary tradition, is a shining example of how Sri Lankan food combines various influences from around the world. Sri Lanka was a major trading hub due to the colonial presence there in the 15th and 16th centuries. Traders melded native spices and cooking techniques, resulting in modern-day Sri Lankan cuisine.
If you like curry dishes, you can't go wrong. Sri Lankan curries are typically made with fish, goat, chicken, pork, beef or lentils. Most of these curries are made with coconut milk, but a unique dish I tried at Sigiri, the pork black curry, is unlike any curry dish I've ever tried. It skips the coconut milk, but features a wide array of spices, including cardamom, cloves, cinnamon, mustard powder, curry powder, chili powder, and is simmered with sauteed garlic, ginger, onion, green chili, curry leaves, pandan leaves, and soy sauce for one to two hours.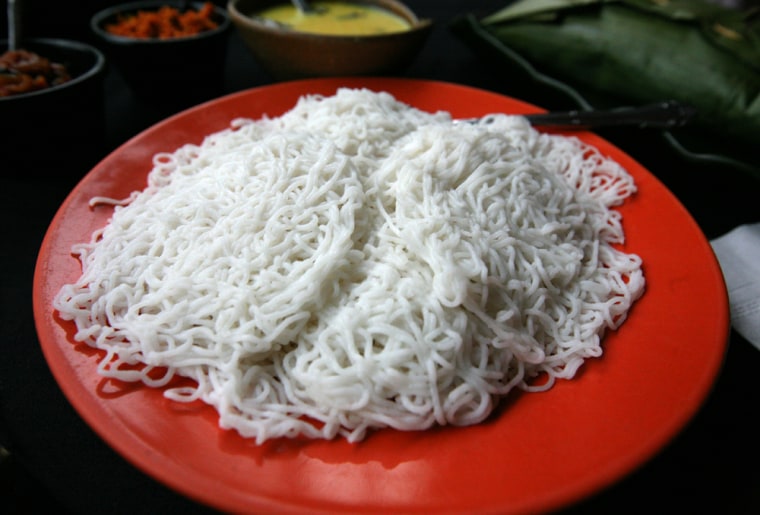 Hoppers are a native Sri Lankan dish and come in a variety of forms. Aappa are hoppers that resemble thin, bowl-shaped pancakes or crepes (they are made from a fermented batter of rice flour and coconut milk), with crisp edges and are often served with a fried egg plopped on top. Indi aapa, known as string hoppers, are thin strings of rice noodles. Rice and flour dough is squeezed through a sieve onto a small woven tray and then steamed. Hoppers are often eaten for breakfast, although I think string hoppers make a perfect rice substitute for any curry dish.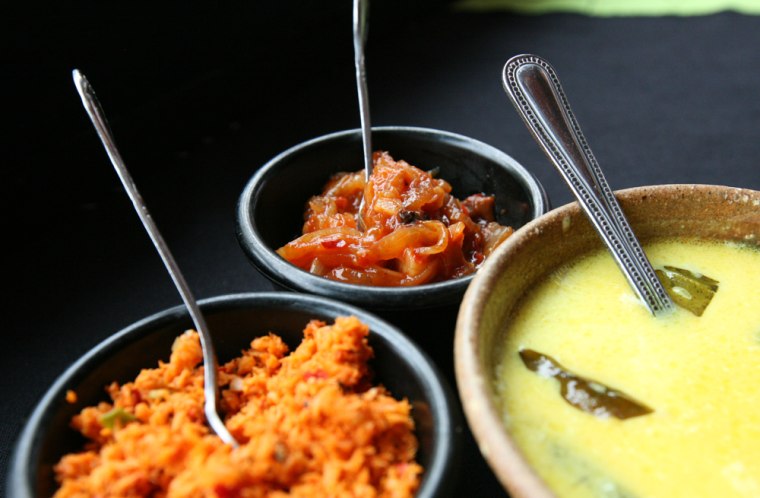 And don't even think about asking for ketchup or mustard; Sri Lankan condiments are particularly tasty. Sambols are a popular mix-in with rice or hoppers. Coconut sambol, for instance, features ground coconut with chili peppers, dried Maldive fish and lime juice, all ground to a paste. Another tasty variety is onion sambol, made with sauteed onions, chilies and spices. 
If you haven' tried Sri Lankan cuisine, I'd definitely recommend it. It's delicious, complex, and showcases unique, lip-smacking spices.
More from TODAY Food: