The Passover menu at Chef Alon Shaya's eponymous New Orleans restaurant takes a decidedly modern twist on traditional dishes that date back centuries. His maror — the bitter herb, usually horseradish, meant to recall the bitterness of enslaved Jews — is made with escarole, chicory, endive and arugula. The matzo, cooked in the requisite 18 minutes, is made in a wood-fired oven. His version of karpas, usually plain parsley meant to symbolize spring, is served with zhoug (green chili paste) and grilled asparagus.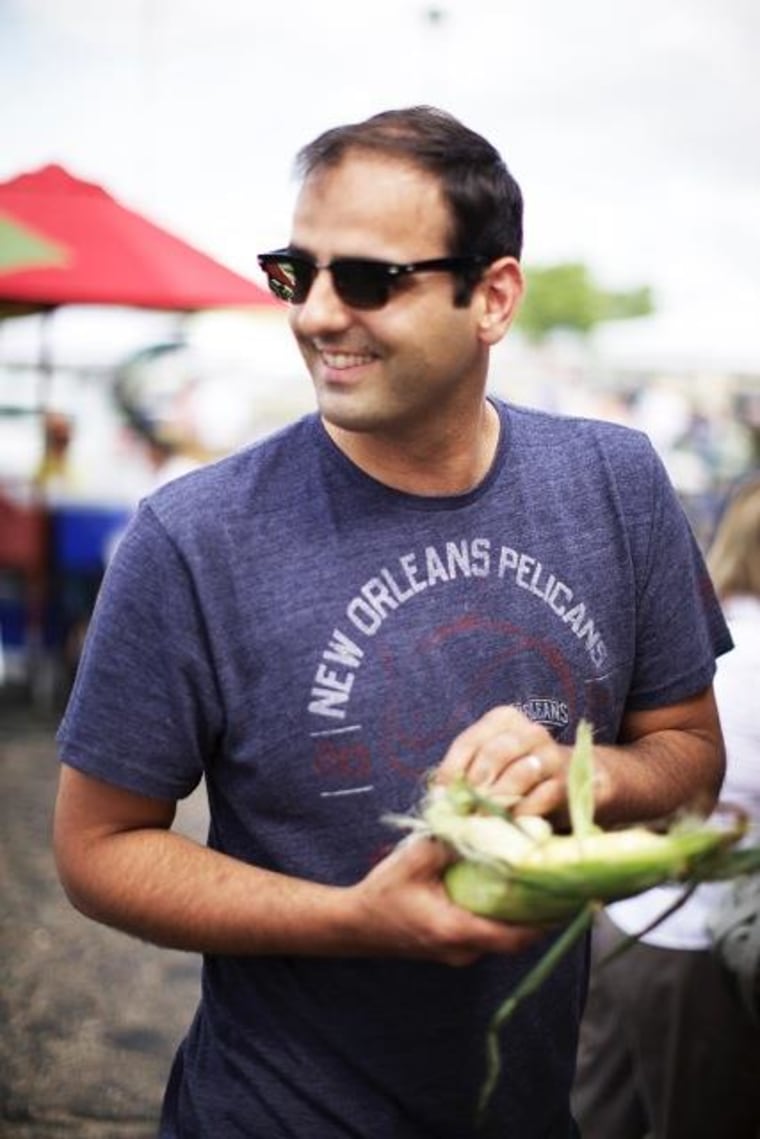 "We're calling it Israeli cuisine, but even people in Israel don't know what that is," said Shaya, 36. "Israeli cuisine is Bulgarian food, Polish food, Moroccan, Yemenite. There's this country that's very small but represents so many different cultures. The food being cooked there today is unlike anywhere else in the world."
While some may still stereotype Jewish cuisine as the stuff of delis — a mile-high pastrami sandwiches on rye and bagels with lox — a new generation of cooks is showing the world how versatile it is. "Jewish Soul Food" and "Modern Jewish Cooking," cookbooks released within the last year, are best sellers. While restaurants have long created menus to suit Christian holidays like Easter, more are creating Jewish menus.
Shaya also believes the acceptance of cooking as a career has fueled the movement for more creative, modern Jewish cuisine.
"A lot of really creative people that could have been doctors or lawyers or scientists or astronauts are becoming chefs and it's so inspiring," he said.
"So many chefs are deciding to get their hands dirty with it and experiment. That's going to change it all."
Shaya was born in Israel and lived in a mostly Bulgarian neighborhood until he immigrated to the U.S. with his family at age 4. Growing up in Philadelphia, he spent hours in the kitchen with his mother and grandmother. (His grandmother's recipe for the sweet salad known as charoset is on this year's Passover menu.)
He trained in the U.S. and Italy, landing in New Orleans in 2001 to work with chef John Besh. The pair opened their first restaurant together in 2009, adding a second restaurant last year. While those eateries featured mainly Italian-inspired dishes, their third, the restaurant Shaya, is Israeli.
Here, the menu goes beyond latkes and falafel, although Shaya has a Hannukah meal that includes latkes and always has falafel on the menu. The difference is the twist. Take the matzo ball soup: "The stereotype is all matzo balls are alike," Shaya said. "Tie one to your leg and it will sink you to the bottom of a lake."
Not his, he promises. This year, the light dumplings swim in duck broth. A few years ago, Shaya offered a Passover meal with Italian influences, including cannellini beans, tomatoes and escarole.
This year's Passover menu is a tribute to some of the many countries that have influenced Israeli cuisine. Green chili zhoug, for example, is a popular Yemeni sauce. Beet-cured eggs are a nod to Russian influences.
"I'm trying to dig into those roots where all these things come from," he said.
Inspired? Take your hummus to the next level and try chef Shaya's recipe for Hummus with Roasted Duck, Buttered Leeks and Olives.