If something seems too good to be true, well, then, it probably is. And, unfortunately, a recent rumor about KFC and its chicken buckets is not an exception to this rule.
On March 13, TikToker @itsallenferrell (whose real name is Allen Ferrell) shared a TikTok Stitch with fellow TikToker @jordan_the_stallion8 that went mega-viral on the platform, garnering an astonishing 20 million views in less than four days.
Captioned "KFC Bucket Refill Policy??", the video informs the public of an alleged policy that could net chicken-lovers drumsticks galore at the chicken chain.
"KFC does free refills on buckets of chicken," @jordan_the_stallion8 says before the video cuts to Ferrell peeking out from underneath a KFC bucket he's fashioned into a sensible hat. Ferrell, like many viewers, is astonished at this idea.
"There's no way," Ferrell says before recording himself walking into his local KFC restaurant to try the "hack" for himself. Walking up to the counter, he approaches a KFC worker and orders an eight-piece bucket of chicken.
As classical music soundtracks his sophisticated gorging on all that chicken, Ferrell walks up to the counter with his empty bucket. The moment of truth, so to speak.
"Hi, I'm all finished with my bucket of chicken. I was wondering if I could get a refill," he says.
A quick screenshot of supposed "policy" appears on screen, and it's unclear where Ferrell found it, because the block of text is not actually from KFC's website but has appeared as a block of copied text around the internet for a variety of restaurants.
"It only applies during the 60 minutes after the purchase," reads the screenshot, although the same text has been bandied at other fast food chains in the past as early as 2022. "The refill must be requested after waiting in the regular line at the restaurant's counter. You must show your receipt in order to request the refill. Once a customer has left the restaurant the refill is no longer valid."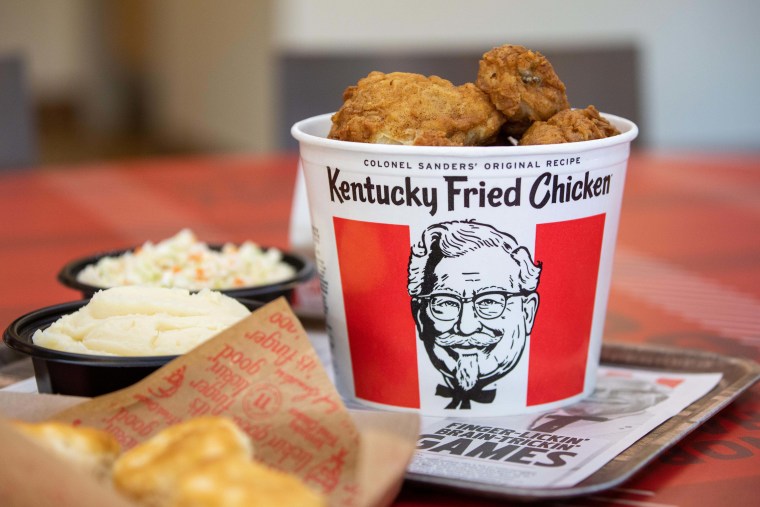 "Oh, you're talking about that one thing?" the KFC worker replies, unsure, before agreeing to give Ferrell a refill of chicken. "I can do that for you."
She asks Ferrell to confirm that he got an "eight-piece crispy" and then gets it for him, handing him a bag. "Enjoy your second meal," she says.
"Wow, it works, that's crazy," he says, examining his second helping of the Colonel's secret recipe, gained gratis.
TikTok users were both inquisitive and incredulous, taking to the comments section to share their hopes and doubts on this heretofore unknown policy.
"There is no way this is legit. That was the best looking KFC chicken I have ever seen," said one TikTok commenter.
"Why do I have the feeling I'll only get laughed at if I try this where I'm at," said another user.
"Bulking will never be the same again," noted someone else.
"I feel like I've seen some kind of evidence but I'm still not sure I believe this," said another TikTok user, mirroring most of the comments section. "Seems too good to be true."
Well, we hate to be the bearer of bad news, but KFC confirmed to TODAY.com that the "KFC Refill Hack" is definitely a hoax.
"We love the widespread enthusiasm for our buckets, but to clarify our policy, KFC does not have free refills," a KFC spokesperson tells TODAY.com. "Our terrific team members are already busy preparing delicious meals, and we ask for our guests' respect and understanding for our people as we tamp out this rumor."
But, according to KFC's Twitter account, there is a slight silver lining to the whole situation:
"The good news: we have a special offer for $10 buckets in our app," tweeted KFC.
It's not free chicken, but we guess we'll take it?