America's most popular six-day-a-week fast-food chain is bringing back a couple of fruity favorites for summer.
On June 8, Chick-fil-A announced the return of two popular peachy beverage treats, set to hit the chain's stores all summer long.
The Atlanta-based restaurant chain says its Peach Milkshake and White Peach Sunjoy both return to menus nationwide on Monday, June 12 — but only for a limited time, while supplies last.
The Peach Milkshake has Chick-fil-A's signature "Icedream," which is a soft-serve-style dessert, blended with peaches and topped with a swirl of whipped cream and a cherry. The White Peach Sunjoy is a combination of lemonade and freshly-brewed sweetened iced tea and white peach flavors.
"With each passing year, our Peach Milkshake's loyal followers eagerly await its annual comeback. Its arrival signifies the beginning of summer at Chick-fil-A, and this year, the excitement from our fans has inspired us to expand our peach offerings," Leslie Neslage, director of menu and packaging at Chick-fil-A, said in a press release. "Introducing the White Peach Sunjoy and several other refreshing variations, we are excited to witness the peachy choices our guests will make all summer long!"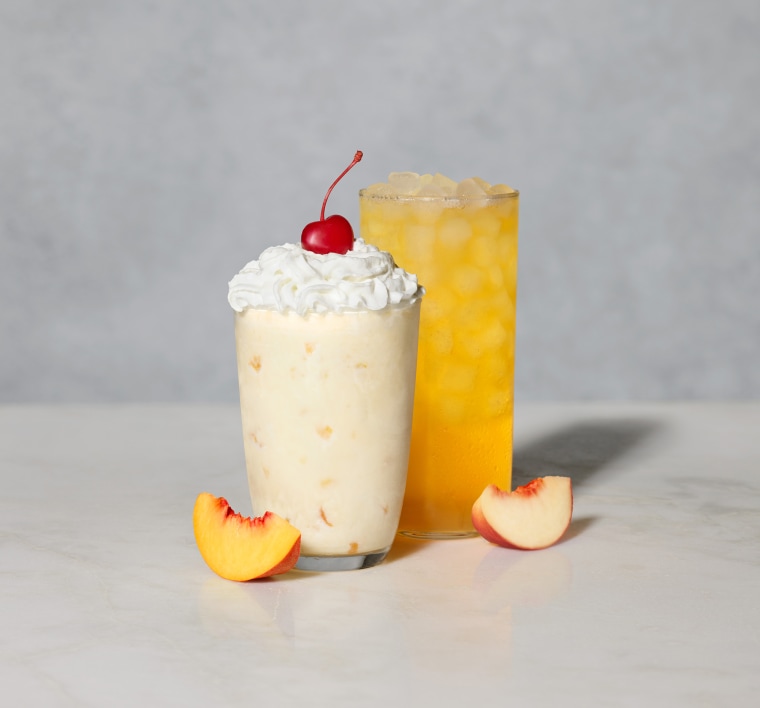 First introduced to the chain's more than 2,600 restaurants, the Peach Milkshake was first conceived by Chick-fil-A chef Angela Canada before first being sold in 2009 nationwide. The chain says the milkshake is inspired by her family's homemade recipe for peach ice cream made with a hand-crank machine. 
Chick-fil-A notes that the Peach Milkshake went through more than 15 iterations before landing on the perfect flavor combination that guests have enjoyed since 2009.
It's worth noting that Chick-fil-A's "Icedream" is not technically ice cream but more like a low-fat version of it. According to the United States Department of Agriculture, ice cream has to contain at least 10% butterfat, and Icedream allegedly has only 3% butterfat, according to The Daily Meal. That makes it more akin to a frozen treat like gelato, which only contains 4% to 9% butterfat.
The other peachy keen treat, the White Peach Sunjoy, was first introduced to menus in 2018, and while the menu item combines its white peach flavoring with lemonade and sweetened iced tea, fans of the summer fruit can also try the flavor with just lemonade, frosted lemonade or iced tea.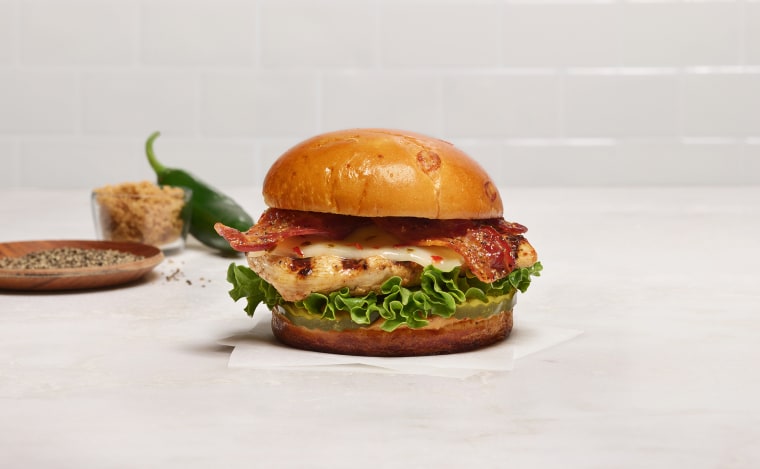 In addition to its seasonal beverages, Chick-fil-A is testing a new grilled chicken sandwich in select markets: the Maple Pepper Bacon Sandwich.
Made with a lemon herb-marinated boneless breast of chicken and grilled, the sandwich is completed with pepper jack cheese, lettuce and bacon tossed in a brown sugar and pepper blend, all served on a buttered, toasted maple-flavored brioche bun. This sweet-and-salty sammy is now available in Indianapolis, Indiana and Lexington, Kentucky.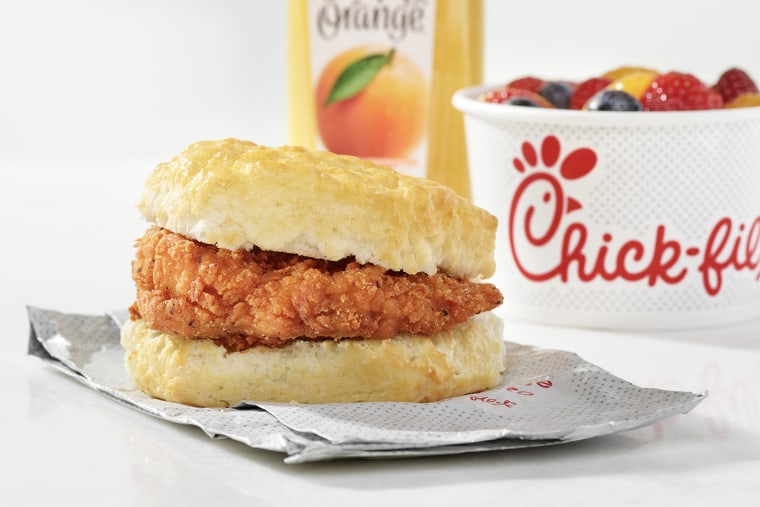 The chain also says that another item, the Spicy Chicken Biscuit, is making its national debut.
Made with boneless chicken breast seasoned with a blend of spicy peppers, the item is served on a freshly baked buttermilk biscuit. The sandwich is now a permanent menu item at all Chick-fil-A restaurants after being served as an optional offering at some locations over the years.
Interested parties in any of Chick-fil-A's new or returning menu items can hit up the Chick-fil-A app, its website or their local restaurant to find out if these menu items are being served at a nearby location.