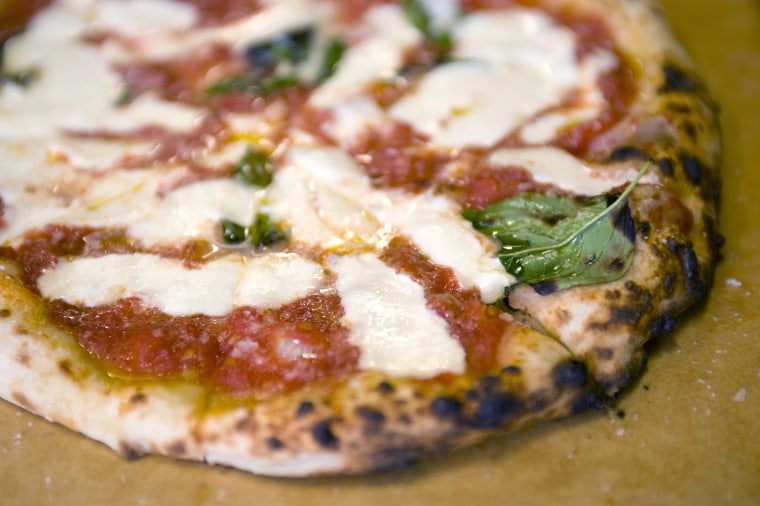 Is there a more irresistible snack — or lunch, or dinner — than a piping-hot cheese pizza? Luckily it doesn't take a boatload of inventive ingredients to make an excellent cheese pie — especially when it's made with perfect (and perfectly simple) ingredients.
For tips on how to make the best-ever cheese pizza, we turned to chef Anthony Carron of 800 Degrees Neapolitan Pizzeria, the buzzy Southern-California based restaurant, which just opened a branch at the new SLS Las Vegas hotel and casino in August.
Carron pays tribute to old-world tradition with an ingredient-focused menu of Neapolitan-style pizzas featuring fresh mozzarella, California-grown tomatoes and handcrafted crusts made with flour from the ancient Molino San Felice mill in Naples, Italy.
According to Carron, the key to a great cheese pie is quality ingredients — not a quantity of toppings. "The secret is great cheese. Not more cheese, but great cheese," Carron says. "Look for cultured, full-fat—not skim —mozzarella if you can find it. For the cultured kind, the milk is curdled using bacteria instead of chemical acid, which results in a more flavorful product. It's more-time consuming for the cheesemakers, so it's more expensive."
If you're looking for a more complex taste, Carron says, "a smoked mozzarella or caccio cavalo — an Italian provolone—would add more flavor and depth to the pizza. Also fresh oregano or Calabrian chiles are a great addition for more flavor or heat." 
Feeling inspired? Sharpen your pizza-making skills at home with 800 Degrees' recipe for a Margherita, the traditional Neapolitan cheese pie:
800 Degrees Margherita pizza
Makes 4 pizzas
For the dough:
2 tablespoons sugar

1 tablespoon extra-virgin olive oil

½ tablespoon active dry yeast

2 cups water, at room temperature

5 ½ cups finely ground "00" flour

2 tablespoons kosher salt

Combine sugar, oil, yeast and water in bowl of a stand mixer fitted with a dough hook. Let sit until foamy, about eight to 10 minutes. 
Mix flour and salt in a bowl. With motor running, slowly add flour mixture. Mix until a smooth dough forms, eight to 10 minutes on medium speed. Transfer dough to a greased baking sheet and cover with plastic wrap. Let sit at room temperature for one hour. 
Divide dough into four equal pieces, and then gently shape each piece into a ball. Once you have four relatively even balls, stretch the top of the ball down and around the rest several times until the outer layer wraps around the other side. Pinch the two ends together to make a smooth ball with a tight outer skin. 
Transfer the balls to a lightly greased nine-by-13-inch dish, and brush tops
 very lightly with olive oil. Cover tightly with plastic wrap, and refrigerate 24 to 48 hours. Remove from refrigerator three to four hours before using.
For the sauce:
1 can San Marzano tomatoes (28 ounces)

1 teaspoon kosher salt

Drain the juice from the tomatoes and reserve. Crush the whole tomatoes with your fingers until they reach the consistency of sauce, or run them through a food mill using the coarse plate. Add back half of the tomato juice to the crushed whole tomatoes, reserving the rest of the juice for another use. Stir in the salt.
For the pizza:

Semolina flour, for dusting

4 balls fresh mozzarella cheese

1 bunch fresh basil leaves, rinsed and dried

4 tablespoons olive oil

2 ounces Parmigiano-Reggiano cheese

To cook the pizzas in a gas or electric home oven: Place a pizza stone under the broiler, and heat for 30 minutes. Working in four batches, dust each ball of dough with semolina. Using your fingertips, press dough into a 10-inch circle about a quarter-inch thick, leaving a one-inch crust around the edges. Hold dough straight up, and slide fingers around it in a circular motion as you would turn a steering wheel, until dough in the center is stretched to a thickness of about 1/8 inch. 
Transfer to a semolina-dusted pizza peel. Spread 1/2 cup sauce over dough, leaving a one-inch perimeter around the edge. Tear a ball of fresh mozzarella cheese into 15 equal pieces and distribute evenly over the pie. Top with six basil leaves and drizzle with about a tablespoon of olive oil. Sprinkle with 1/2 ounce grated Parmigiano Reggiano, or about one large pinch. 
Slide pizza onto stone. Broil until cheese melts and crust is puffed and charred in spots, just about three to four minutes. Serve hot.

Alesandra Dubin is a Los Angeles-based writer and the founder of home and travel blog Homebody in Motion. Follow her on Facebook, Google+ and Twitter.