Get all the homey, satisfying flavors of a roast chicken dinner in one pan -- no carving or trussing necessary. Aromatic garlic, shallots and herbs bring the best out of simple chicken breasts for a filling weeknight meal.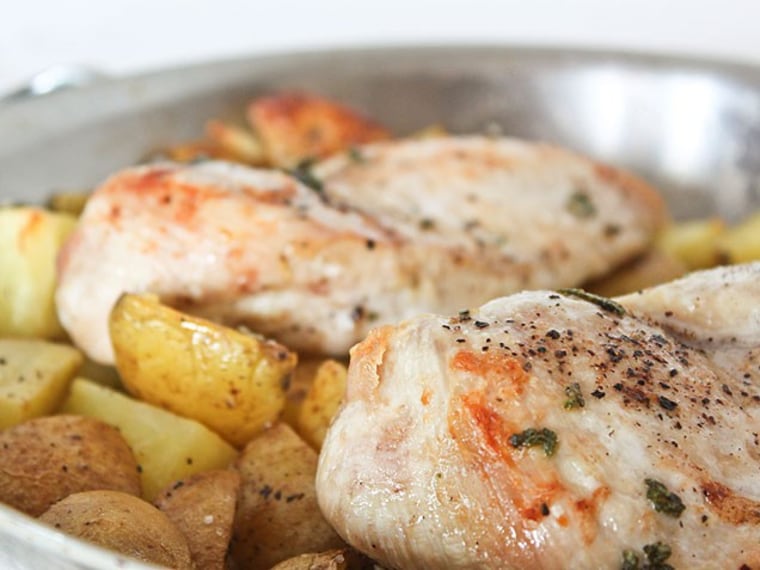 Ingredients:
2 (1 pound) boneless, skinless chicken breasts

1 pound Yukon Gold or red potatoes, cut into 1-inch chunks

Kosher salt

2 cloves large garlic, thinly sliced

Freshly ground black pepper

1 medium shallot, thinly sliced

1 tablespoon unsalted butter

1 teaspoon minced fresh rosemary

1 tablespoon olive oil

1 teaspoon minced fresh sage

Yield: 4 Servings
Directions:
Preheat the oven to 375.
Pat the chicken breasts dry and sprinkle with salt and pepper.
Heat the butter and oil in an ovenproof 10- to 12-inch skillet or 4-quart saute pan over medium-high heat until bubbling and steaming. Add the chicken breasts and cook about 2-3 minutes per side until just golden brown.
Remove the chicken from the skillet and add the potatoes, garlic, shallot, rosemary, and sage, tossing to coat in the butter and oil.
Place the chicken on top of the potatoes and transfer to the oven. Bake for 30 minutes or until a thermometer inserted into the thickest part of the chicken reads 165.
Let the chicken rest for 5 minutes before serving.
This recipe originally appeared on iVillage.