Pour. Bake. Eat. In a perfect world, that's all it would take to get a fresh, home-cooked dinner on the table. But how could a meal be that simple and still incredibly delicious?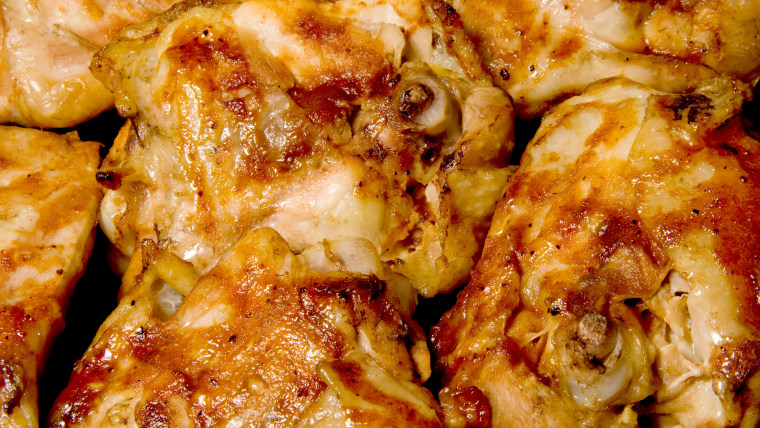 Believe it or not, it can: With a pound of chicken thighs and a couple of pantry ingredients, you've got all the tools you need for a no-mess, no-fuss dinner for four that cooks in one pan. Plus it's an excuse to whittle down the jars of jams and spreads taking up precious space in your refrigerator.
To make the chicken base, slice 1 yellow or sweet onion and coarsely chop 2 large garlic cloves. Toss with about 1 tablespoon olive oil or vegetable oil in a square baking dish. Place 1 pound boneless, skinless chicken thighs (about 4 thighs) in a single layer on top of the onions and garlic and sprinkle with salt and pepper. 
Then just pour one of the following sauces over the chicken and bake at 400˚F for 35-40 minutes, until the chicken is cooked through. Simply whisk the two ingredients together until smooth:

For a tangy Tuscan-inspired sauce that's sophisticated enough to serve at your next dinner party, mix 1/2 cup fig jam with 1/4 cup balsamic vinegar.

An earthy-sweet blend of Japanese miso and maple syrup sounds exotic, and tastes irresistible: Mix 1/3 cup white or yellow miso paste with 1/4 cup grade A dark maple syrup.

The classic Chinese duo of duck sauce and spicy mustard inspires this almost-as-easy-as-takeout sauce: Mix 1/2 cup apricot jam with 1/4 cup coarse-ground Dijon mustard or spicy brown mustard.

For a tart, fruity, versatile mashup that makes a fantastic glaze for pork chops or duck breasts too, mix 1/2 cup cherry jam with 1/4 cup honey mustard.

To make a sweet and nutty sauce that's a kid-friendly alternative to the usual honey-dipped nuggets, mix 1/3 cup tahini or almond butter with 1/4 cup honey.

Or play around with your favorite condiment combos. Once you've cracked the code for saucing up your regular chicken dinners, there's no limit to the new flavors you can add to your weeknight meals.