All week long, Abigail Gullo, all-star bartender at Compère Lapin in New Orleans, has been crafting up custom new NOLA-inspired cocktails for Kathie Lee and Jenna — including her sassy take on a Sazerac and a wine-infused Mai Tai. And we've got all the recipes for her creative concoctions right here — just in time for some weekend celebrating. Cheers!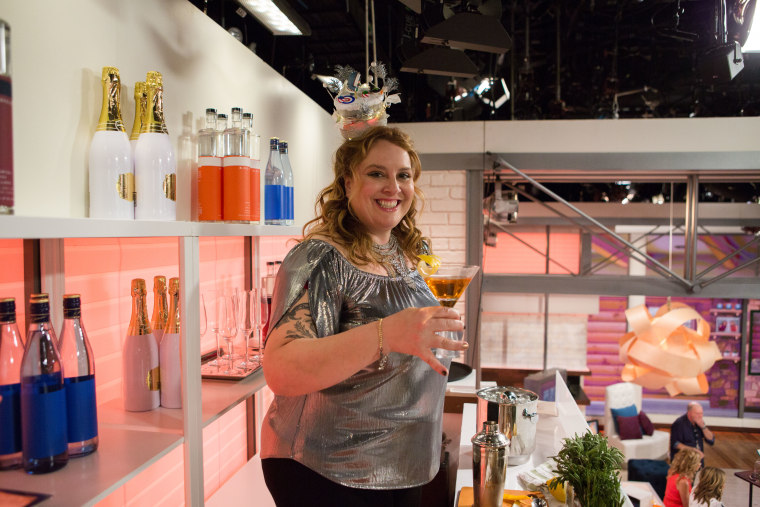 Sassy Sazerac
This is my twist on the official cocktail of New Orleans: a bright-red, short, strong drink that will send you back to the 19th century!
Ingredients:
1 ounce cognac
1 ounce rye
1/4 ounce cane syrup
10 dashes of Peychaud's Bitters
Absinthe rinse (a method for coating the inside of a glass with absinthe, then discarding the excess liquid, and pouring the drink into it)
Preparation:
Combine all ingredients and serve up in a glass (rinsed with absinthe) on the rocks with a lemon twist garnish.
Rock Yer Fella, Mary
This is a Mexican-inspired take on the brunch-favorite Bloody Mary. But this version uses smoky mezcal and tequila instead of vodka.
Ingredients:
1 ounce tequila
1 ounce mezcal
4 ounces tomato juice
1 teaspoon Crystal hot sauce
1 teaspoon lemon juice
1 teaspoon Worcestershire sauce
1 teaspoon horseradish
1 teaspoon Compère Lapin spice mix (you can substitute with black pepper, garlic powder and celery salt)
Preparation:
Stir all ingredients in a tall glass filled with ice. Garnish with pickles, olives, celery — whatever you have on hand!
Tai One On
This wino take on a Mai Tai was created for the TODAY Show wine lovers for Winesday Wednesday!
4 ounces Pinot Grigio
1/2 ounce orgeat
1/2 ounce dry curacao
3/4 ounce lime
Preparation:
Shake and strain ingredients into a wine glass filled with fresh ice. Garnish with a curled pineapple rind, mint sprigs and an orange slice.
Luscious Lavender Mint Margarita
Ingredients:
This margarita won me the award for best cocktail at Tales of the Cocktail in 2010. It's a lavender-mint margarita inspired by the garden my grandma kept.
2 ouncez blanco tequila
1 ounce lime juice
3/4 ounce lavender syrup
3-4 sprigs fresh mint leaves
Preparation:
To make the lavender syrup, just cook lavender buds (1/4 cup) in 2 cups sugar and 1 cup water until sugar dissolves over low heat. Strain out the buds and chill.
Shake tequila, lime juice, and simple syrup with mint leaves and strain into a glass filled with ice. Garnish with fresh lavender and mint.
Gentleman Caller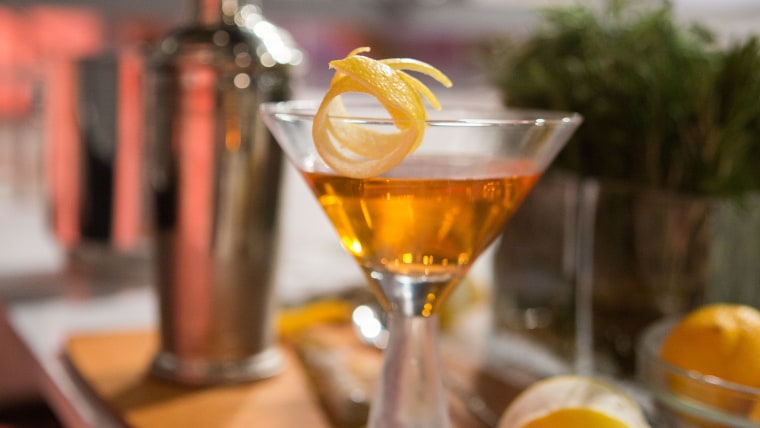 This beautiful martini variation is elegant and refined — and equally desired by all who love a great cocktail.
Ingredients:
1 ounce gin
1 ounce fino sherry
1/2 ounce Aperol
1/2 ounce Génépy
6 drops Burlesque Bitters
Preparation:
Stir all ingredients in a cocktail shaker filled with ice. When cold, serve in a martini glass garnished with a lemon twist.