For all the effort we food people spend coming up with creative Turkey Day leftover ideas, let's face it: All anyone really wants is the ultimate day-after-Thanksgiving sandwich.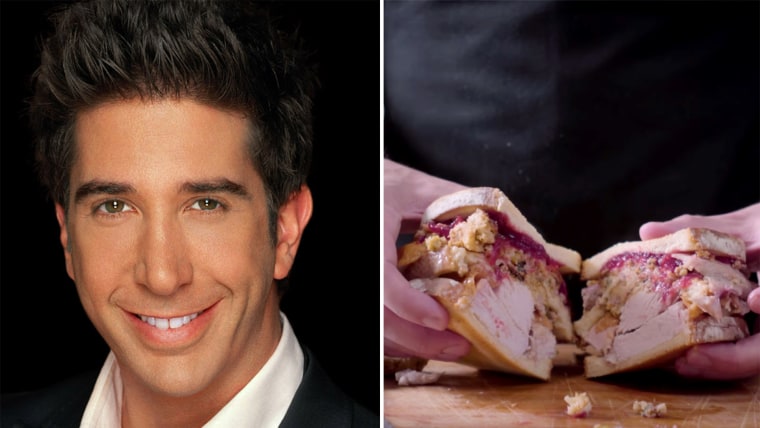 That's probably why one video went viral: On his online cooking show, "Binging with Babish," documentary filmmaker Andrew Rea recently went to great lengths to explain how to re-create the sandwich that Monica makes for Ross in the 1998 Friends episode, "The One with Ross's Sandwich."
The secret to Monica's "Moist Maker" sandwich? A middle layer of bread that's soaked in gravy, Rea found after closely examining the classic episode.
"'Moist' is a terrible word," jokes Rea — some find the word as irritating as nails on a chalkboard — but says it's an apt description in this case. "That extra layer is a great idea — it just keeps the gravy dripping everywhere," he told TODAY.
He pored over the episode, and cooked an entire dinner in order to make the masterpiece: a layer of toasted bread, white turkey meat, some stuffing, a slice of bread soaked in gravy, some dark turkey meat, more stuffing, cranberry sauce and then that top piece of toast.
A visual effects artist as well as a freelance documentary filmmaker New York City, Rea started releasing cooking videos earlier this year, many of which are based on food references in pop culture. He's made Louis C.K.'s Potluck Fried Chicken, staged a Parks and Recreation Burger Cook-off and re-created the New York–style pizza from "Teenage Mutant Ninja Turtles II: Secret of the Ooze."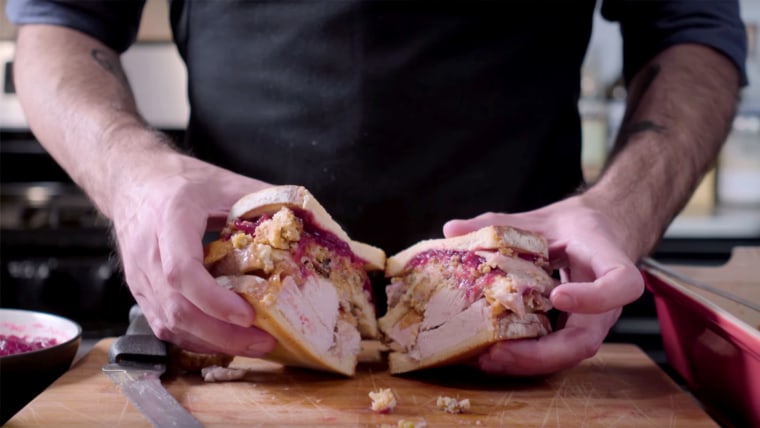 Rea was searching around for classic Thanksgiving moments in film and TV when he stumbled on the "Friends" episode in which Ross is devastated when a co-worker eats the leftovers sandwich that Monica had made for him. ("What did the police say?" cracks Chandler, of course.)
At 29 years old, Rea is a tad too young to have been a fan of the show when it originally aired, but is now catching up on Netflix.
If you're even debating whether you should try this sandwich next Friday, Rea can vouch that it is every bit as delicious as it looks. "It's fabulous. I've been eating it every night for dinner," he says. "It cost me $100 to make, so I'm going to get my money's worth."