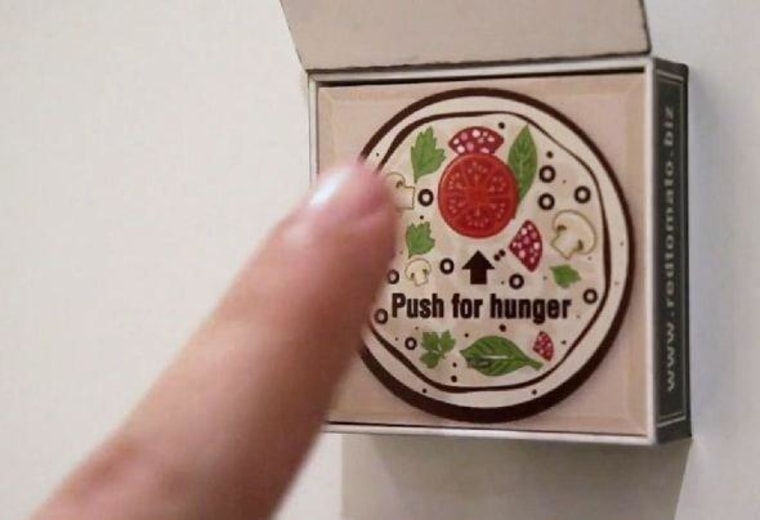 You get home from work feeling a little hungry and walk straight over to the fridge for a quick dinner. Seeing nothing good inside, you close the door, push a button on a magnet – and not too long later, open the door to the pizza delivery guy.
It may sound like a scene from "The Jetsons," but for Dubai residents, it's already reality.
The Middle Eastern nation's Red Tomato Pizza restaurant launched the VIP-fridge magnet (VIP for Very Important Pizza) two months ago, and has seen its business grow by leaps and bounds in the weeks since.
So how does a tap of a button on the pizza box-shaped magnet result in a pizza at your door? Users first register their pizza preferences online. The magnet, which has a lift-up lid, connects to any Bluetooth device and sends a message to the restaurant with the preset request. Red Tomato then sends the customer a confirmation text, offering the option to cancel.
If users want a different pizza for their next order, they can easily edit their choices online.
Pretty quickly, the restaurant had users hooked. More than 70 percent of magnet owners are already repeat customers. Red Tomato is now out of magnets and has ordered more, but couldn't tell us how many have actually been sold.
"In Dubai, everyone wants everything delivered," restaurant owner Rehan Shah told TODAY.com. "When we heard about the idea from our marketing agency, we knew right away it would work for our customers. In a short amount of time, we have been amazed at its popularity. This small magnet has put our brand in a new position."
One catch: Customers with little children may want to keep this high up on the fridge doors, or they will end up with more pizza then they bargained for.
And while we're content to use online ordering or even (gasp!) making a phone call, we wouldn't complain if ordering pizza became an even lazier process. 
Rachel Elbaum is a London-based writer who supports any device that brings food to her home in a jiffy.
More: Taste test: Is there such a thing as a good gluten-free beer?
Cutting down on meat? 5 delicious, veggie-friendly swaps