When Los Tacos No. 1 opened in New York City's epicurean Chelsea Market last summer, it looked like just another taco stand in a city increasingly packed with them (although, as the most discerning taco-lovers will tell you, very few of those spots are worth the wait in line). Still, Los Tacos No. 1 quickly stood out, but not for its design (there are no tables to speak of) or for its extensive taco selection (the menu lists only four kinds). Rather, fans took note of the freshly handmade corn and flour tortillas, the perfectly charred meat served searingly hot off the grill, and the fact that every ingredient tastes vibrantly fresh and makes a powerful flavor contribution. Sounds like a simple concept, but it's a surprisingly tough one for most East Coast taco stands to pull off.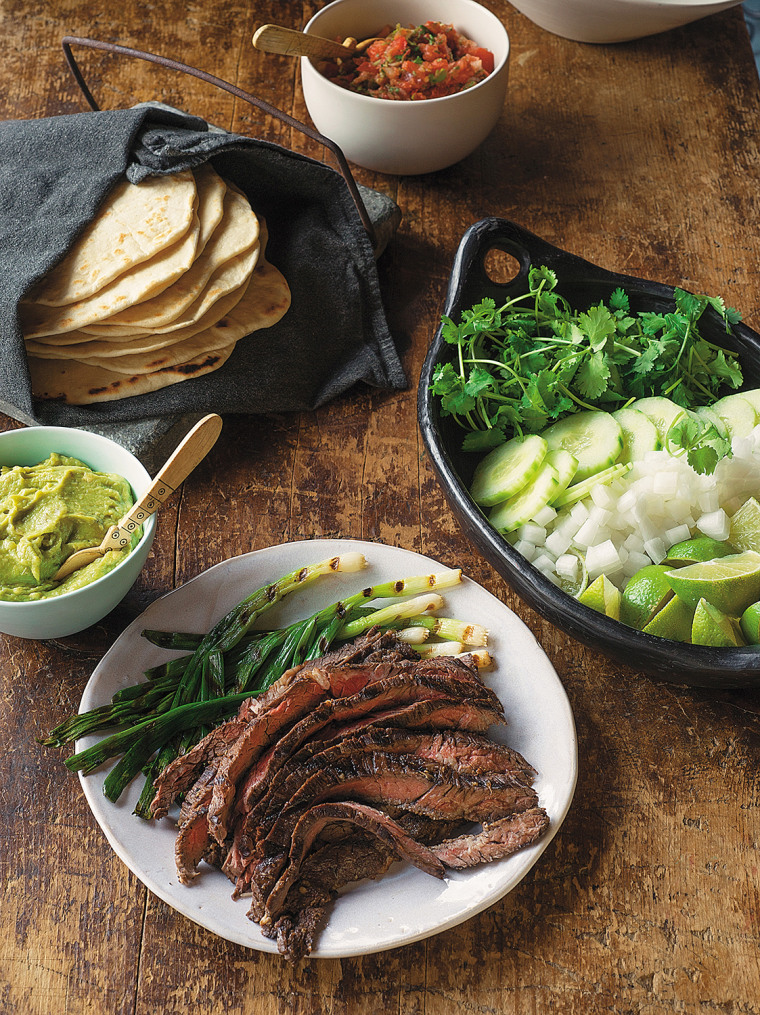 Now, in time for Cinco de Mayo, here's the recipe for Los Tacos No. 1's massively popular carne asada (grilled beef) tacos. Quick tip: Make sure to double, triple, even quadruple the amount if you're serving a crowd; these tacos will disappear fast.
Los Tacos No.1's carne asada tacos

Makes 24 tacos
For the carne asada:
¼ cup chopped white onion

¼ cup finely chopped cilantro

2 tablespoons canola oil, plus more for brushing

2 tablespoons fresh lemon juice

2 teaspoons kosher salt

1 teaspoon garlic salt

1 teaspoon onion salt

1 teaspoon freshly ground black pepper

¼ teaspoon cayenne pepper

3 ½ pounds skirt steak, cut into 3 or 4 manageable portions

For the tortillas—buy 24 six-inch packaged ones (corn or flour), or make your own flour tortillas:
5 cups unbleached all-purpose flour

½ cup vegetable shortening, cut into chunks

½ teaspoon fine sea salt

1/8 teaspoon baking powder

1 ½ cups warm water
For the salsa ranchera:
1/3 cup coarsely chopped white onion

¼ cup packed fresh cilantro

1 or 2 dried chiles de arbol, seeded, stemmed, and coarsely chopped

1 jalapeño chile, seeded, stemmed, and coarsely chopped

1 garlic clove, coarsely chopped

1 pounds ripe tomatoes, cored and seeded

For the avocado sauce:

3 ripe avocados, peeled pitted, and coarsely chopped

1/3 cup whole milk, as needed

Kosher salt

For the grilled scallions:
8 whole scallions, trimmed

1 tablespoon canola oil

1 medium white onion, finely chopped

1 cup packed fresh cilantro

4 limes, cut into wedges

1 medium cucumber, peeled and thinly sliced

Preparation:
Make the carne asada: Whisk ¼ cup water, the onion, cilantro, oil, lemon juice, salt, garlic salt, black pepper and cayenne together in a large nonreactive bowl. Put the steak in a 1 gallon zipped plastic bag, and add the marinade. Close the bag and refrigerate, turning the bag occasionally, for at least 12 and up to 24 hours.
Make the tortillas: Combine the flour, shortening, salt and baking powder in a large bowl. Stir in the water. Knead the mixture in the bowl until it forms a smooth dough, about 1 minute. Shape it into a ball. Cover the bowl with a kitchen towel and let the dough stand for 20 minutes.
Divide the dough into 24 equal pieces, and shape each into a ball. One at a time, on a lightly floured surface, roll out the dough balls into 6 inch rounds. Stack the tortillas, separated by sheets of wax paper.
Heat a large griddle or skillet over medium heat. Working in batches, add the tortillas in a single layer and cook until the undersides have golden-brown splotches, about 1 ½ minutes. Turn and cook until the other sides look the same, about 1 ½ minutes more. Stack the cooked tortillas on a baking sheet.
Make the salsa ranchera: Pulse the onion, cilantro, chiles de arbol, jalapeño and garlic in a food processor until combined and chopped a bit more finely. Add the tomatoes and pulse to make a coarse salsa. Season with salt. Transfer the salsa to a serving bowl. Let it stand at room temperature for at least 30 minutes or up to 8 hours.
Make the avocado sauce: Puree the avocados in a food processor, adding enough milk to give the sauce the consistency of yogurt. Season with salt. Transfer it to a bowl and cover it with plastic wrap. Refrigerate until ready to serve.
Meanwhile, remove the steaks from the marinade and shake off the excess marinade. Lightly brush the steaks with oil. Let them stand for 15 minutes.
To make the steaks indoors: position the broiler rack about 6 inches from the heat source and preheat the broiler on high. Place the oiled steaks on the broiler rack and grill, turning once, until they are browned and medium rare, 5 to 6 minutes.
To make steaks outdoors: For a gas grill, preheat it to at least 500 degrees F. Place a disposable foil smoker pan directly on the heat source. For a charcoal grill, let the coals burn until they are covered with white ash and you can hold your hands above the cooking grate for only 1 or 2 seconds. Place the steaks on the grill. Cook, with the lid closed as much as possible, until the undersides are well browned, about 2 ½ minutes. Turn the steaks over and grill until the other sides are browned and the meat is medium rare, about 2 ½ minutes more. Transfer steaks to a carving board and let them stand for 5 minutes before carving.
Make the grilled scallions: Brush the scallions with the oil. Place them on the grill. Cook, with the lid closed as much as possible, rolling the scallions on the grill to turn them; cook until they are seared with grill marks and wilted, about 3 minutes. Remove them from the grill. Cut each scallion into thirds and transfer them to a serving bowl. (When cooking indoors: broil scallions for 3 minutes or until browned and wilted.)
To serve, warm tortillas in a skillet or on the grill, about 1 minute per side. Transfer them to a towel-lined basket or bowl and cover to keep warm. Cut the steaks across the grain into thin strips and transfer them, with any juices, to a serving bowl. Serve the tortillas, steak strips, and scallions with bowls of the salsa, avocado sauce, onion, cilantro, lime and cucumber. Let each guest build a taco, filling a tortilla with the desired ingredients and folding it in half before eating.
Reprinted with permission from "Chelsea Market Cookbook" by Michael Phillips with Rick Rodgers (Stewart Tabori & Chang). Photography by Jennifer May.