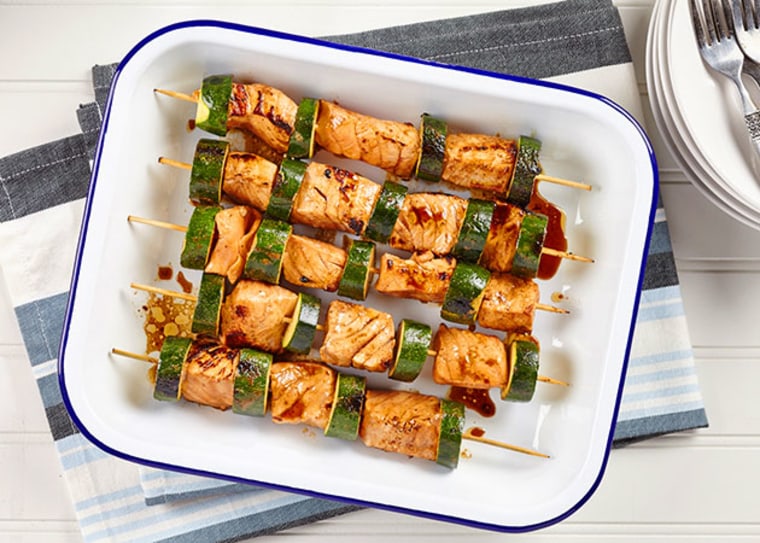 I have a confession to make. Here goes. I am afraid of my barbecue. In fact, I'm so nervous about lighting and cooking with that beast that lives on our deck that I think of it as my husband's barbecue. How embarrassing is that? I am a grown woman, I cook all the time. I've co-written a cookbook for goodness sake! And in most other arenas I'm an advocate of equality in relationships. Except for the grill, in which case my approach is to hand over a plate of marinated meat to my husband and let him take it from there. At least that was my approach.
More easy, healthy grilling ideas:
Last year my sense of self-respect insisted that I get over my irrational fear and face the barbecue. But you know what I do? I grill like a girl. That's right, I use it to make salads, seafood skewers and lightened-up burgers. It's not that I have anything against a more manly T-bone steak, bratwurst sausages or bronto burgers that my husband might prefer, but I don't want to eat that way very often. It may not have been the smartest move in the world to take a food chore away from my husband, but at least now the results suit my tastes better.
Here's my latest and favorite addition to my girlie-grilling roster: Salmon and Zucchini Skewers. It's so quick and easy to make. You could serve it over rice to add some heft or mixed greens to keep it light.
Now, I'm not going go to the trouble of using the barbecue-ing a female-friendly dinner and then do it holding a tallboy of beer, now am I? No, ma'am. Grilling is thirsty work and we'll be needing something pretty to sip while we're at it. Give this Watermelon Limeade a whirl. It's great if you've got a gang coming over. Served plain over ice it's great for kids, and served with a splash of vodka, it's perfect adults-only cocktail.