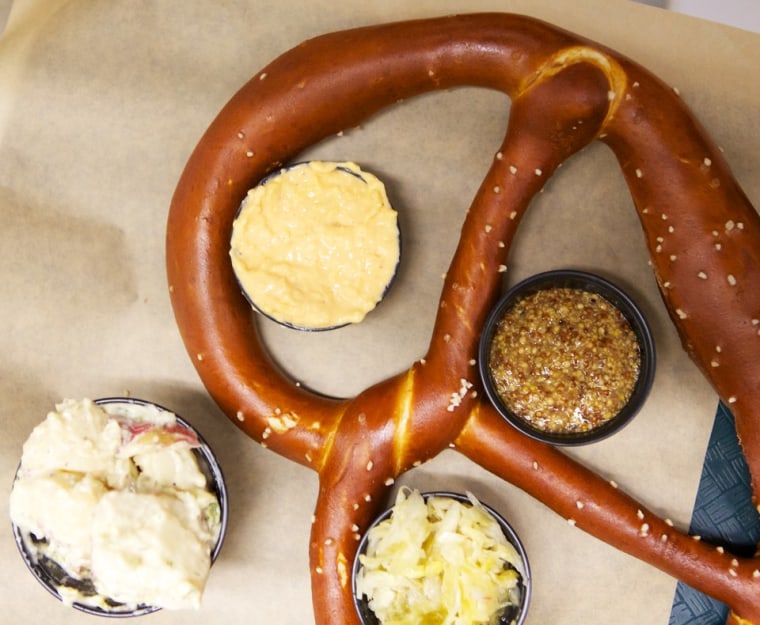 Once categorized as stadium snack food or mere mall fare, pretzels have been steadily making their way onto menus all over the country in the past several years — and the trend just keeps growing!
At both Philadelphia's Frankford Hall and Austin's Easy Tiger, pretzels come in two sizes: small and as-big-as-your-head. Both biergartens also make a savory dipping cheese (you can find the recipe for Easy Tiger's Brooklyn Lager-infused version below).
Pretzel rolls are increasingly replacing buns and rolls as a chewy, slightly shiny base of choice. At Seattle's Bitterroot BBQ, pulled pork and braised beef arrive on Tall Grass Bakery pretzel rolls with cole slaw and pickled carrots. At Colorado-based Snooze eatery, the signature breakfast egg sandwich comes on an Udi's soft pretzel roll (gluten-free, no less!) with a side of cheddar hollandaise.
New York's Sigmund Pretzels crafts gourmet deli sandwiches on its pretzel rolls, and makes the twists in flavors like feta-olive and truffle-cheddar. Accompaniments range from beet-horseradish dip and herb goat cheese to Nutella and raspberry jam.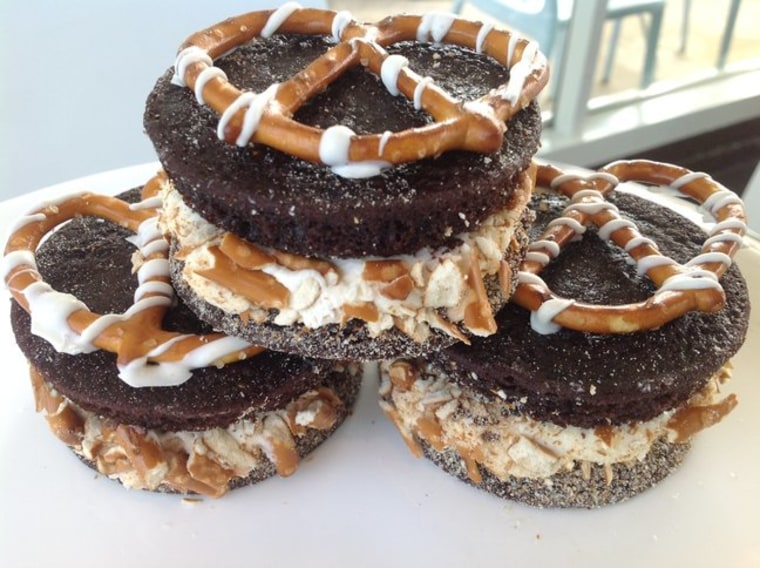 Chefs are continuing to push the proverbial envelope further by using the twisty German bread in even more new and exciting ways. Matt Clouser of Swift's Attic in Austin makes a special featuring warm, soft pretzels with prosciutto picante and caciocavallo gratinee. Brandon McGlamery of Winter Park, Fla.'s Prato puts a spin on calamari by making his fried squid pretzel-crusted, served with salsa rossa and grain mustard aioli.

Pretzels keep popping up with a salty punch in dessert form, too. Sarah Mispagel, the new pastry chef at Chicago's Nightwood, has created a soft pretzel bread pudding with dark chocolate, vanilla bean and chocolate-covered pretzel ice cream. New York's City Bakery has been getting rave reviews for its pretzel croissants (which pair well with the bakery's famed hot cocoa), while Prohibition Bakery makes their boozy "pretzels & beer" cupcakes with pale ale and Nutella.
Pastry chef Susan Molzan of Petite Sweets in Houston incorporates her dad's favorite snack food in a variety of different ways: In salty caramel pretzel gelato, grasshopper pretzel mini cupcakes, chocolate peanut butter pretzel macarons and chocolate pretzel whoopie pies. "I like using pretzels because they add a salty crunch to a soft cake and buttercream," Molzan told TODAY.com. "I really like the texture they add, and who doesn't love pretzels?"
What better way to celebrate April 26th, National Pretzel Day (declared as such in 2003 by Pennsylvania Governor Ed Rendell), than by twisting up your own creation?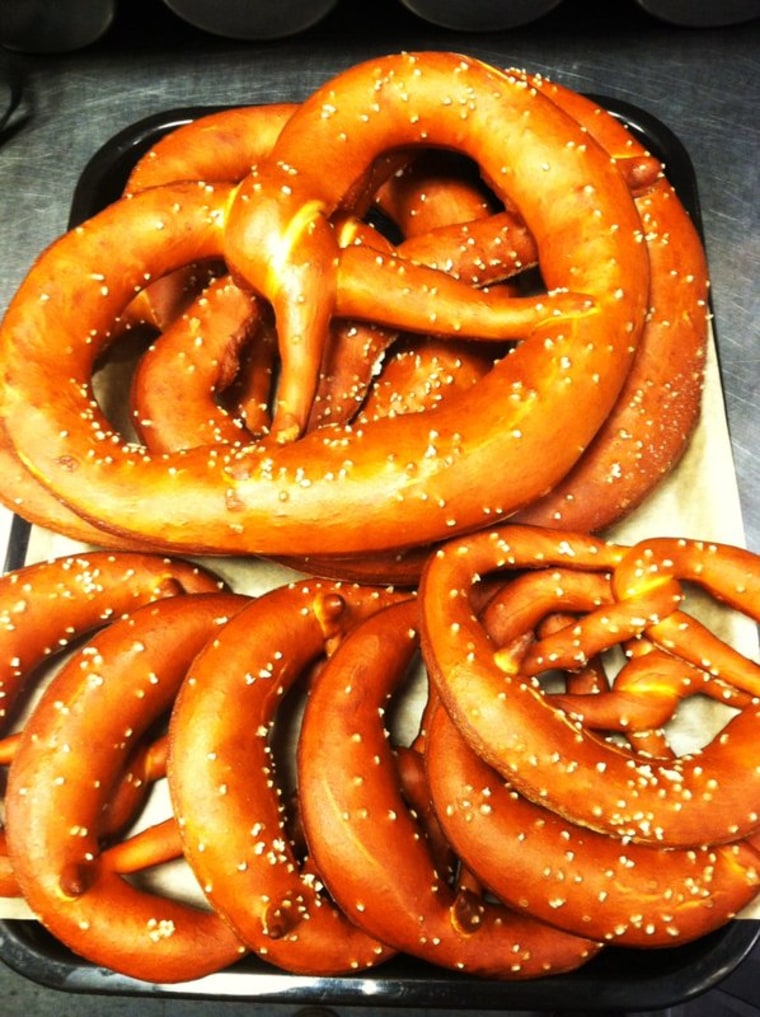 Easy Tiger Bavarian-Style Pretzels
David Norman, head doughpuncher at Easy Tiger Bake Shop & Beer Garden, fell in love with the playful bread while studying abroad in Munich his junior year of college. "We put a fleck of butter on the end after each bite, working our way around the twist," he remembers. Be warned: Pretzel-making isn't the easiest process, but it's well worth the effort if you are up for it! Here, he shares his tips for the ambitious home baker.

(Editor's note: If you don't want to break out the rubber gloves, use boiling water and baking soda instead of lye to make that nice shiny crust pretzels are known for. More instructions for how to make a baking soda bath can be found here.)
Makes 15 pretzels
½ packet yeast
½ cup water
4 cup unbleached all-purpose flour
1 tsp. salt
½ tsp. sugar (or malt syrup)
1 tbsp. butter, room temp.
½ cup milk

Dissolve the yeast in 2 tbsp. of the water (warm this water to about 90 degrees, the rest should be at a cool room temp). Combine the rest of the ingredients in the bowl of a stand mixer and add the yeast mixture. Knead the dough with a dough hook until a smooth, but stiff dough forms (10 to 15 minutes). Add small amount of flour if too loose, or small amount of water if too stiff.
Let dough rest for 15 minutes before dividing into 15 equal pieces and rolling into oblong spheres. Cover with a damp towel and let rest for 15 minutes. Roll each piece on an unfloured surface to a length of about 12 inches, with the middle left fatter and the ends tapered out. If it becomes hard to roll out long enough, let the dough rest for 10 minutes or so to allow the gluten to relax. It should be easier to roll after that.
We have a little trick to twisting the pretzels that takes a little practice, but once you get it, it is fun and speeds up the process. After the rope of dough is rolled out to the right length, grasp each end and lift quickly upward. As you lift, move your left hand slightly toward your body and your right hand slightly away, which should flip the center into a twist. Put the dough piece back on the surface and fold the ends down and press into the thicker middle part. Press hard so the ends stay. Don't worry if you can't get the flip right away. Just put the twist in the dough while it's still on the countertop and fold it down.
Put the pretzels on a baking sheet and cover with a damp towel. Let them rise for a half hour, then uncover and refrigerate them for two hours or up to overnight. This firms up the dough and makes it easier to dip in the lye.
(The only way to get the true pretzel flavor and the deep, mahogany color is to dip the pretzels in a solution of lye (sodium hydroxide). This changes the pH of the surface starches. Food grade NaOH is available through www.aa-chemicals.com or other soap-making suppliers.
While it is true that lye is caustic and can burn your skin, by wearing rubber gloves and being careful, it is no more dangerous than many things we do routinely in our kitchens, such as cutting with sharp knives and cooking with high heat.)
After the pretzels are well chilled, preheat oven to 450 degrees. Wearing rubber gloves, add 2 tbsp. lye to 2 quarts lukewarm water in a wide bowl or other container (always add the lye to the water, not the other way around). Whisk until lye is dissolved. Lower the cold pretzels into the lye solution and let sit for just a minute. The color should turn a little yellow. Carefully take them out with gloved hands and place on baking sheet. Sprinkle with coarse salt. Bake for 12 to 15 minutes until deep brown.
Easy Tiger Beer Cheese
A simple and delicious accompaniment to soft pretzels, courtesy of Chef Andrew Curren of Easy Tiger Bake Shop & Beer Garden

3 cups Brooklyn Lager
3 pounds sharp cheddar cheese, grated
12 oz. cream cheese
4 cloves garlic, minced
1 onion, minced
1 tsp. Tabasco
2 tsp. Worcestershire
1 tsp. black pepper
1 tbsp. salt
1/2 tsp. cayenne
2 tsp. dry mustard

Pour beer into a glass and allow it to sit until it loses its effervescence. Combine all ingredients except beer in a food processor and pulse until slightly blended. Then turn processor on and slowly pour beer through food chute. Remove and chill overnight.
Veronica Meewes is an Austin-based freelance writer who will travel for food but always comes back for breakfast tacos. Follow her on Twitter @wellfedlife and visit her blog.