What do you get when you take three haute chefs and let them loose in the jungle, sea and mountains? You get the BBC America show "No Kitchen Required," a cross between "Top Chef" and "Survivor."
The premise of the show is that the chefs are left in remote locations where they have to work with locals to hunt and forage for their ingredients, and cook up drool-worthy dishes.
We recently chatted with the chefs who are featured on the show at a screening in New York City. Restaurateur Michael Psilakis, "Chopped" grand champion Madison Cowan and international chef Kayne Raymond gathered some of their best dishes inspired by their adventures and gave us a taste.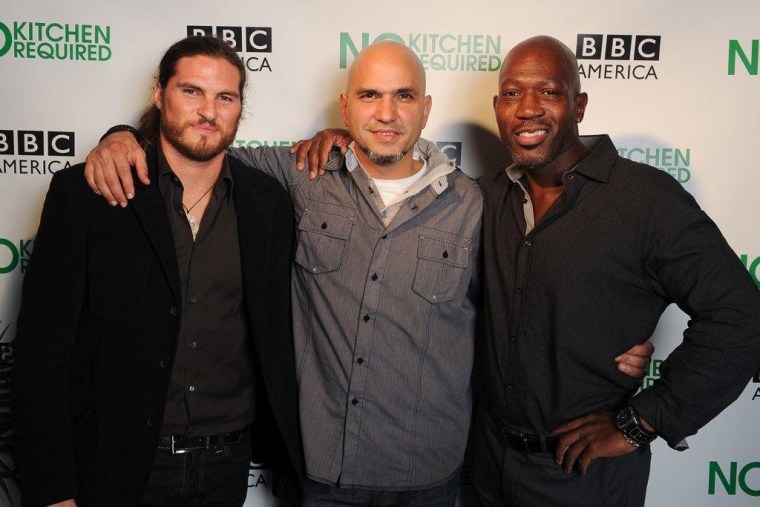 Kayne Raymond placed dollops of fresh ahi tuna on sea urchin, a dish inspired by an episode in which the chefs went spearfishing in Hawaii. "I could have picked anything, but I picked something that has a story," Raymond said in his smooth New Zealand accent.
The chefs were on a boat, getting a lesson from the National Spearfish champion, when they were accosted by a humpback whale. "I just wanted to be next to that whale," Raymond recounted. "In my country, it's an important significance."
So he dived in and got up close and personal with the creature. The resulting "spearfishing-adventure-on-a-spoon" doesn't incorporate any whale meat, but the mellow sweetness of the tuna melded perfectly with the salty vinaigrette, giving the dish a subtle kiss of the sea. Raymond also made an airy banana ice cream for dessert and a lovely Polynesian-style coconut ceviche with halibut, which he created in honor of his Samoan grandmother.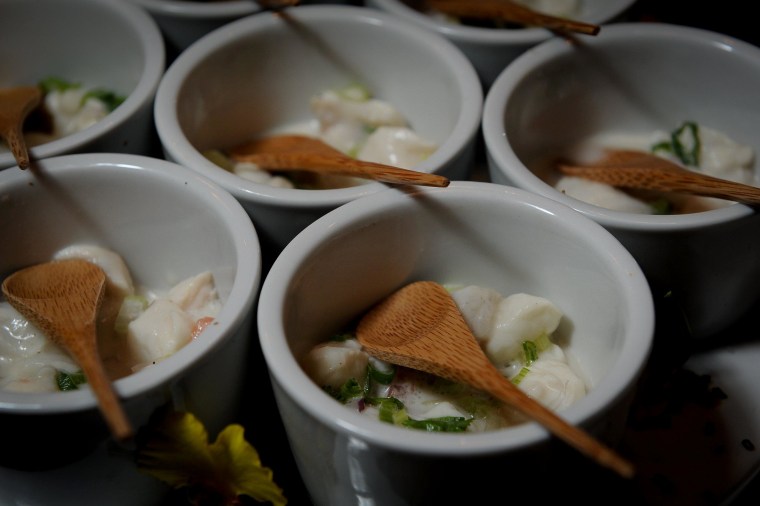 As for Cowan, Phuket, Thailand inspired him to make lobster tartar wantons, a delicate bite of sweet shellfish with a paper-thin, crispy shell. "Everyone loves a good lobster," the British-born chef said. "But I wanted something out of the ordinary that you could pop in your mouth."
Cowan also served up slightly spicy, dense curried goat meatballs; bite-sized slivers of fried catfish, and sweet and savory alligator sliders, which tasted similar to shredded chicken.
Chef Michael Psilakis also used alligator, but instead cut the meat into thin strips and topped it off with a tart berry and dried cherry mostarda. Cooked that way, the alligator lost its bite and turned out to be a light and supple meat.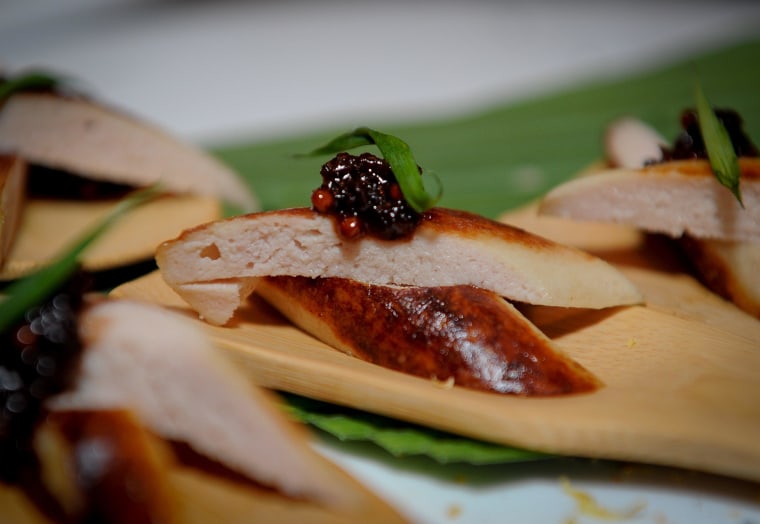 Psilakis chose alligator as an ode to the chefs' experience bayou hunting turtles in the swamps and creating dishes with the local Creole people.
"It was interesting eating iguana, alligator and turtle," said Psilakis, who added that what surprised him most about his around-the-world experience was the people he met. "You would think we would come in there with all our wisdom and teach them, but it was the opposite."
Want a taste of the adventure? Here's a recipe for Psilakis' dry cherry mostarda -- perfect for pairing with meats and cheeses of your choice.
Dry cherry mostarda
yield 2 quarts
3 cups sugar
2 cups white wine
1 cup Port wine
¼ cup mustard seeds
½ cup Coleman's mustard, slurried
1 tsp. crushed pink peppercorn
¼ cup black pepper crushed
2 quarts dried cherries or you can use fresh cherries when in peak season
½ cup mustard oil
In a heavy-bottomed saucepan, combine the first seven ingredients (sugar through black pepper). Bring to a simmer over high heat. Reduce the flame and allow to simmer gently until it starts to get syrupy. Stir occasionally to ensure that the sugar does not burn and stick to the bottom of the pan. Add the dry cherries and cook down to a jammy consistency. Remove from heat and stir in the mustard oil.
"No Kitchen Required" airs on Tuesday nights on BBC America.
Tell us, what dishes have you been inspired to create after traveling?
More from Bites: