After attending a new media conference at New York City's Time Warner Center the other night, a couple of friends invited me to join them for a glass of wine. Within a few minutes we were walking into Clo, which, I quickly realized, is one of the cooler wine bars in New York or just about anywhere.
For me, Clo provided a seamless continuation of the evening's theme in that it merges the digital world with the wine world. It also reminded me that when it comes to expanding your knowledge of the grape, a good wine bar can help you do so in a thoroughly enjoyable and stimulating way.
About the name: Clo is a takeoff on the French word "clos," which refers to an enclosed or walled-off vineyard, usually in Burgundy. And Clo, which was started seven months ago by a well-known sommelier, Andrew Bradbury, is basically four walls itself, a narrow, pop-up space in a corridor on one of the tower's lower retail floors. The room is dominated by a long, rectangular communal table where just about everyone sits. The first thing you realize is that there is no bar here, and no bartenders behind a bar whose attention you have to compete for to get your hands on the wine list and then a glass of wine.
At Clo, the table itself serves as the main wine list. Embedded in the surface is a series of 10 interactive touch screens. These screens display a horizontal lineup of bottle images that blow up when you drag them over a certain spot and reveal notes on the wine you've highlighted. It's wine gone virtual, at least to a point.
It helps if you've practiced the touch-screen technique on an iPhone or other leading-edge device, and since I still click around on a late-model BlackBerry it took me a while to get used to it. In any event, the three of us eventually landed on wines we thought we'd like. In the process, one of Clo's roving and very helpful young sommeliers handed each of us a glass and a plastic card not unlike the kind you use to open your door in a hotel. Only in this case the card is your key to going from the virtual wine world to the real thing and satisfying your (by now) almost parched palate.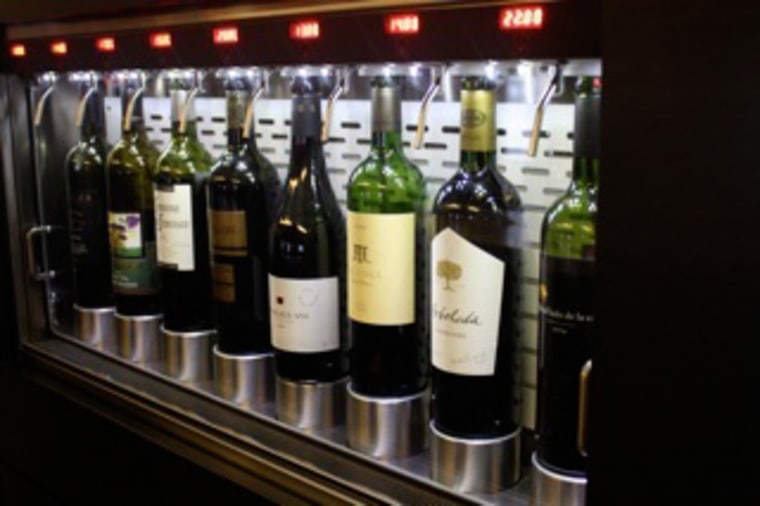 Getting your wine turns out to be a self-service proposition. Each bottle of Clo's 100 wines by the glass (there are 100 others available only by the bottle) is perched along the walls in a series of temperature-controlled display and dispensing cases, an increasingly popular wine preservation and serving system called Enomatic. You insert your smart card in a slot, hold your glass under a spout, push a button and the machine connected to the bottle pumps out a precise, four-ounce serving of your wine.
This is only slightly more charming than, say, the vending machines in an office refreshment area, and even Brian Smith, one of Clo's managers, admits that it's not terribly romantic. But the really interesting thing that happens at Clo, he tells me and I observe, is the conversations that develop at the table among friends and even strangers as they navigate the virtual wine list. "Even five or 10 years ago," he says, "people would have had much more difficulty with this. But now they're much more tuned in with it."
And yet, for all the interactivity, the real reason to visit a place like Clo is the chance to taste some really unusual stuff. And that we did. I served myself a $14 glass of the 2007 Kerner from Manni Nössing, a small producer in the Sudtirol area of Alto Adige in northern Italy. Kerner is a little-known white variety and this one, with its beautiful balance of crisp fruit, flowers and spice, captured the aromatic freshness that is the hallmark of the region's whites. As for my friends, one went with another white, Prager's 2007 Gruner Veltliner Smaragd from Wachau in Austria, $18, while the other tried a red, a Beaujolais from Olivier Merlin, his 2007 Moulin-à-Vent, which was $11. Not exactly the kind of wines you'll find at the bar around the corner.
Clo's wines by the glass range from $7 to $92, with most under $20. Though hardly a bargain, think of it as entertainment and an investment in your continuing education in wine — with a pleasing note of digital.
Edward Deitch is the recipient of the 2007 James Beard Foundation Journalism Award for Best Multimedia Writing. He welcomes comments from readers. Write to him at