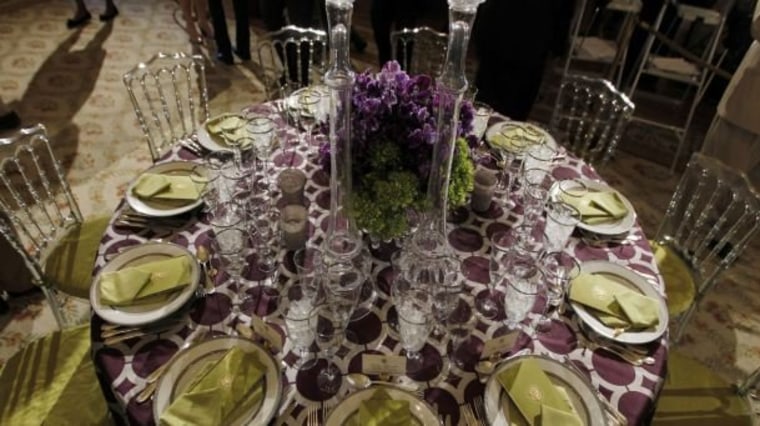 The White House state dinner is always an exciting event: the fashion, the famous faces, and of course, the food. Wednesday night the Obamas hosted British Prime Minister David Cameron and his wife Samantha, and the theme of the event was "America's Backyard."
"Traditionally, America's backyards are places of gathering and entertaining close friends and family," a White House statement read. "The special relationship between the United States and the United Kingdom makes this 'backyard' celebration a quintessentially American event."
As with other White House state dinners under the Obamas, this menu featured local ingredients and some items from the White House garden.
Take a look at the delicious fare (the dessert certainly has my interest piqued, and I wish there were some fab food shots for us to drool over).
First course
Crisped halibut with potato crust
Shaved brussels sprouts, applewood smoked bacon
Second course
Spring garden lettuces, shallot dressing, shaved breakfast radish, cucumbers and avocados
Main course
Bison Wellington, red wine reduction, French beans, cipollini onion; A "perfect pairing of U.S. and U.K. cultures," according to the White House.
Dessert
Warm meyer lemon steamed pudding with Idaho huckleberry sauce and Newtown Pippin apples
What do you think of the menu? Do any of the dishes sound interesting? 
More from Bites: