Hanky pankies. Hush puppies. Just the names of the classic comfort snacks take us back to childhood, when we had very few things to worry about – least of all our waistlines.
With gussied-up comfort food all the rage nowadays, we asked Chris Hodgson, the restaurant king of Cleveland and winner of Food & Wine's The People' Best New Chef: Great Lakes award, to show us how it's done.
Watch him make mouthwatering hanky pankies with chorizo, cheese and blackberry jam and hush puppies taken to a whole new level – made with blue crab and served up with his Old Bayonnaise sauce. Go ahead, indulge – after all, fair food season in just around the corner and it's time to celebrate!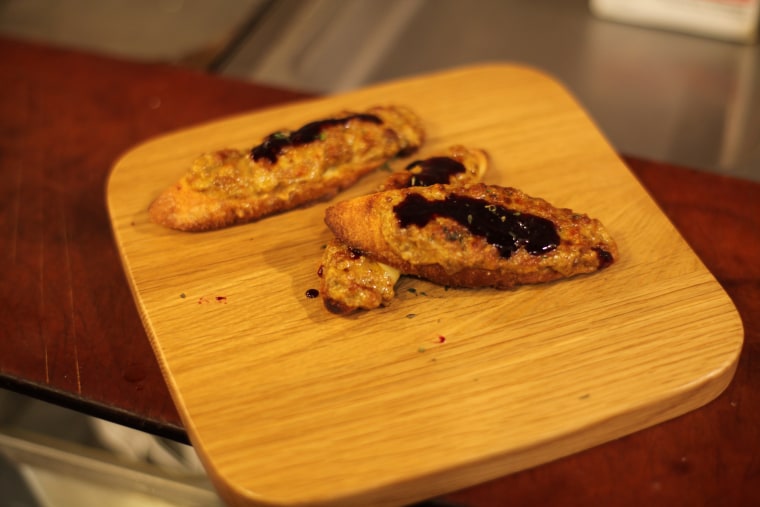 Hanky pankies

1 cup chorizo

1/2 cup inexpensive goat cheese

1/2 cup Tilamook cheddar

½ cup milk

1 tsp fresh thyme

Baguette

Olive oil

Blackberry jam

Heat oil in large pan on medium high heat. Brown chorizo. Add milk, cheddar and goat cheese. Stir and allow mixture to melt together. Let it bubble for a few seconds and then remove from heat.
Refrigerate mixture for about 45 minutes, until it's solid
Pre-heat oven at 400 degrees.
Slice baguette on a bias, about ¼-inch thick. Lay slices on baking sheet and top with about a golf-ball size amount of mixture and spread evenly on the toast.
Bake for about 7 minutes, or until golden brown and cheese is melted.
Top with blackberry jam and a sprinkling of thyme.
Blue crab hush puppies

1 ½ cups self-rising corn meal

½ cup self-rising flour

½ tsp baking soda

½ tsp kosher salt

1 Spanish onion, minced

5 scallions, thinly sliced

1 cup buttermilk

1 pound crab claw

1 egg, lightly beaten

Oil for frying
Mix corn meal, flour, baking soda, salt, crab, scallion, and minced onions in a large mixing bowl.
In a separate bowl, whisk the egg. Add buttermilk and combine.
Slowly fold wet ingredients into dry. Carefully mix until combined.
Take the hush puppy mix and make golf-ball size balls. Slowly drop them into pot of oil heated at 375 degrees.
Allow them to fry for about 5 minutes, until they are nice and golden brown.
Remove from oil with a slotted spoon and place on paper-towel lined plate.
When you're ready to serve, top it with a sauce of your choice. Try this Old Bayonnaise, which goes perfectly with anything fried!