At Boston mainstay Clio, the chefs are as surprising and complex as the dishes.
The restaurant, which serves up creative new American cuisine and seafood, marks its 15-year anniversary Tuesday. For its celebratory menu, executive chef Ken Oringer invited back 15 former Clio chefs, each of whom has gone on to excel in a competitive business. The star-studded roster reveals that, over the years, Clio hasn't just delivered delicious dishes; it has also launched the next generation of unstoppable chefs.
For example: Alex Stupak, now in New York City as executive chef of lauded Empellon Taqueria and Empellon Cocina, was awarded two stars this year by New York Times food critic Pete Wells, who said Stupak's cooking "resembles the food of Mexico the way a dream resembles life." Tony Maws, whose Cambridge restaurant, Craigie on Main, was named one of the "10 Most Influential Restaurants of the Decade" by The Boston Globe, won the title of 2011's Best Chef Northeast from the James Beard Foundation.
And the restaurant itself has also received plenty of accolades — Clio was identified as one of America's best restaurants by Gourmet magazine and has been given the label of Boston's best restaurant by Boston magazine. Oringer won the James Beard Award for Best Chef Northeast and won television fame on Food Network's "Iron Chef America."
It's clear Oringer and his protégés are among the best in the world. A week before the 15th anniversary festivities, I visited Clio to find out why it has become an incubator for outstandingly talented young chefs. After all, Oringer has many other acclaimed restaurants in the Boston area (Toro, Uni, Coppa) and beyond. So what makes this place so special?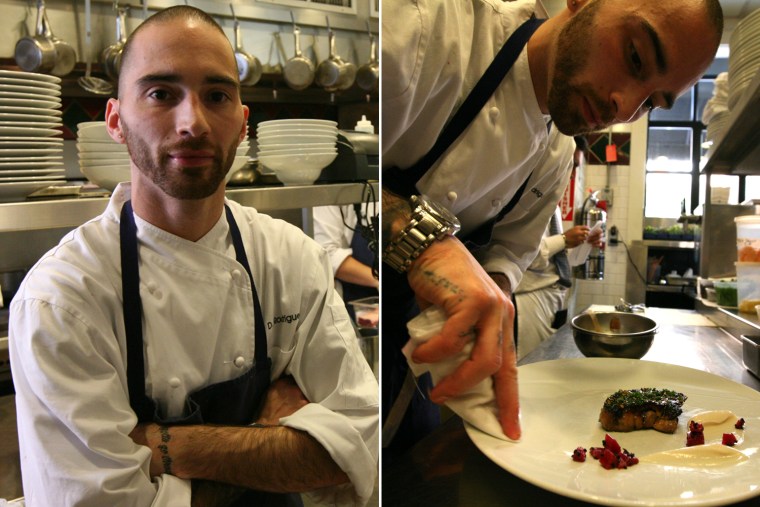 I discovered that at Clio, there is an intensity and precision behind the passion for food. Oringer runs a tight ship, and there is a huge disparity between the friendly, casual hospitality offered up front and the discipline and perfectionism practiced in the kitchen. Clio's cast of kitchen characters comprise a diverse group of gastronomy enthusiasts dedicated to working hard to produce food that has "integrity" (a word used to describe the restaurant's food by nearly everyone I interviewed).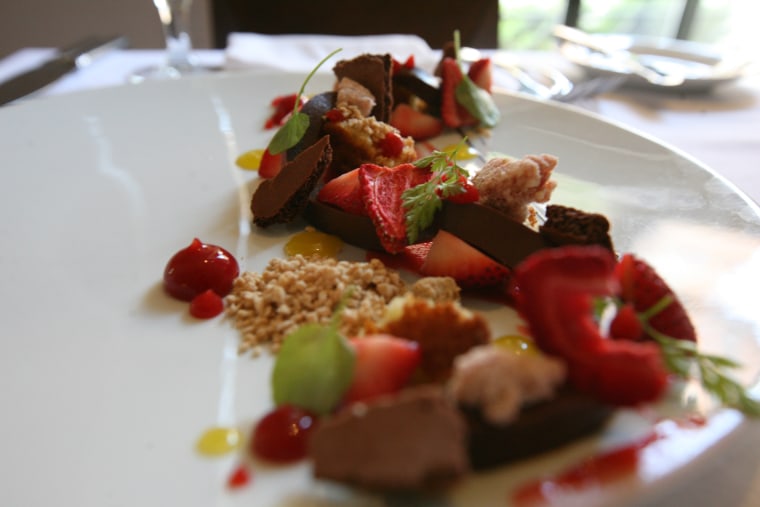 Since Oringer's restaurant empire has expanded, he spends less time at Clio than he did 15 years ago, leaving the culinary regimen to be upheld by his head chefs, with current chef de cuisine Douglas Rodrigues now leading the pack.
"This kitchen makes or breaks you," said Rodrigues. It was about an hour before guests arrived, and his demeanor had an aloofness that betrayed his intense focus on preparations for the night ahead. It took several minutes for him to momentarily detach himself from thoughts of food to fully engage in conversation with me.
"It's rough," he continued. "There are seven guys that do everything. Prep, plate, garnish. We're kicking on all cylinders." With 80 to 120 diners per night, they "do whatever it takes to make it run."
I also spoke with Clio alum Jason Hua, currently of The Dutch in New York City, who reiterated the high expectations in Clio's kitchen. "It was difficult. There was a lot of pressure," he said. "It had to be perfect, or it was out."
Rodrigues cooked in other kitchens for eight years, always with the goal of working at Clio, before finally landing there six years ago (he has now been chef de cuisine for two years). He attended the Culinary Institute of America, but dropped out after just three weeks.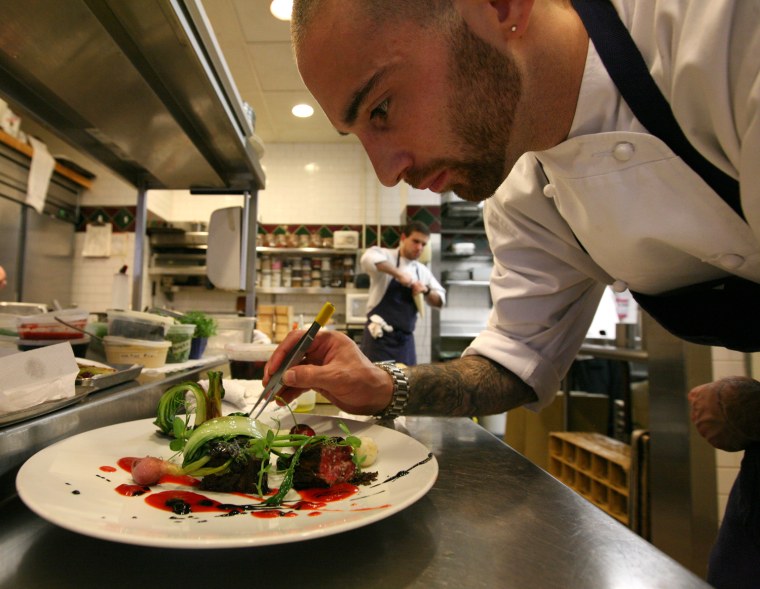 In fact, it is not uncommon for Oringer's hires at Clio to never have attended culinary school. Asked what he looks for in young chefs, Oringer replied, "Individualism. They have to be interesting people — I don't want boring people working for me. They could have been a glass blower in their last job, as long as they have passion and drive." 
Which may explain why Clio attracts gifted novice chefs — often ones who do not fare well in the structure of culinary school: Within the strict discipline of the kitchen, there is creative freedom for young talent to thrive.
So, while every ingredient is impeccably labeled and organized with an attention to detail that reminded me of a display at the Container Store, creating dishes is "an extremely creative process," explained Clio pastry chef Chris Cordeiro, who said his process involves experimentation — playing with textures, tastes and aesthetics.
"There's that spark," said Oringer of how he identifies the kind of chef he hires. "You can tell. They're curious. They research on their days off. Like Alex Stupak, who always came in after a day off with a new idea inspired by something he'd just learned."
Stupak was mentioned frequently, both by Oringer (whom one of the bartenders referred to as "The Godfather") and current employees, such as Cordeiro, who, like Stupak, started as a savory cook before taking on the role of pastry chef at Clio.
Of Oringer, Stupak said, "Ken creates with reckless abandon." He said that "spontaneity" with food is one of his key takeaways from his time at Clio.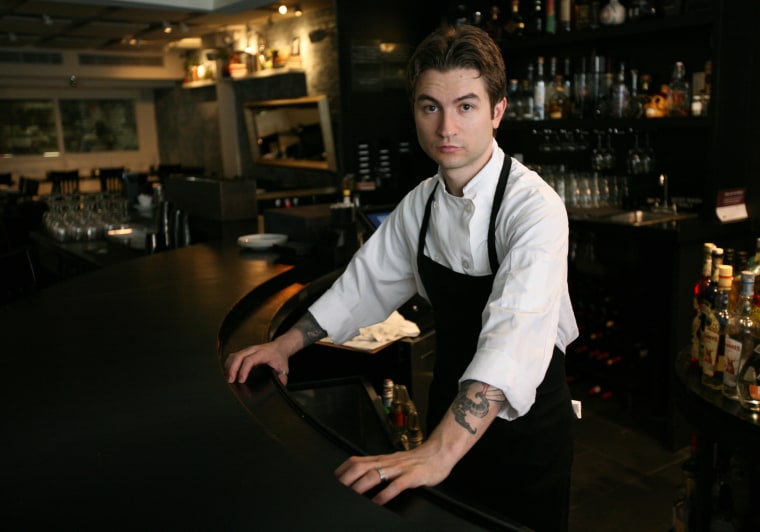 He added another reason for admiring Oringer: "He hasn't fallen into the glamour. He doesn't live to win a James Beard Award; he lives to cook." Given the accolades he's recently received, Stupak keeps that principle in his mind too.
There are two very distinct definitions of the word "hunger" at Clio. If you are an aspiring chef, you've got to have it in the form of drive and discipline. But if you are a diner, listen to that growling in your stomach and just bring your appetite. 
More from TODAY Food: