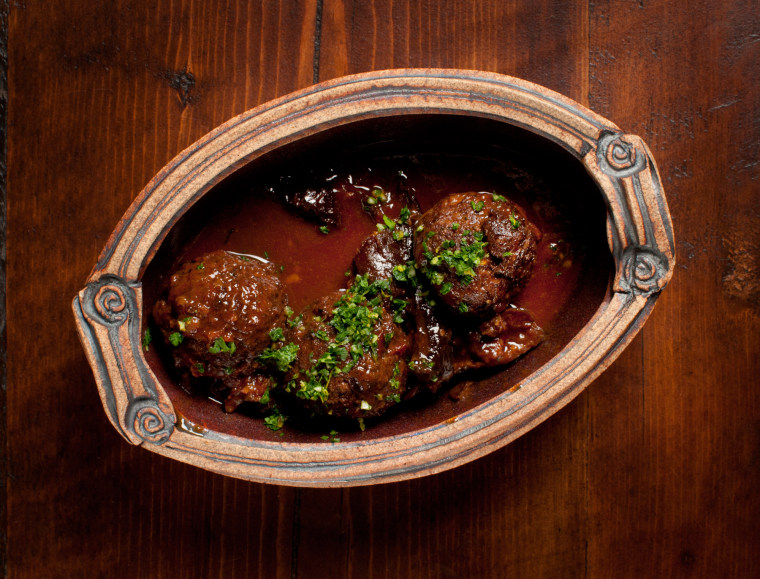 "When the public goes into a frenzy over something like a cupcake or a meatball, it may be annoying to us jaded foodie observers, but at the end of the day, a meatball can be a pretty damn good thing," says chef-author-TV host Anthony Bourdain. Here, Food & Wine names the country's best meatballs.
"The taste is part duck à l'orange, part mole, and part a sweet and sour stew that I remember my grandmother cooking for our family during the holidays," says chef Vitaly Paley of his superb meatballs. Paley first grinds a mixture of duck, prunes, house-cured and -smoked bacon, toasted bread crumbs and spices (star anise, cinnamon, red pepper flakes and wood-fire-dried oregano). The meatballs are roasted, then braised with prunes, carrots, dried pasilla chile, red wine, cream, sherry, brandy, charred onion and duck stock. The aromatic dish is finished with crispy orange gremolata. "The result is sweet, sour and spicy," says Paley.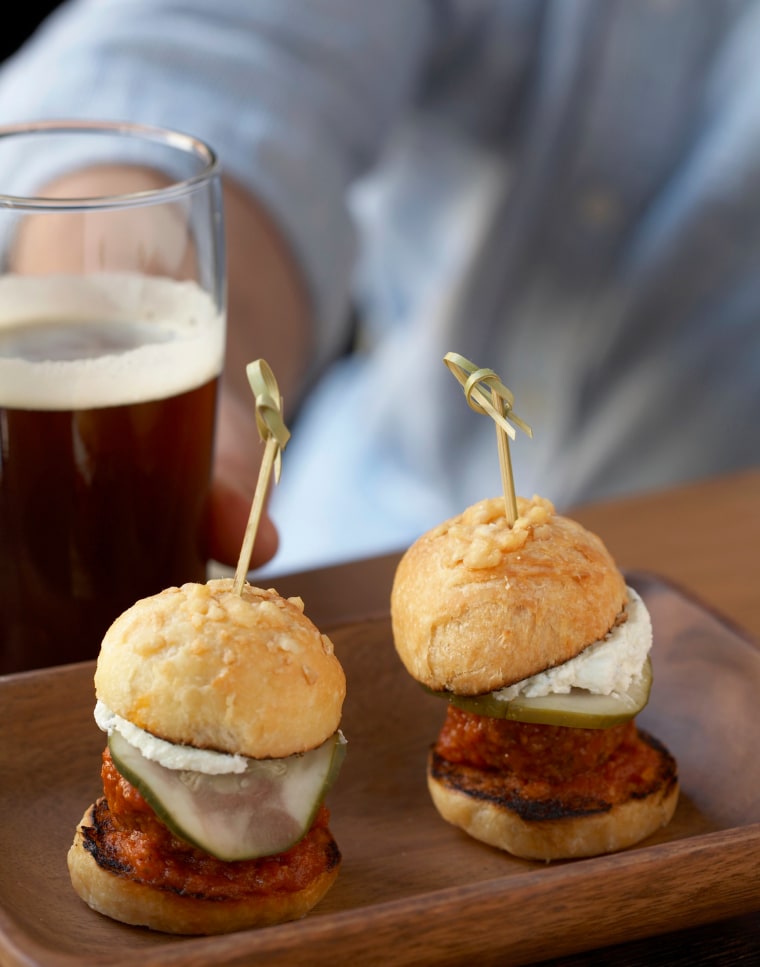 Chef Andrew Carmellini didn't grow up eating meatballs. "I'm half Italian, but that half is from Friuli and Tuscany—there were no Neapolitan meatballs whatsoever," he says. Still, Carmellini (an F&W Best New Chef 2000) prepares awesome lamb meatball sliders. Except for the Italian goat cheese, every part of the dish is made in-house: Carmellini grinds the lamb with onion, simmers the meatballs in tomato sauce, then serves them on Parmesan-onion buns with cucumber pickles. They're fantastic and reminiscent of the old-school type—the kind one might think Carmellini grew up with.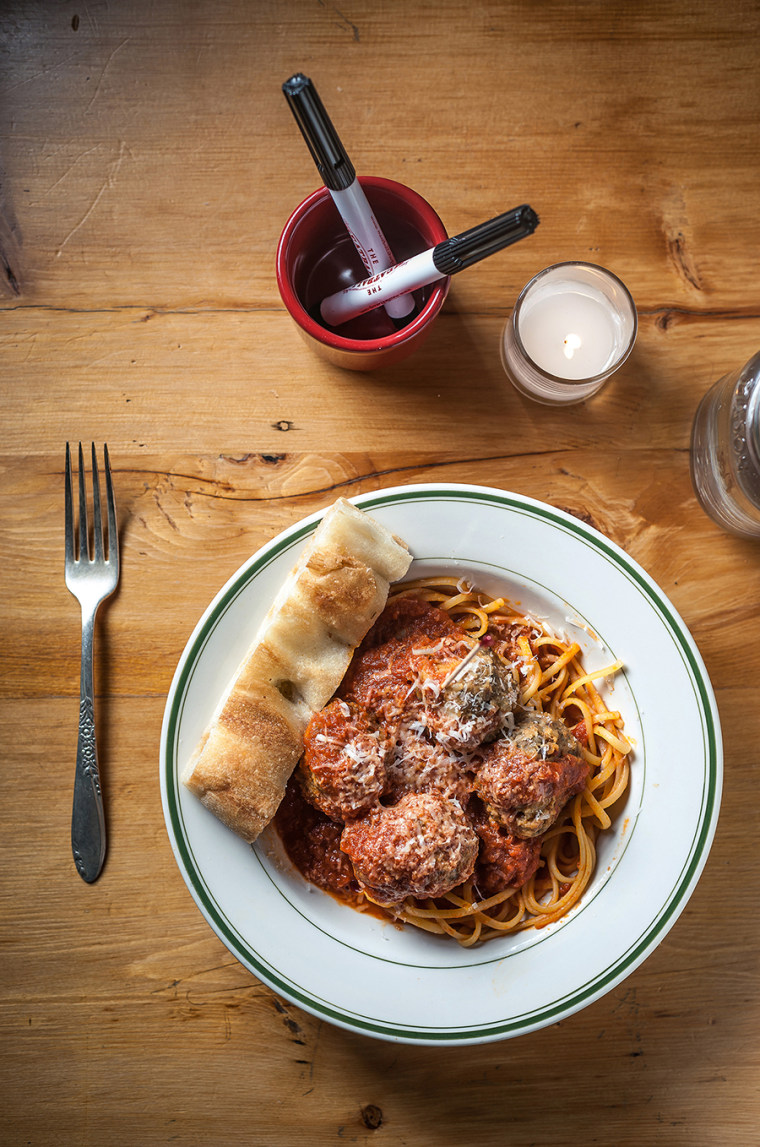 The Meatball Shop: New York City

Meatball specialists Daniel Holzman and Michael Chernow now have three locations in Manhattan and Brooklyn for their cozy restaurants, with the slogan "We Make Balls." The meatball options range from classic beef laced with ricotta to spicy pork and vegetable; you can choose from accompanying sauces like classic tomato or Parmesan cream. Holzman and Chernow tend to think broadly: You can have smashed balls, balls on top of your salad and naked balls. Maybe this makes you to think of some good punch lines; if so, there's a place to submit ball jokes on the Meatball Shop's website.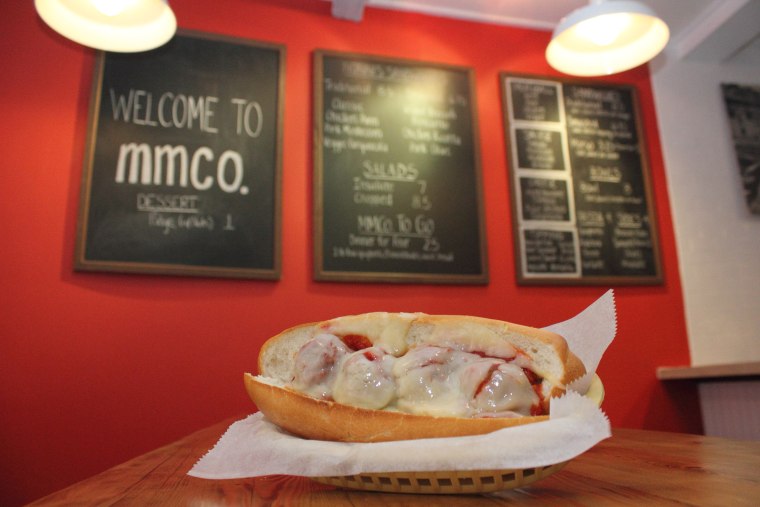 Marabella Meatball Co.: Philadelphia

Here, you can build a sandwich like beef-pork-veal meatballs with marinara sauce and aged provolone. (Toppings like prosciutto and broccoli rabe are $1 extra.) Owner Judy Marabella's family owns the Jersey Shore's Marabella's Family Restaurant, in Stone Harbor, New Jersey, where they serve meatballs on several of their pastas.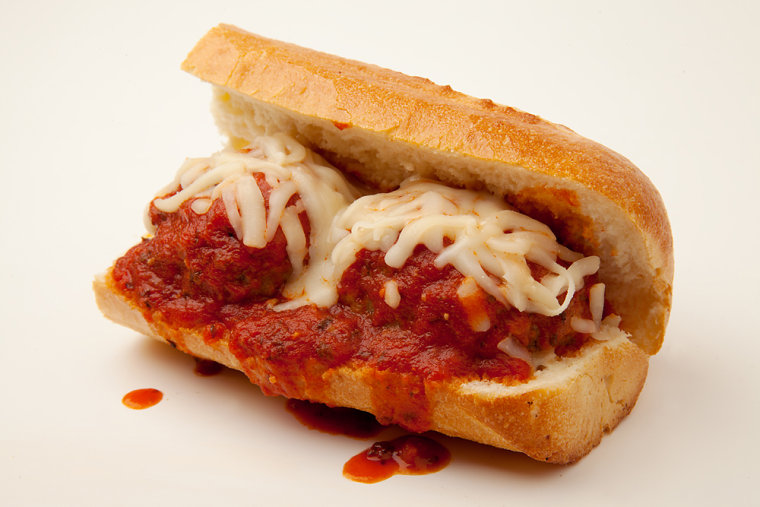 Moochie's Meatballs & More!: Salt Lake City

"We put meatballs on everything!!" says owner Joanna Rendi. Indeed. You can get their meatballs atop spaghetti, macaroni salad, Mediterranean salad ("It may sound weird, but it's a really great salad!"), potato salad ("It's what we eat in the back!") or chicken Parmesan salad. Or you can transform their handmade meatball sandwich into an "atomic meatball" with the addition of feta cheese and jalapeño sauce. Unlike most meatball places, this one shares space with a ceramics store, Circle Pottery Gift Shop (Rendi's husband is a potter).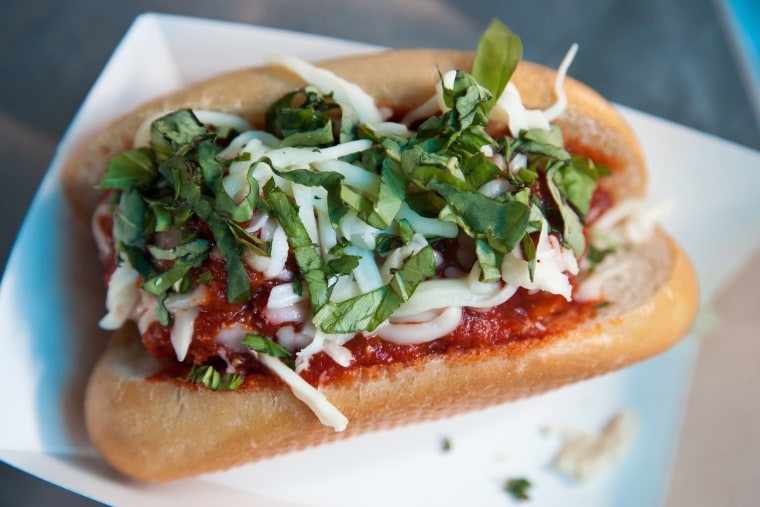 Any meatball lover who has ever looked longingly through the pages of a muscle car magazine, get ready to have your mind blown. Haulin Balls is a Vegas food truck with a trompe l'oeil image of a full-size black muscle car detailed on the side. Wait, there's more: The car is adorned with flames. Haulin Balls offers six "ballwiches": pulled pork; ground beef; Thai-style turkey with lemongrass, ginger, cilantro; lamb and tzatziki.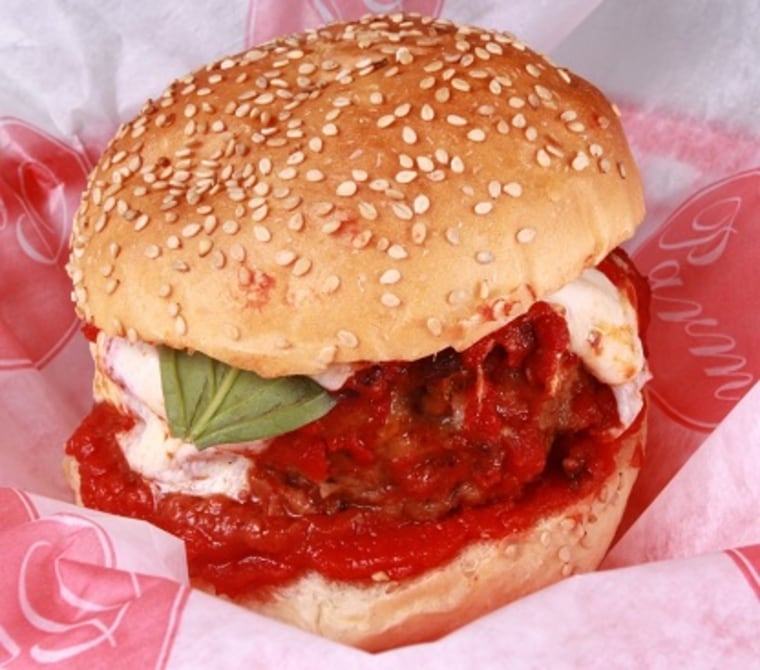 Evoking old-school Little Italy joints, Mario Carbone and Rich Torrisi's Parm serves the best meatball parm: juicy, meaty, saucy and cheesy.
More from Food & Wine: