Pumpkin-growing competition is as fierce as any sport: Last year's Guinness World Record (a whopping 2,032 pounds) has been squashed, so to speak, at least four times this season, and the same grower broke the record three of those times. And the record for greatest pumpkin ever grown in the U.S. has just been set and broken within a matter of two days.
Beni Meier in Switzerland first took the Guinness World Record a few weeks ago with a behemoth weighing in at 2,096 pounds. Within weeks, he had two other pumpkins tip the scales at 2,102 and then 2,323 pounds.
Meanwhile, at Uesugi Farms Pumpkin Park in San Martin, California, Peter and Cindi Glasier had reason to celebrate Saturday: After 30-some years of professional pumpkin farming, they finally took home their first official record — the heaviest pumpkin ever grown in America.
Unlike some growers, the Glasiers don't weigh their pumpkins ahead of time; they like to be surprised. Even so, Cindi told TODAY.com, "we knew that our pumpkin was definitely a contender." It turned out to be more than that: At 2,036 pounds and measuring nearly 20 feet in circumference, it was the champion. Total prize for the 120-day-old colossus: $7 per pound, which comes out to $14,252.
Unfortunately for the Glasiers, that wasn't the last weigh-in of the season. On Monday, at the Half Moon Bay Art and Pumpkin Festival in California, John Hawkley stole their record with 2,058 pounds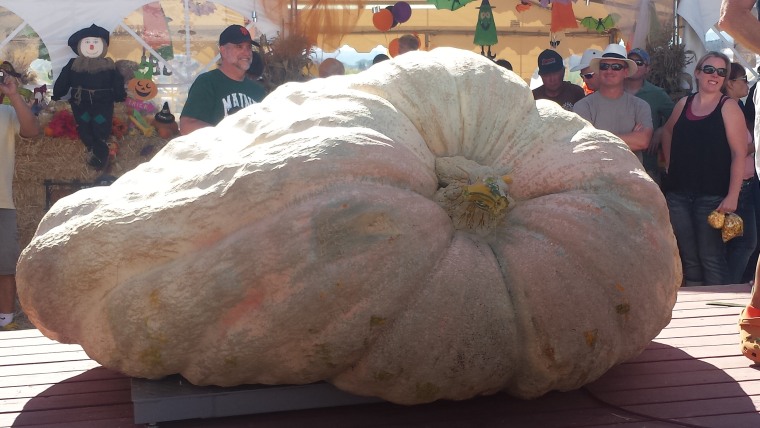 At least the Glasiers have one consolation: Though Hawkley now holds the U.S. record, he didn't rake in quite as much money as they did. He received $6 per pound ($12,348), plus a bonus $1,000 for the biggest pumpkin from California, meaning that the Glasiers out-earned him by more than $900.
But Hawkley told TODAY.com that he doesn't regret not entering his massive gourd in the better-paying Uesugi competition (where he actually entered a different pumpkin and lost to the Glasiers). "Last year, I lost three out of four pumpkins — and the last one was just 1,000 pounds," he says. "So I was just happy to have some bring ones to bring."
As for the Glasiers, even though they only held the record for a day, they're still feeling pretty victorious. "We had a successful season and set a personal record," Cindi said. "And there's always next year."